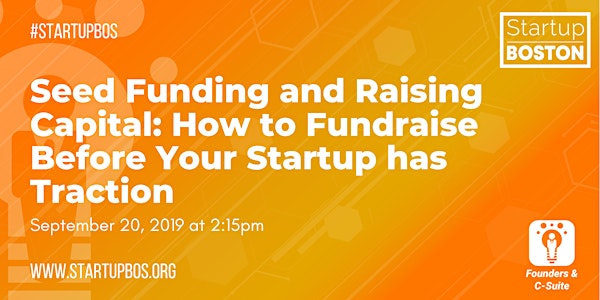 Seed Funding and Raising Capital: How to Fundraise Before Your Startup has Traction
When and where
Location
CIC - Boston 50 Milk Street 1st Floor - Anchor Boston, MA 02109
Description
Many founders feel they face a catch-22: they can't get traction without funding, and they can't get funding without traction. While often investors are looking for scrappier founders that don't let limited resources stop them, it's also true that there are some ideas that are simply too capital intensive to bring to market without funding. And as tech investment continues to boom, there are also a growing number of investors looking for the right opportunity to make earlier bets on promising startups, even if they're pre-revenue / pre-product.
But every professional investor does have some set of proof points that they're looking for -- in the market opportunity, in the product vision, in the founders themselves -- and understanding what those are is essential for founders looking to raise capital. We've put together a panel of Boston seed-stage investors who are willing to invest pre-traction if the opportunity is right, to learn from them what defines those opportunities.
If you're an idea or seed-stage founder thinking about fundraising, don't miss this opportunity to hear first-hand what investors are looking for.
This event is part of the Founders & C-Suite Track at Startup Boston Week 2019. And is perfect for companies in the Early Stage.
Our Speakers:
David has made 40 angel investments in startups, such as Crashlytics, clypd, Amino, Inmoji, Cuseum, CarePort Health, Dashfire, and Reactor Media. Additionally, he has a successful track record in hands-on roles at both direct-to-consumer and enterprise companies, six of which were acquired or IPO'd. He previously led the PayPal Boston office and co-founded the Start Tank innovation space and the Where Angel Fund. As a leader in the entrepreneurship community, he also holds several advisor/board memberships. Awards include Boston Business Journal's Power 50: Most Influential Bostonians, BostInno's 50 on Fire: Education Winner / Investment Winner / Tech Finalist, and Finalist for the NEVY Angel of the Year.
Adrian Mendoza, Founder & General Partner, Mendoza Ventures
Adrian is an experienced entrepreneur, investor, and operator. In 2009, he co-founded Marlin Mobile, a startup in the mobile performance testing space that raised 3 million in venture funding. Additionally, he has been a CTO since 2009 and has built numerous technology teams, SaaS products, and product pipelines. In 2016 he founded Mendoza Ventures, a Boston based pre-seed AI, FinTech, and cybersecurity fund.
Earlier in his career, Waikit founded two machine learning based companies. Photo.net was acquired by NameMedia and ScanScout merged with Telaria before going public. He is now an active advisor and investor in numerous companies including Ginkgo Bioworks, PathAI, Circle, Tettra, and dozens more.
Our Moderator:
Lindsay Ladd, Founder & CEO, EmpirEqual
Over the past 15 years, Lindsay has provided training and mentorship to the tech community. She also helps develop partnerships in support of strategic priorities in the federal, public, and private sector stakeholders. As a multi-time founder, Lindsay is an advocate for diversity and inclusion in the Boston community.
---
This is a Startup Boston Week event.
Startup Boston Week is a free, five-day series of events celebrating, educating, and connecting entrepreneurs in Boston. Taking place from September 16th-20th, 2019 Startup Boston Week brings entrepreneurs, company leaders, innovators, and industry experts together to foster collaboration and fuel growth in Boston's startup ecosystem.
Thank you to our event partners!
About Matter:
Matter is a Brand Elevation Agency unifying public relations, social media, creative services, and search and digital marketing into strategic, content-rich communications campaigns that inspire action and build value. With 15 years of experience working with companies ranging from startups to large enterprises, we understand the fast speed and challenges inherent in marketing a new brand. Whether you're building a business or growing a brand, we can help you achieve the success you deserve.
About CIC Boston:
One of Boston's largest innovation communities, CIC provides office and coworking space, and supports a variety of important programs in Boston's startup scene including Venture Cafe, District Hall, and MassRobotics.