Description
NYCRavers & Sounds So Sweet Present....
SEE YOU SPACE SAMURAI
A Samurai Jack & Cowboy Bebop Thanksgiving Eve Cosplay Rave
***NO SCHOOL / WORK THE NEXT DAY***
Long ago in a distant rave, Mainstream EDM, the shape shifting master of conformity, unleashed an unspeakable lameness into the rave scene. When all hope seemed lost honorable samurai promoters wielding a magic lineup stepped forth to oppose them. Before the final beat was struck, the villains tore open a portal in time and flung the samurai into the future where their lameness is law. Now the dancefloor warriors seek to return to the old school and undo the evil that is the Mainstream.
Get ready to rave with honor as NYCR and Sounds So Sweet Present See You Space Samurai. Experience 3 themed rooms of sound, lasers and mind-bending art. Featuring rave legend Tommie Sunshine, DJ Paul Knox / Spree, DJ Soul Slinger, Nicky Twist, Demien Sixx, Alchemy and many more. Plus Virtual Reality Arcade, UV Art, Digital Artmaking Stations, Unique vendors and most importantly top quality vibes. This 21+ event is going down at the Brooklyn Bazaar, 150 Greenpoint Ave, Brooklyn, NY.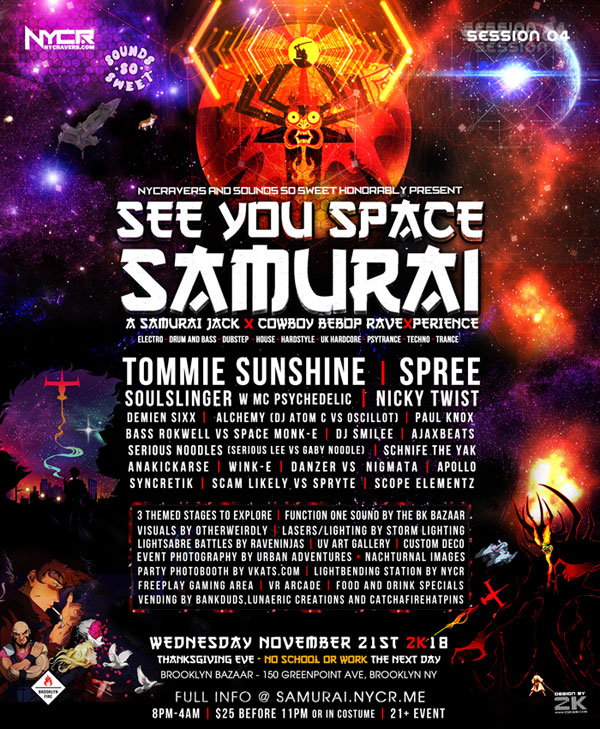 CHECK OUT OUR YOUTUBE FOR VIDEOS FROM THE PAST 10 YEARS OF AWESOME RAVES WE'VE THROWN
This is a 21+ Event
───────────────────────────
+ + + Costume Inspirations + + +
Aku, Samurai Jack, Futuristic Bounty Hunter, Cyborg, Space Gangster, Faye Valentine, Clown Assassin, Inter-dimensional Time Travelers, Sam Black, Cowboys/Cowgirls, Space Samurai Geisha, Ninja, Cyborg, The Scotsman from Samurai Jack, Shokbok in a Suit!?!?!
───────────────────────────
+ + + LOCATION + + +
The Brooklyn Bazaar
150 Greenpoint Ave, Brooklyn NY
NOTE : The L Train is Messed up, if you are coming from Manhattan take the 7 Train to Court Square and Catch the G towards Brooklyn to Greenpoint Ave!
───────────────────────────
Brought to you by...
NYCRavers
www.NYCRavers.com
AND
Sounds So Sweet
+ + + Dedicated to Lindsay Ireland (RIP) + + +
"The ultimate reward is honor, not awards"