See & Support FL Film "In Between Days" & Historic Cocoa Village Playhouse
Description

Experience Historic First and Support Film Future of Film in Central FL, Feature Film "In Between Days" and The Historic Cocoa Village Playhouse - Sat, Aug 19, 7:30 PM



About the Event
Florida-based LA Writer / Producer Bob Caso of Caroline Street Productions welcomes supporters to view his first feature film "In Between Days" at a special fundraiser screening event at the Historic Cocoa Village Playhouse (CVP) at 7:30 p.m., Saturday, Aug. 19, 2017. The screening is a fundraiser for deliverables and post-production for the film — getting it closer to distribution — warms up the screen for the film portion of CVP's recently announced 28th season referred to as the Aladdin Theatre Film Series. Contributors can learn more and gain entrance to the event by visiting www.CocoaVillagePlayhouse.com.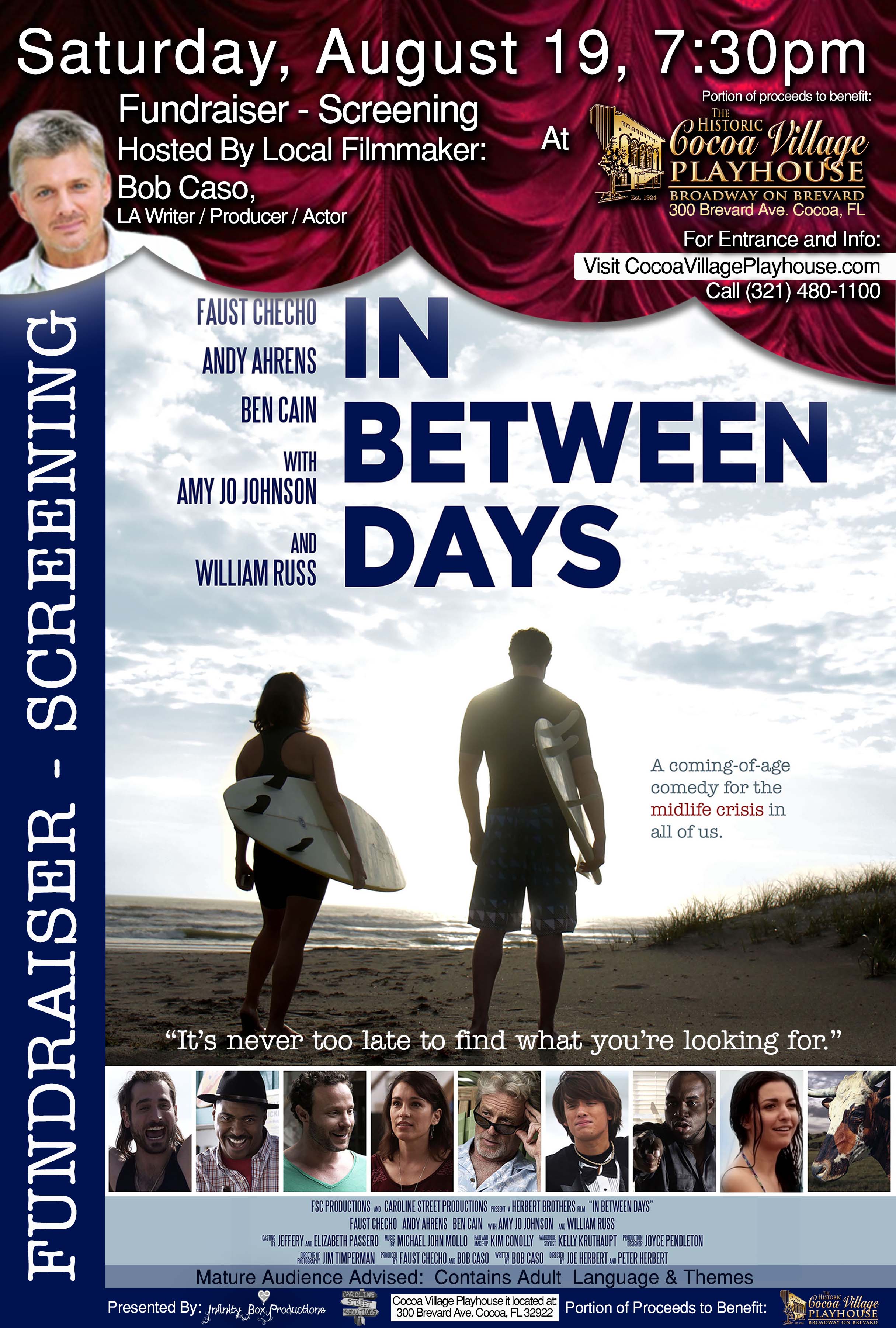 Our Wish
CVP will receive a portion of the proceeds to support its new film program, which Caso, a veteran to the stage and Hollywood, hopes will help fund the new movie screen CVP desires. CVP plans to show films of significance, including a silent film with musical accompaniment and two sing-along films that are celebrating anniversaries this year, plus more films to be announced. For more information, visit www.cocoavillageplayhouse.com.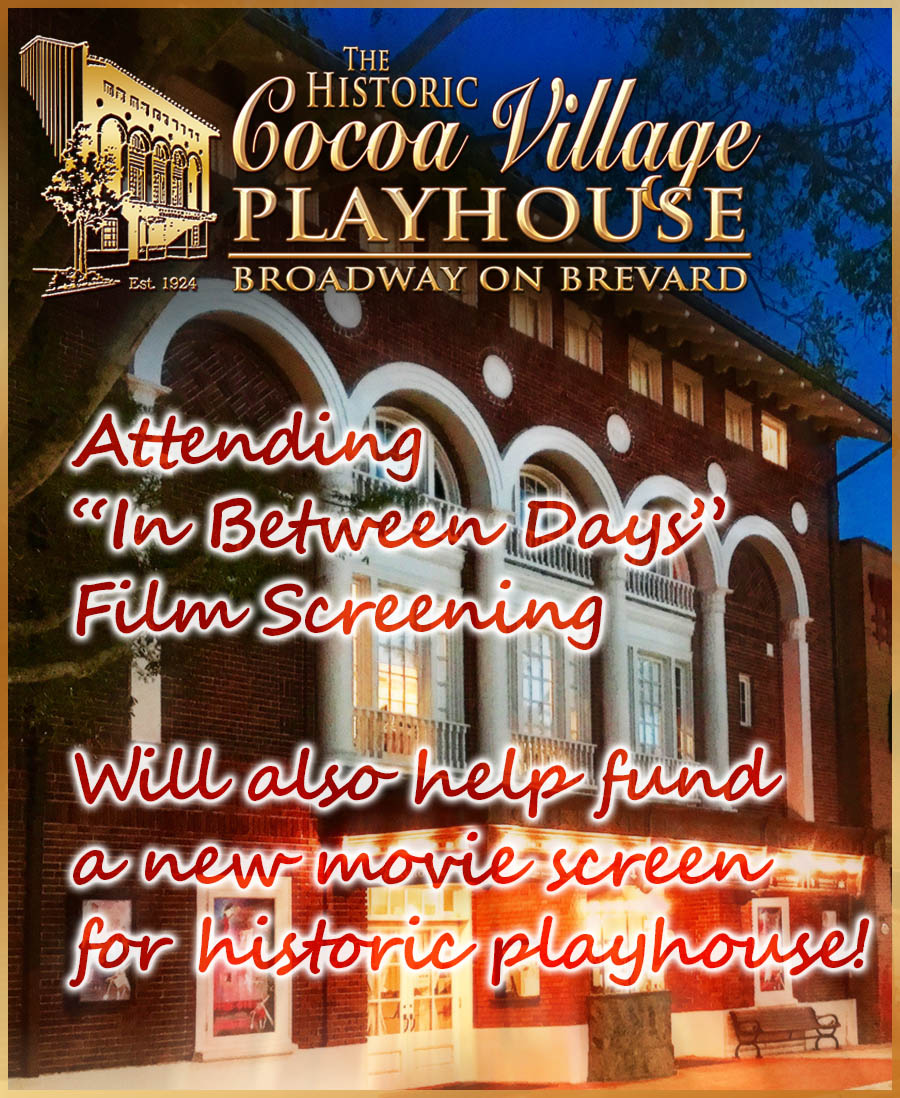 Historic First
Caso's film will be the first locally produced feature film from a Brevard County native to ever grace the screen of Brevard's first movie house (CVP), and it will happen just one day after the 93rd anniversary of when the original playhouse first opened its doors, in 1924, as the silent movie house, Aladdin Theater. "As a filmmaker, it's my goal to continue to write and produce top quality films in Florida about Florida, so I am so excited to not only help this wonderful iconic theater in my home of Brevard, but tickled to be a part of history. I need our community to join together to help make these great films come to life, so I hope to see local supporters at this great event," Caso said.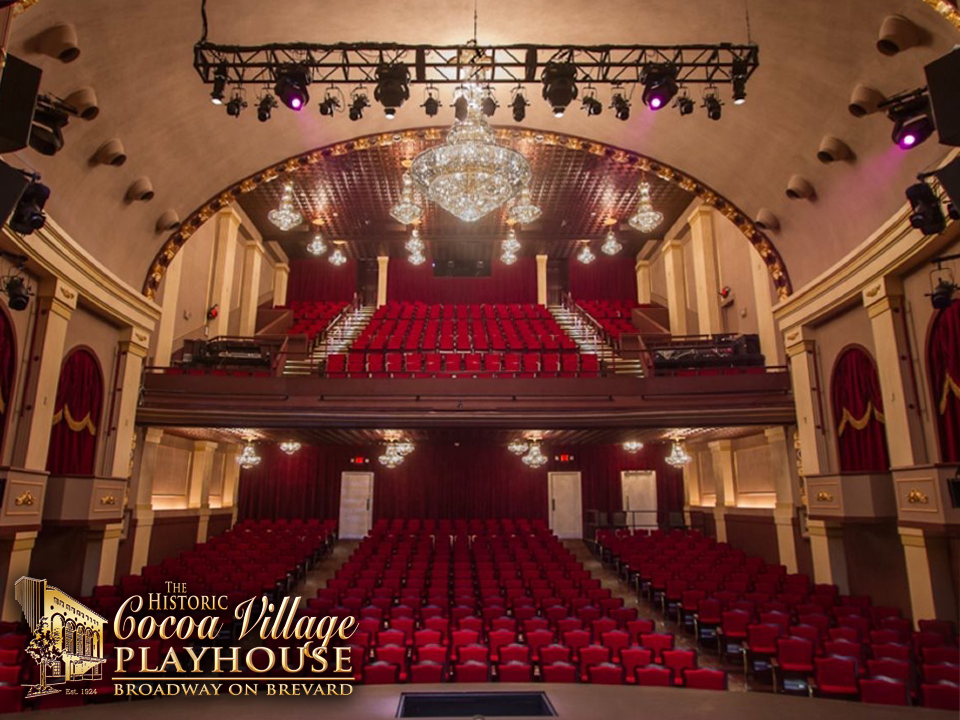 The Film & Our Stars
"In Between Days" was filmed entirely in Central Florida and stars "Felicity's" Amy Jo Johnson, "Boy Meets World's" William Russ and up-and-coming talent Lilli Passero, who appeared on NBC's "The Voice." It also will feature local talent, residents and locations, including Brevard's iconic beaches and CVP.

The Story
It is a coming-of-age story about a 40-year-old best-selling author having a midlife crisis who returns to his hometown in search of youth in the form of looking for his first car to buy it back. It draws a parallel to "Florida boy" Caso — which is how he proudly refers to himself — who returned to his Central Florida roots five years ago after working professionally for 25 years in the Hollywood film and television industry. Caso said, "Coming back home to Florida, has fueled my writing, and I will continue filmmaking here despite Florida's lack of state TV and film tax incentives."
Obstacles & Triumphs
A special work-in-progress-screening of "In Between Days" sold out the largest theater at the Premiere Theaters Oaks 10 in Melbourne during last year's Melbourne Independent Filmmakers Festival (MIFF), even after a reschedule due to Hurricane Matthew. Proceeds went to MIFF's charities. Now, with this film heading to festivals, and a historic evening planned to move Brevard County's film future ahead, this August 19th event will be a win- win for Brevard!

For General Info:
visit www.CocoaVillagePlayhouse.com or call 321-480-1100



Perks & Admission:
Admission ranges from $15 and up. Donations welcome as well. We are excited to offer great levels of admission for our contributors to this fundraiser-screening event. From film posters, local swag, VIP seating, after party and more, this event will have a top notch local appeal you won't want to miss. Stay tuned for updates for more to come at this event.
News Stories and Upcoming Productions
Date and Time
Location
Refund Policy