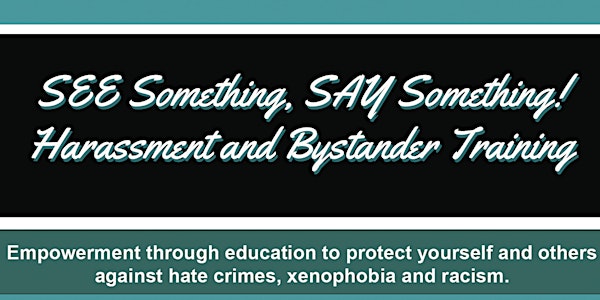 SEE Something, SAY Something! Harassment & Bystander Training #StopAAPIHate
Empowerment through education to protect yourself and others from hate crimes, xenophobia and racism
About this event
Due to the rise in anti-Asian hate crimes, citizens should be aware of what to do in the event of a hate crime.
Personal Safety Workshop
Presented by Orange County Sheriff Office
Situational awareness and safety
How to be a good witness
How to define harassment and hate crimes
How, when and where to report hate crimes
What to do if you witness a hate crime
Deescalation Tactics and Bystander Intervention
Presented by Wah Lum Kung Fu Temple
Best practices if you are harassed
Best practices for bystander intervention
Our goal is to empower citizens through education and awareness so everyone will feel safe in the Central Florida community. Racism and xenophobia will not be tolerated and we are here to support one another.