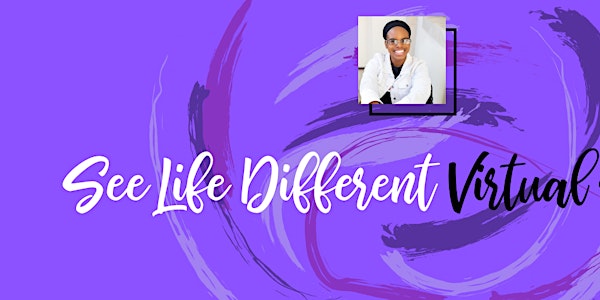 See Life Different Virtual Summit
See Life More Positively in 2021 between 12pm and 8pm Eastern March 2-4!
Refund Policy
Contact the organizer to request a refund.
Eventbrite's fee is nonrefundable.
About this event
Are you ready to step outside of your comfort zone and into your zone of genius?
Have no fear! The See Life Different Summit is here!
The See Life Different Summit is a three day virtual summit with 20 women speakers on topics such as storytelling, self development, mental health, podcasting, entrepreneurship, and more!
This life changing event inspires ambitious, working moms and creative entrepreneurs to grow to be the best version of themselves in their personal lives and careers while seeing life more positively. Shift your mindset into a greater sense of abundance and gratitude right from the comfort of your home. Master your confidence and bloom.
This summit is inspired by our host Zaakirah Muhammad's book titled See Life Through a Different Lens : A Survivor's Memoir on Overcoming Adversity with Resilience. She has been podcasting for two years and launched the summit as a way to celebrate women and the anniversary of her podcast, Living Legacy (See Life Different).
Presented by Phocused Media Group.
Zaakirah is the founder of Phocused Media Group. She is a creative strategist that helps women to step outside of their comfort zone, tell their stories, and grow their brands. At 9 months old, her right eye was surgically removed due to cancer that was detected by a photo her mom took. She has been a professional photographer and marketer for 10 years. She has spoken on 20+ podcasts and has been featured in VoyageATL.
Purchase the lifetime access ticket to get access to a 30 minute 1:1 clarity session with Zaakirah. This ticket also includes unlimited replays of 20+ videos), panels, breakout sessions, workshops, and access to a private community.
The amazing 20+ women lineup have been featured in Black Enterprise, Voyage ATL, eCornell, CBS, Fox, NBC, ABC, and more!
Confirmed Speakers:
Ashlee Green
Candace Howze
Carol Muleta
Crystal Daye
Danielle Faust
Fabiana Dorea
Fousia Abdullahi
Jummy Olawale
Lauren DeVera
Lashana West
LaWanna R. Wilson
Linda P. Thompson
Manisha Holiday
Mary Lee Vance
Nicole Walker
Pamela Stone
Patrina Dixon
Rhianna Campbell
Ronit Plank
Sasha Willis
Shawntel White
Tabitha Liburd
Tanya Williamson
Confirmed Topics:
Master Your Confidence
Get Out of Your Own Way and Thrive
How To Marry Yourself First
Manage Your Mental Health Positively
Recognizing the Signs of Burnout
How to Develop Resilience during Challenges
Advantages of Being a Multi Passionate Entrepreneur
Maintaining Boundaries in your Personal and Professional Life
Show Up and Glow Up
Your Clients, Your Empathy and Your Brand
Having a Positive Mindset Around Imposter Syndrome
Finding Your Creative Voice
Panel: How to Start, Grow, and Leverage Your Podcast
Master Your Marketing
It's Your Money
What's Next: Life After Crisis
Overcoming Doubt and Fear: The Greatest Lies Told
Why Storytelling is Important
5 Ways to Positively Manage Conflict
Power of Podcasting and How to Amplify Your Voice
Do's and Dont's Of Hiring A Hybrid Publishing Company
How to Positively Master Imposter Syndrome