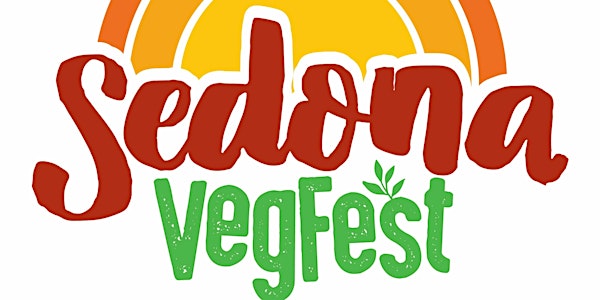 Sedona VegFest
When and where
Location
Sedona Performing Arts Center 995 Upper Red Rock Loop Road Sedona, AZ 86336
Description
The Sedona VegFest is a two-day celebration of the joys of plant-based eating. Participants will sample delicious food (see lunch descriptions below), watch cooking demonstrations from celebrity chefs and learn from some of the top plant-based nutrition, lifestyle and healthcare experts in the nation – all in a fun, festive atmosphere.
Find out how easy it is to adopt a lifestyle that can create remarkable, positive results for your own health, and for the world.
If you have already purchased a VegFest ticket and you want to purchase a lunch ticket only, click here.This lunch ticket is for the lunches that will be shown in the cooking demonstrations by Chef Jason Wyrick. There is also the option of ordering lunch from our Concession Partner, ChocoaTree Organic Oasis at the concession stand in the lobby. See menus for both below.
Did you know that:
- Many of the most dreaded and deadly health conditions that plague Americans are not only caused by our diet, but are preventable or even reversible when we change the way we eat? People with heart disease, certain cancers, type 2 diabetes and many other chronic conditions, are finding their way back to health through food, not drugs or surgery.
- What we eat has a greater impact on the climate than our transportation or how we heat our homes?
- The animals we eat are raised in inhumane and unhealthy conditions that cause suffering, and threaten human health as well? Factory farms raise 99.9 percent of chickens for meat, 97 percent of laying hens, 99 percent of turkeys, 95 percent of pigs, and 78 percent of cattle currently sold in the United States.
- Even though problems of our world often seem overwhelming, through a simple change in your own life, you can make a real difference. Come find out how!
You will learn:
- the latest scientific information on whole food plant-based (WFPB) nutrition and why this optimal plant-based diet is central to chronic disease prevention and control;
- the impacts of animal/fish agriculture on our environment;
- the impacts of animal/fish agriculture on animal health and welfare.
- how to prepare delicious WFPB entrees' through two available chef demonstrations.
You will experience:
- Inspiring lectures and Q&A with top medical, environmental and animal rights experts.
- two amazing WFPB lunch entrées provided by local celebrity chefs.
- a building of community, both locally and nationally/internationally as we move forward from this first annual Sedona VegFest into those in future years.
---
Lunch Menu and Entertainment:
When you come to Sedona VegFest, we want you to not only learn about the joys of whole food plant-based eating. We want you to experience these joys firsthand! Our Executive Chef, Jason Wyrick, will be demonstrating two delicious and intriguing meals that you can make at home. And immediately following the cooking demonstrations each day, you can enjoy that same meal for lunch! You can also order a lunch from the ChocolaTree Menu at the concession stand in the lobby. Orders must be submitted by 11:15 a.m.
Chef Jason Wyrick Lunches
Saturday Lunch: Authentic Mexican Street Tacos
Come experience the exciting flavor explosion of authentic Mexican street tacos, vegan style! Your lunch plate includes Tacos Veracruz, a taco made from potatoes and pinto beans in a tangy tomato caper sauce topped with wilted greens in an orange garlic sauce, and Tacos with Pintos and Rajas, a taco made from stewed pinto beans, peanuts, and roasted pasilla chile strips. Tacos come fully garnished, including avocado, pickled onions, radish, cabbage, salsa, and limes and are served with a side of smoked paprika rice. Your meal is gluten-free, soy-free, and vegan. $18
Sunday Lunch: Time for Thai
A taste of Thai awaits you. Today's lunch features a perfectly balanced Thai stew of red lentils in a coconut, lime, and lemongrass sauce with a hint of Thai red curry, and a side of roasted sweet potatoes with Thai basil, shallots, peanuts, and a Chiang Mai salsa on the side. Spicy and non-spicy options for the salsa available. Your meal is gluten-free, soy-free, and vegan. $18
ChocolaTree Lunch Menu
From Our 100% Organic Kitchens: Free of Gluten, Dairy or Processed Sugars. Gratefully Serving Real Food to Genuinely Nourish Our Guests
MUSHROOM FANTASY: Sautéed crimini mushrooms in garlic almond crème sauce served over wild rice, topped with fresh parsley $12
ELOTE BLISS: Southwestern corn chowder made ChocolaTree style, blended with Yukon gold potatoes in our homemade vegan creamed corn sauce $12 

AVOCADO HERB SANDWICH: Our famous live onion flat bread filled with creamy herbed pate, avocado, red onion, clover sprouts & seasonal greens $12 

PALAK UTTAPAM: Thick Indian pancake cooked with a curried spinach filling. Served with side of seasonal chutney for dipping. A light & delicious ayurvedic entrée $11
CEASAR SALAD: Romaine lettuce, garlic lover's Caesar dressing topped with house-made vegan parmesan crumble $12 

KALE QUINOA SALAD: Massaged kale, shredded carrots & cabbage, sautéed onion, red bell pepper & our almond Thai sauce all tossed with hearty quinoa $12 

From Our Beverage Bar
GINGER LEMONADE: Fresh lemon & ginger juiced fresh then blended with local raw Arizona honey. An all time favorite! $4
SPICED CHAI: Slow roasted traditional spices, no caffeine! Blended with maple sweetened sprouted almond milk $5 

SPRING DRAGON TEA: "The healthiest tea on Earth!" Chinese tonic tea, no caffeine Light & naturally sweet $2
HOTCOFFEE: Cold brewed, rich & bold locally roasted coffee served hot -$2.50 Side maple sweet sprouted almond milk +$.50

MANGO LASSI SMOOTHIE: Fresh mango blended with rich & creamy house made coconut kefir, cinnamon, star anise & clove, sweetened with grade C maple syrup. $8 

Lunchtime Entertainment
Saturday: Renee King-Sonnen
Renee not only operates Rowdy Girl Animal Sanctuary, she is also a professional singer, songwriter and recording artist. In her life before Rowdy Girl Sanctuary, Renee traveled extensively with her band, Renee King & Wildcard.
Sunday: JAM
JAM is an inspiring singer songwriter from Phoenix, AZ and has been playing music since he was 11 years old. He has won Alice Cooper's talent search competition twice and he plays out almost every night. JAM's intention when he performs is to share a positive presence with others through music and he is also an activist of love.
---
Go to healthyworldsedona.com for more information
We are proud to announce that Sedona Recycles is helping us to make VegFest a Zero Waste event. We will be using only recyclable and compostable materials, and ask that you help us reach this goal by using the receptacles provided.
We also will avoid the use of disposable plastic water bottles. Please bring your reusable water bottle, or purchase one of our official, Sedona VegFest stainless steel bottles that you can use at VegFest and throughout the year. You can order one now when you buy your VegFest ticket, or buy one when you arrive at VegFest. All bottles sold at the event will be washed, sanitized and ready to fill.