Description
Make a positive change in your life! Join us for a powerful weekend of personal transformation and healing in the spiritually charged red rocks of Sedona!


REGISTER
by emailing bonnie.thanos@gmail.com or calling 219-916-1487
Only 14 spots available!
---





RETREAT ACTIVITIES
Heal Your Life 2-Day Workshop
Experience this powerful Heal Your Life workshop, originally developed by Louise Hay, in the spiritually charged energy of the beautiful red rocks in Sedona, AZ. The workshop gives participants an intensive format to learn the basic points of philosophy, to develop awareness of negative beliefs, to release old emotions, to love ourselves more fully, and practice techniques for changing our lives. Past participants rave about the impact this weekend has had on their lives.
"The workshop was very powerful. It evoked so many suppressed, harmful feelings. As they reawakened, I had the first opportunity to heal. Amazing work! Love and gratitude to Bonnie." – Karen K, April 2018
January 18-19, 2019, 9am-5pm, Bell Rock Inn Suite
Morning and afternoon refreshments will be provided
Sound Therapy & Yoga Nidra

Terry Dawn Bergstedt and Debra Fleeger will be using crystal bowls and gongs to provide a healing sound journey on Saturday evening.
Terry will also conduct a Yoga Nidra session on Sunday evening to help integrate everything that is experienced during the weekend.
Debra Fleeger
Debra plays intuitively and serves as the vehicle through which the Alchemy Crystal Singing bowls deliver frequencies of sound specifically dedicated to participants and their needs. She synchronistically discovered the crystal bowls after returning from a Columbian trip with the indigenous Kogi tribe. Her PTSD symptoms have substantially subsided as a result of consistent exposure to the crystal bowls. She regularly practices Kundalini yoga and embraces Yogi Bhajan philosophy. Debra recently received a certification in Sound Healing, (Gong and Crystal bowls), recognized through Yoga Alliance.
Terry Dawn Bergstedt, CYT/RYT, Deep Relaxation Facilitator
Yoga presented itself to Terry in 1982. She has since found this vast practice and all it entails, to be of a great benefit to all. At the present time, Terry delivers Gong Healing sessions, Sound sessions with Sacred Sounds for the Soul and Yoga Nidra Deep Relaxation journeys. These provide the receiver with a profound sense of well-being, and an opportunity for healing to occur. Join Terry and her gentle kind nature, as a gift to yourself.
Sound Therapy and Yoga Nidra are included in your 2-day retreat ticket.
Vortex Sightseeing

The Vortexes are geographical sites on the Coconino National Forest that can enhance prayer, meditation, mind/body vitalization, stress reduction, healing hurts from your past, and outside-the-box creative thinking and problem-solving. We'll start at sunrise to fully experience the beauty of the Vortexes and will visit:
Airport Mesa Vortex – helps your spirit soar for a higher perspective and/or greater oneness and serenity.
Boynton Canyon Vortex – ideal for balancing masculine and feminine energies within oneself and for harmonizing relationships with others.
Cathedral Rock – one of Sedona's best Combination Vortex areas that allow you to do more advanced spiritual skills and deeper forms of meditation.
Bell Rock – best known for serenity and solving problems from a higher (spiritual) perspective. For decades seekers from around the world have used Bell Rock for contemplative reflection and inspiration.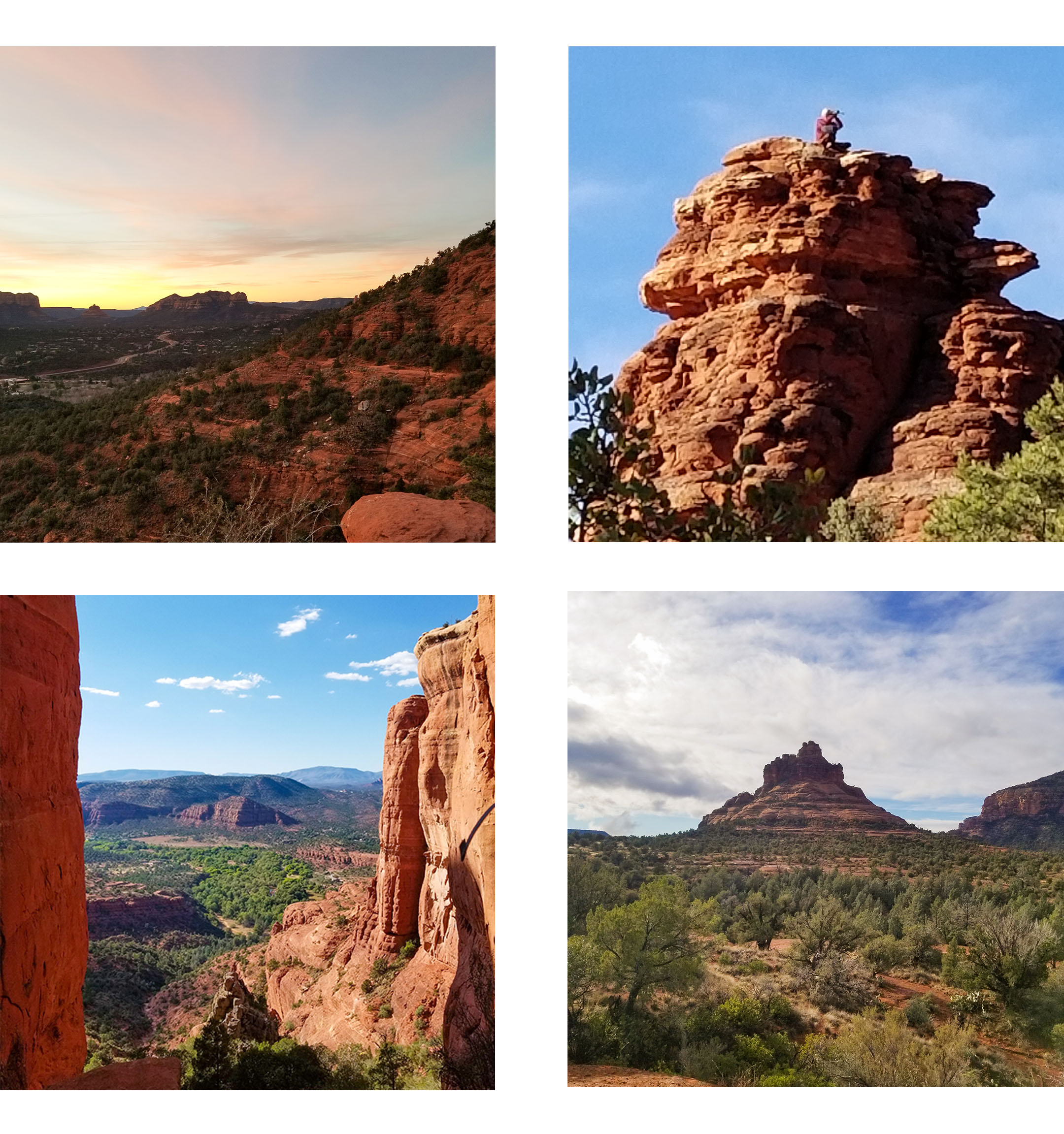 Spiritual Sightseeing
On Monday, we'll finish the 4-day retreat by visiting the following spiritual sights:
Chapel of the Holy Cross - Completed in 1956, the Chapel of the Holy Cross sits high atop the red rocks.

In the sculptor's words, "Though Catholic in faith, as a work of art the Chapel has a universal appeal. Its doors will ever be open to one and all, regardless of creed, that God may come to life in the souls of all men and be a living reality."

Peace Park - home to the Amitabha Stupa. Rarely found in the West, a stupa is considered to be the living presence of the Buddha and as such represents the Mind of Enlightenment. Stupas have been built to avert war, end famine, and promote prosperity and well-being. Their sole purpose is to bring benefit for all living beings, and the mystical accounts of the healing powers of stupas are well documented.
Angel Valley - The awe-inspiring beauty, the peace and quiet, the pristine hillsides, the soothing creek, the pure air, the clear sky, and the wonderful climate form a Nature Temple. There are invisible power spots of the subtle energies on the land. Each one of them can be enjoyed as a spiritual tool in your process of exploring, healing and growing.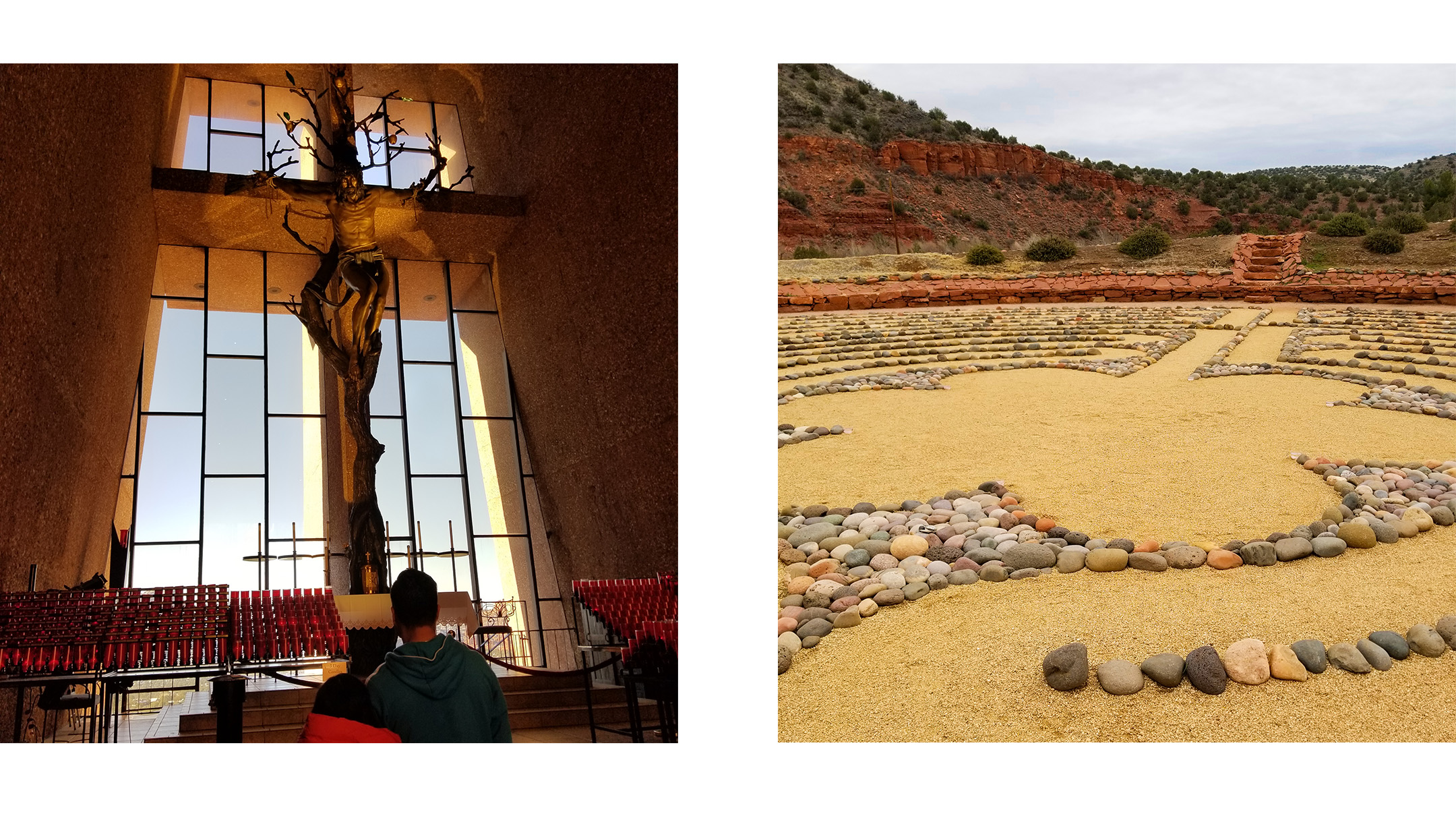 Chakra Readings (Optional Friday evening activity)
Spend Friday evening at Sedona Healing Arts participating in one of their chakra readings.
Intuitive Readings
Receive validating, life-changing and accurate messages from your spirit guides and your higher self. An intuitive reading will help you see deeply embedded patterns in your personality, your personal history, your relationships, and your future possibilities. Intuitive Readings are a powerful tool to bring clarity where there was once confusion, certainty where there was once doubt, and triumph where there were once obstacles.
The Intuitive Readings offered at Sedona Healing Arts are both comprehensive and unapparelled amongst their kind.

Aura Readings
An Aura reading is a snapshot of how an individual is using their energy in the moment the picture is taken. An intuitive reader then reads the colors representing the past, present, and future. Each reading also includes a soul line reading of energy and how the individual's soul agreements and soul expression are unfolding. Choose from Intuitive or Purpose Alignment readings.
Special prices available for retreat participants! Use Discount Code: HYL retreat
1/2 hour Intuitive Reading (includes

2 Aura Readings and Analysis)

: $100

1 hour Intuitive Reading

(includes

2 Aura Readings and Analysis)

: $200

2 Aura Readings and Analysis: $50
By appointment. Call 928-282-3875 to reserve.
---
HOTEL ACCOMMODATIONS
You are responsible for booking your own accommodation. The Bell Rock Inn is offering reduced rates to retreat participants for January 16–20.
Bell Rock Inn
Nestled in the foothills of Sedona and framed by breathtaking panoramas of the area's famed red rocks, Bell Rock Inn offers an array of activities, perfect for any getaway. Whether you're looking for adventure in Arizona's backcountry or searching for a relaxing retreat, the resort is conveniently located just outside the busy city center and just a short distance from numerous hiking trails.
Reserve a room through this link
Group Name: On Wings of an Eagle

Group Code: GOWOAE
Reservations must be made by December 15, 2019. There are 10 rooms available at special rates.


---
COST
$399 for 2-day retreat: HYL weekend workshop & evening activities
$599 for 4-day retreat: includes sightseeing on Friday & Monday
Must register and pay in full by November 15, 2019. No refunds unless the retreat is cancelled.
Transportation to Sedona, accommodation, and meals not included in price
---
REGISTER
by emailing bonnie.thanos@gmail.com or calling 219-916-1487
Only 14 spots available!