About this Event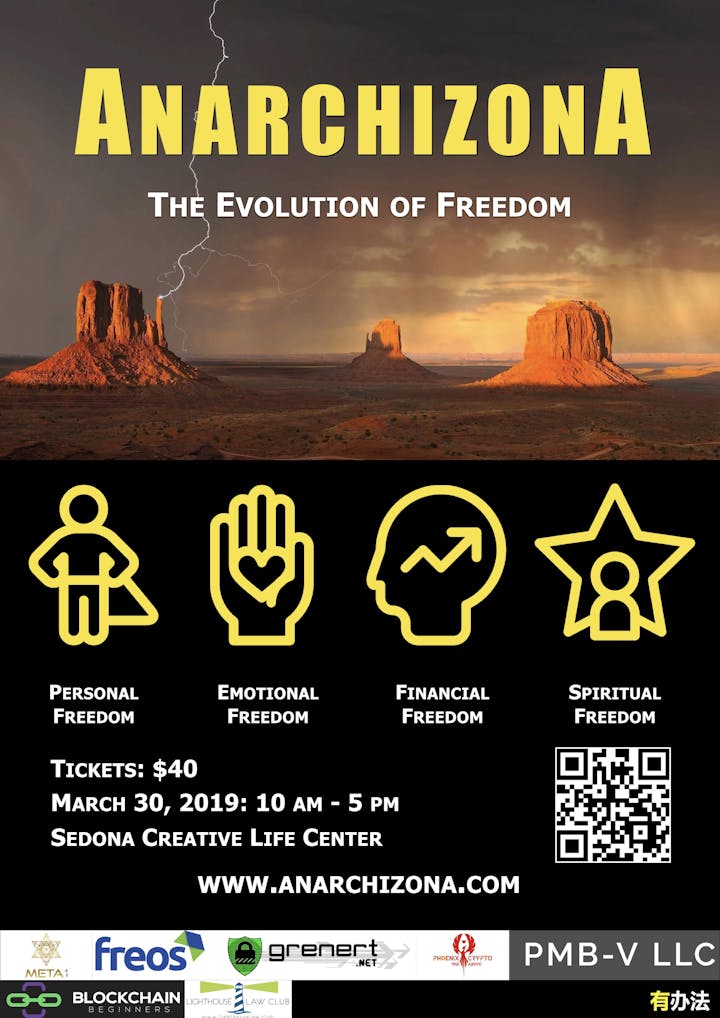 Tickets $25 until March 10th - Then $40
Anarchizona is a day-long conference being held at the wonderful Sedona Creative Life Center in Arizona on Sat, March 30, 2019
10:00 AM – 5:00 PM MST
This event is for people craving FREEDOM in their lives, be it: Personal, Emotional, Financial, or Spiritual. All are welcome at Anarchizona.
We'll have a range of great speakers expounding on ways to keep and increase your freedom in those four areas.
Speakers Include:
Anarcho-Capitalist. Libertarian. Freedom fighter against mankind's two biggest enemies, the State and the Central Banks.
Jeff Berwick is the founder of The Dollar Vigilante and host of the popular video podcast, Anarchast.
Jeff is a prominent speaker at many of the world's freedom, investment and cryptocurrency conferences including his own, Anarchapulco.
Larken Rose is an internationally known vocal advocate for the principles of self-ownership, non-aggression and a stateless society—in a word, "voluntaryism."
Mr. Rose is the author of several books, including "The Most Dangerous Superstition" and "The Iron Web," as well as many hundreds of articles, and has performed in
dozens of public talks, debates and seminars, and has produced hundreds of videos, including "The Tiny Dot," "The Jones Plantation," "If You Were King," and "It Can't Happen Here!"
Lifestyle and Freedom Entrepreneur
Scott Sorensen is an online Entrepreneur who achieves total lifestyle freedom by creating online businesses and teaching others how to escape the chains of a brainwashed life.
Cryptogasmic.com is a leading Crypto trading and education platform that focuses on community. At Cryptogasmic, we are all about creating lifestyle and financial freedom through Cryptocurrency.
Founder, Freedom's Phoenix
Ernest Hancock, founder of news website Freedom's Phoenix (FreedomsPhoenix.Com), host of the Declare Your Independence with Ernest Hancock Radio Show, Publisher of the Freedom's
Phoenix Digital Magazine, FreedomsPhoenixeZine.Com, and Freedom's Phoenix Newspaper.
Ernest created PiratesWithoutBorders.com to promote the DeCentralization of… Everything!
Ernest is a longtime Libertarian and is known for many things, but he kick-started the r3VOLution by going around the country during the '08 and '12 election cycles, freeing minds and inspiring many people to think outside the system.
Ernest has longtime relationships with activists across the country. Known as a radical, Ernest is always engaging, entertaining, and his brand of freedom is unforgettable to all who meet him.
"Freedom's The Answer, What's the Question?!"
Why come to Anarchizona?
There are two mighty and important reasons to attend Anarchizona.
For the individual: Integration. For the community: Connection.
Perhaps you have a craving for freedom that is missing among the people around you in your life.
The feeling being around others who share your worldview and understand how important these ideas are is compelling!
And truly, there are a lot of people in the area called Arizona who want a free world!
It feels good being around people you know share a good part of your worldview.
We're social beings! One of our organizers, after attending the inspirational Anarchapulco found the spiritual fuel to begin the journey to make a better world!
So come meet, connect with, and be around others who you can likely begin building a firm friendship based on a solid philosophical foundation.
This event will help people integrate other beneficial aspects to their life. In our experience, those focused on personal, political, and financial freedom.
The more mundane aspects of our existence - can neglect the deeper, less obvious, but no less important aspects of our experience here.
Conversely, those taking the more ethereal angle of emotional freedom and spiritual enlightenment may dismiss the importance of freedom from tyranny or financial independence.
In our opinion, both views are incomplete. As above, so below, right? As we exist in the physical realm, the experience here matters!
Therefore, by inviting speakers covering a wide range of topics, we hope to help each attendee become stronger and more complete in their worldview.
While also connecting them with others who are currently walking the path toward attaining their sovereignty and enlightenment.
And best of all, you'll be around freedom lovers.
Most people out there seem like they just want to argue over which master should rule them.
It may be hard to find people who don't want any master at all! I'll run my own life thank you very much!
At Anarchizona you'll be around many other like-minded individuals who share your dream of a better, freer world.
The Program
Freedom is more than just politics
Personal Freedom
Learn how to protect your Natural Rights as they increasingly come under attack. Defend yourself and have fun doing it!
Financial Freedom
We should control our finances rather than be controlled by them. Find out ways to develop this aspect of your independence.
Emotional Freedom
What good is a free country if you're a prisoner to your negative thoughts, limiting beliefs, or caring too much about the opinions of others? Hear from experts on how to BREAK FREE from the prison of your mind!
Spiritual Freedom
We all want a better world but how do we manifest that reality? Some of our speakers will share how they took the next step in their evolution of consciousness,spirituality and freedom.
Event Schedule
9:00 am – Doors open and registration
10:00 am – Welcoming and convocation (Michael McGillicuddy)
10:10 am – Larken Rose - The "A" Word
10:40 am - Ernest Hancock - A Pirate's Life for Me
11:05 am - Sonya English - "We Don't Watch the News" & "Red Carpet"
11:10 am - Irina Eysmont - Right or Wrong of Competition to Bliss of Co-Creation
11:35 am – Lunch break
1:05 pm - Welcome Back From Lunch
1:10 pm - Benny Wills - Cancer is Curable & Other Truths Worth Fighting For
1:35 pm - Sonya English - "Sovereign" & "Part of the Plan"
1:40 pm - Tim Picciott - The Greatest Economy Ever? Where We Are and Where We're Going
2:10 pm - Scott Sorensen - Starving the Beast to Live a Free Life
2:35 pm - Afternoon Break
2:50 pm - Ivan Oyola Jr. - You Might Be A Proxyist, and Don't Even Know It
3:15 pm - Amanda Rachwitz - Opportunity in the Growing World-wide Liberty Community
3:45 pm - Jeff Berwick - This Freedom Thing is Way More Complicated than I Thought
4:25 pm - All Speaker Panel for Q&A
4:55 - Sonya English - "There Is No Alt Right", Benediction and Farewell
5:00 pm – Networking and conversations.
Short and medium breaks will be interspersed in the morning and afternoon giving guests a chance to connect, network, and make friends.
A very special thanks to our sponsors:
META 1: META 1 Coin an asset-backed "Smart" Crypto Currency Secured by Humanity's greatest expressions of Life; Master artists such as Picasso and Van Gogh. META 1 Coin is a coin for Humanity and built on the framework of abundance by smart contracts, unbreakable on the block-chain, ensuring appreciation and never devaluation. META 1 COIN has a Private Bank and Private Exchange ensuring liquidity, security, and unencumbered transactions. META 1 COIN has a Powered block-chain ensuring high-performance Global transactions called the "METATRONIC NETWORK." META 1 COIN has defined the path of the new systems of abundance and equity. Join the META FINANCIAL EVOLUTION.
https://meta1coin.com
FrEOS: FREOS is an online Marketplace and the key to your "Cryptolifer" future. The FREOS Marketplace allows users to list anything to sell in a completely secure and anonymous environment using cryptocurrency payments. The Marketplace can be accessed securely and anonymously using a FREOS Red Pill (customized USB stick) or by download. FREOS also has an Ambassador program with the goal of providing members with passive perpetual income through the distribution of Red Pills, or by signing up other users.
https://freos.io
Grenert.net: Safeguarding the Cyber Culture by providing innovative solutions for Security, Privacy, and Anonymity is the focus of grenert.net. Our digital security services focus on Application Security for App and Dev teams; Cyber and Cryptocurrency Security Solutions for businesses, retail, and sellers; and Personalized Security for business owners, high-values individuals, investors, and private trusts.
https://grenert.net
Phoenix Crypto: Phoenix Crypto is Arizona's premiere crypto-currency dealer, Bitcoin ATM operator, and blockchain education company.
Phoenix Crypto has been servicing the valley and beyond since 2013, our local reputation and hands-on approach is unrivaled in the industry.
With thousands of trades, hundreds of hours of education, and dozens of solidly built partnerships, we're confident our team of professionals can help you achive your goals.
Whether you're a seasoned trader, just starting out, or running a Fortune 500 company, Phoenix Crypto can tailor fit a program to suit your needs.
https://phoenixcrypto.com
PMB-V, LLC
With our PMAC (Precious Metals And Cryptocurrencies) Visa debit card system clients enjoy alternative ways to purchase goods and services globally on the Visa network using any of the following;
Ag (silver), Au (gold), Pt (platinum), Pd (palladium), Rh (rhodium), BTC (bitcoin), LTC (litecoin), ETH (ethereum) or BCC/BCH (bitcoin cash) and if we must USD as a last resort.
https://pmb-v.com/
Lighthouse Law Cub's mission is simple: To give every member of our Mastermind Group the best opportunity possible to achieve and maintain freedom and prosperity in the short and long term. 
On the domestic side (USA): We start by showing members how to use the law to protect their rights, secure their assets and income streams and bolster their financial position. 
From this solid base, we develop a customized strategy to 'globalize' current and/or future business and personal activity to maximize:
- personal and financial privacy
- legal lawsuit protection
- asset protection
- tax management & optimization
- cash flow & income enhancement
- business development 
Everything we do is in support of your life, your liberty and your property. You can sign up for their free newsletter by clicking this link (http://lighthouse.gr8.com) https://www.lighthouseliberty.club/
FAQs:
Is there a minimum age for attendees at the Sedona creative life center?
Because much of the day will be focused on listening to speakers and the important information they have.
The event is best suited for adults and children at least 12 or 13 years old and who have an interest in these issues.
If you have any smaller children, they are welcome too but please email us to check. If your child is very young, please email us to see if they need a ticket or not.
Where's the best place to stay?
Renting an AirBNB with your family, or a private room is probably your most affordable option. Many of the hotels and motels are extremely expensive, and it is wonderful to experience Sedona from a locals' perspective. Many hosts are extremely gracious and happy to share other things to do in the area.
Will lunch be included?
As the ticket is so reasonably priced (only $25 or $40 for the entire day!), lunch will be up to the attendees to provide for themselves.
There are dozens of quality restaurants nearby the venue and we are working on forming partnerships with local restaurants to offer special deals.
And don't worry, there will be plenty of time for lunch.
Can I bring food or water inside?
Bottled water is permitted inside the venue but we ask that you do not bring any other food or drinks into the venue.
What should I wear?
It will be refreshingly cool in Sedona and inside the venue. We recommend you dress a bit warmly as the venue will be about 72 degrees.
Will parking be available?
The Sedona Creative Life Center has a spacious parking lot which is free for attendees.
There are over 170 parking spaces and there is a maximum of 199 attendees.
To be safe, save money, and help the environment, we encourage carpooling for the event. More info on that will be available on our Facebook group.
If you live in any of these areas why not come and support our Sedona events in March:
Flagstaff
Payson
Phoenix
Tuscon
Arizona
Prescott
How to contact us:
The best way to contact us is email, info@anarchizona.com. We look forward to hearing what you have to say.
About Sedona Life Center Events.
The Sedona Creative Life Center comprises a diverse spiritual community that comes together for the purpose of spiritual advancement.
Sedona spiritual events and for the celebration of everything that is positive, both on a personal level and on a global level.