Description
The most prevalent perception of hacking is the guy behind a keyboard typing commands into a terminal and getting into all of the digital places he should not be in. Perception does not always match reality. The most prevalent form is through the non-technical use of deception to manipulate individuals to disclose information that will be used for fraudulent purposes, also known as social engineering.
If you can make someone believe something that is not true and then get them to act on that belief, you can control people to do anything, and that is exactly what happens with social engineering. The technology we use on a daily basis is not the weakest link in the secure communications; the weakest links are people like you and me.
For this edition of the Security Engagement Series, we are honored to have Jeremiah Talamantes, president and managing partner of Red Team Security, come to San Antonio and talk to us about what is social engineering, who does it and why, and what to do about it.
This topic is important because social engineering attacks happen every day, and you might not realize that it happens to you multiple times per day. Come listen to Jeremiah and learn more about how you can defend yourself.
Jeremiah has been in the IT industry for nearly 20 years and is the creator of The PlugBot Research Project – a foray into the concept of a hardware botnet. He has a master's degree in Information Security & Assurance and an executive business education from the University of Notre Dame, Mendoza School of Business. Jeremiah is an active security researcher and an adjunct professor at Norwich University, College of Graduate Studies in Information Security & Assurance. He is the author of The Social Engineer's Playbook: A Practical Guide to Pretexting and has appeared on national TV news outlet, FOX News Live with Adam Housley. Additionally, he has been quoted and interviewed by CNN, Yahoo! Finance, Houston Chronicle, Rigzone, Business Insider, Tech Insider, CIO Magazine, PenTest Magazine, POWER Magazine, LegalNews, Finance & Commerce and others.
Jeremiah is an accomplished speaker at venues, such as Hack In The Box (Amsterdam, Netherlands), Defcon 19 (Las Vegas, NV), Cyber Storm III (Zürich, Switzerland), Hack in Paris (Paris, France), TakeDownCon (Dallas, TX), High Tech Crime Investigation Association International Expo 2015 (Orlando, FL), Hack In Miami 2015 (Miami, FL) and NolaCon 2015 (New Orleans, LA). He is a CISSP, CCISO, CEH, CHFI, CCENT and a PSG (pretty swell guy).
Sponsor info:
Alamo ISSA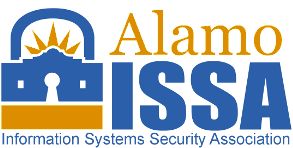 Alamo-ISSA's mission is to enhance the education and expand the knowledge and skills of its members in the interrelated fields of information systems and data processing; to encourage a free exchange of information security techniques, approaches, and problem solving; and to communicate to management and systems and information processing professionals the importance of establishing the controls necessary to ensure the security of information processing resources.
Join ISSA here: membership link.
Inspired eLearning

Superior content. Better tracking. More accountability.
At Inspired eLearning, we are committed to delivering eLearning solutions of the absolute highest quality, ones which don't simply check a box, but which drive positive and measurable changes in organizational culture as well. We want to help clients nurture and enhance workforce skills, protect themselves against cyberattacks and regulatory violations, and maximize the return on their investment in organizational training.
We offer a variety of turn-key eLearning solutions, including tiered Security Awareness and Compliance & HR training programs, PhishProof phishing assessment software, tailored courseware design and development, content integration, and a fully hosted, web-based eLearning course delivery and tracking system based on the iLMS (Inspired Learning Management System).
Inspired eLearning is a proud member of the Inc. 5000 – the fastest growing private companies in America.
You can check out their weekly blogs here: weekly blogs.
We thank our sponsors for their support of the Security Engagement Series and the CyberDEF Dojo.