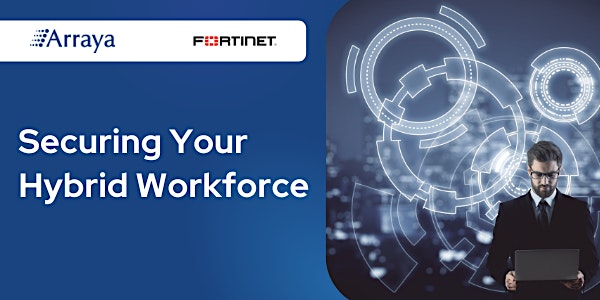 Securing Your Hybrid Workforce
Join Arraya and Fortinet for a virtual event covering tools to keep ever-evolving IT infrastructure safe and secure.
About this event
A hybrid workforce is comprised of remote workers, employees who work on-site, and those who go back and forth between working from home and working on-site. This type of workforce has seen a massive increase in popularity recently due to the COVID-19 pandemic.
Hybrid workforces are here to stay, and with the new IT infrastructure required to facilitate this shift come new security implications. Businesses and organizations can address potential cyber security risks with an approach integrating networking and security, as well as tools designed to manage a more complex threat landscape and cyber security training for users.
While a hybrid workforce has many security implications, there are also many tools out there designed to keep ever-evolving IT infrastructure safe and secure, including:
• Dynamic Cloud Security
• Fortinet Security Fabric
• Information Security Awareness
• SD-WAN
Join us for this virtual event, where we'll dive into these tools and how they can secure your organization today and into the future.
SPECIAL OFFER - Get ready for summer on us!
The first 30 registrants will receive a unique link to pick a gift of their choice after attending the virtual event.