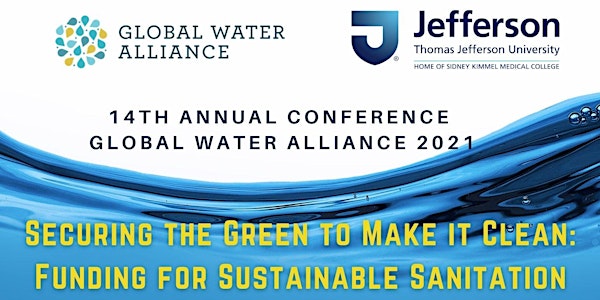 Securing the Green to Make it Clean: Funding for Sustainable Sanitation
Join us for a dynamic, solutions-oriented conference on financing sustainable sanitation toward achieving Sustainable Development Goal 6.
About this event
On Saturday, October 9, 2021, the Global Water Alliance with Thomas Jefferson University will convene its virtual 14th Annual Conference titled, "Securing the Green to Make it Clean: Funding for Sustainable Sanitation." The conference—the theme of which draws its inspiration from the 2020 launch of the United Nations-affiliated Sanitation and Hygiene Fund—will bring speakers from across the finance sector to address the modernization of traditional funding sources, as well as the innovations needed to achieve Sustainable Development Goal 6: water, sanitation and hygiene (WASH) for all. The conference will place significant emphasis on solving WASH inequities in particular, so that no one is "left behind" on the path to 2030. Speakers will address topics including multi-donor trust funds, domestic resource mobilization, social impact investing and microfinance, and cryptocurrency, among other areas and their important role in accelerating progress toward universal WASH access.
The conference organizers intend for this year's conference to be part of the 9th World Water Forum's "On the Road to Dakar" initiative, with plans to present a summary of the proceedings in Dakar, Senegal in March 2022.
To learn more about the conference, including speaker bios, please visit the Global Water Alliance website here. You may also find details to submit an abstract for our poster session here, during which two posters will be awarded the Arun Deb Promise of Excellence in WASH of $1000 USD each.
Virtual Conference Program:
11:00 AM: Welcome address by Dr. Lauri Romanzi, Consultant for Thomas Jefferson University
11:05 AM: Opening remarks by Christiaan Morssink, President of the Global Water Alliance
11:10 AM: Morning keynote address by Dominic O'Neill, Executive Director of the Sanitation and Hygiene Fund
11:30 AM: Panel I— Modernizing traditional funding models for WASH
Moderated by Lauren Alcorn, Director of Strategic Partnerships at the One Drop Foundation
Panelists:
Catarina Fonseca, Finance Specialist at IRC WASH
Robert Hornsby, Co-Founder and CFO of Jobomax / American Homebuilders of West Africa
Dr. William Tsimwa Muhairwe, Executive Director of Global Water Leaders Group and Senior Team Leader and Founder of 2ML Consulting Limited
Miguel Vargas-Ramirez, Lead Water and Sanitation Specialist at the World Bank
12:30 PM: Coffee break
12:50 PM: Afternoon keynote address by Cheryl Hicks, Founding Partner & Chair of the Board, ASE INFRA Partners
1:10 PM: Panel II— Accelerating innovation in financing equitable WASH toward 2030
Moderated by Keith Schneider, Senior Editor and Chief Correspondent at Circle of Blue
Panelists:
Chris Harnish, Associate Professor at Thomas Jefferson University
Jessica Jacobson, Senior Manager for Financial Institutions at water.org
Deepak Khadka, Vice President of Asia at iDE
Josh Jones, Co-founder and Stake Pool Operator of Grow Your Stake
2:10 PM: Closing remarks by David Parker, Deputy Director for WASH at the Bill and Melinda Gates Foundation
2:30 PM: Adjourn
To follow:
2:45 PM to 4:00 PM EDT: Virtual reception and Arun Deb award ceremony