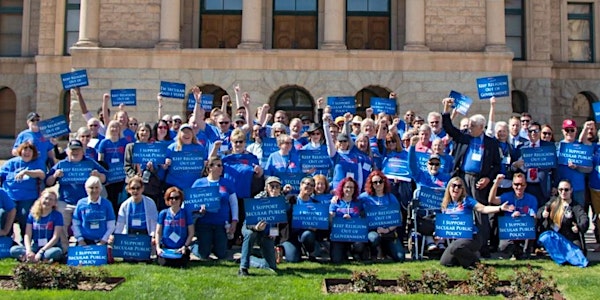 Secular Day at the Capitol 2022
An annual gathering of regular people to advocate for separation of church and state at the AZ Capitol. Join us!
When and where
Location
AZ State Capitol Lawn 1700 W Washington Phoenix, AZ 85007
About this event
Eight years ago, we were told that legislative leadership and members thought that people passionate about separation of church and state were "just a few people sitting in a room" and not to be taken seriously. We decided it was time to organize "Secular Day at the Capitol" to show that support for secular government is a movement!
That first year, we had just two weeks to organize the event and ended up with 25 people showing up. This got the attention of our national groups, and by the third year we had nationally-renowned speakers and 150 people.
Ever since, we've seen a sea of blue "Secular AZ" shirts on some amazing people hanging out near the House and Senate, showing our elected officials we are powerful together!
So we're calling ALL who support separation of church and state to join us on Pi Day 2022 (March 14th), for Secular Day at the Capitol. Here's what you can expect:
- Learn about current threats to secular government
- Advocacy training
- Meetings with your lawmakers
- Group introductions from the House and Senate
-Guest talks by political and issue experts including Rep. Stephanie Stahl Hamilton; Rep. Martin Quezada; and humanist leader Robert Peoples.
- Lunch included!
This year's event will be held in the Rose Garden on the north side of the State Capitol complex. Proof of vaccination will be required and COVID-19 safety protocols will be in effect.
More specifics to be revealed closer to the day of the event.