Description


Your Speaker | Justin Khoo (Founder, Chief Trainer and Full Time Trader of PIPtree)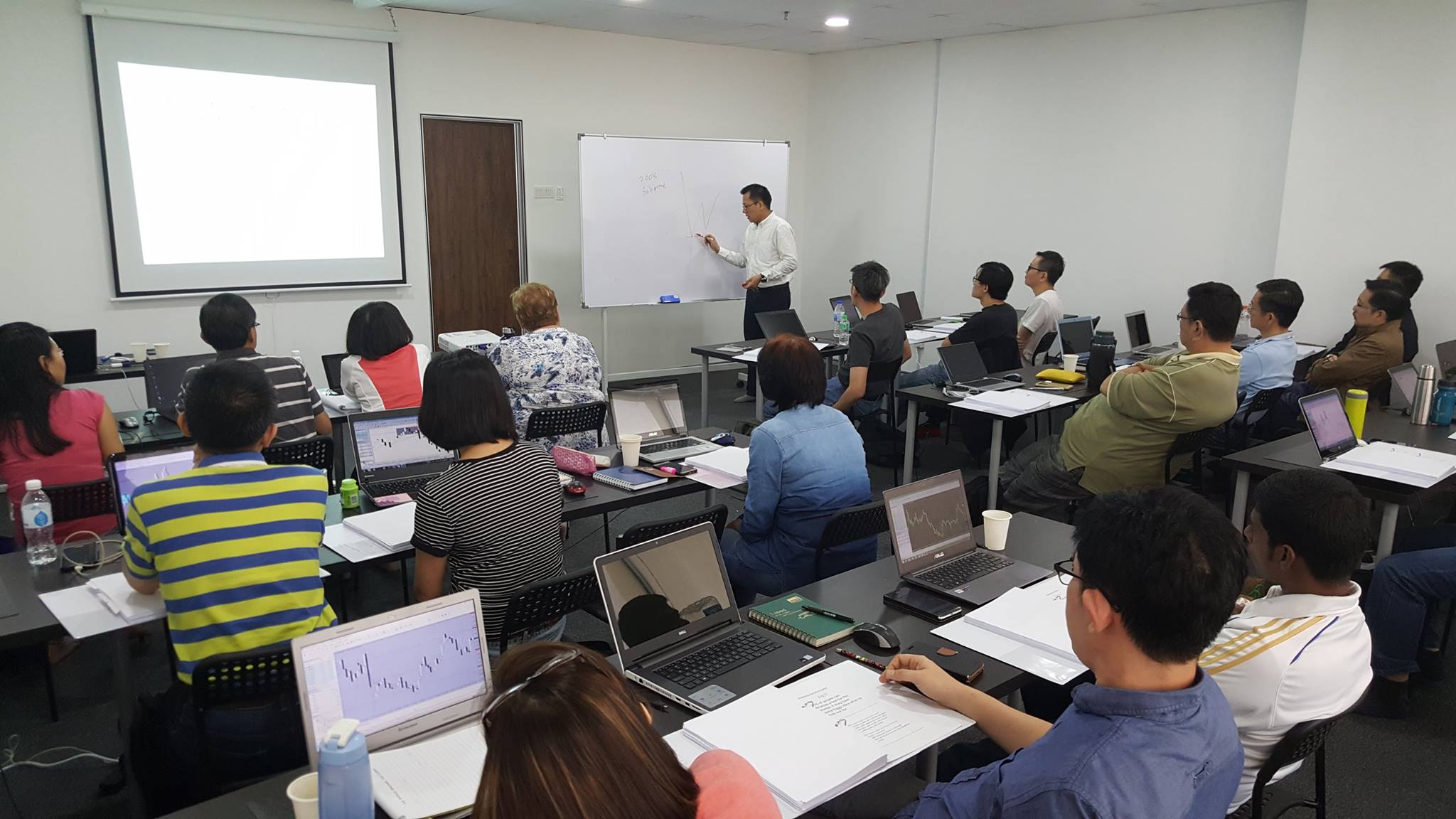 Thanks for checking this page.
My first 5 years of trading is defined as a roller coaster, both in terms of the account balance as well as emotions. I blew my account 3 times. Yes, you read that right, 3 times. The failures made me realize that I need help in realizing my trading dream. I needed knowledge from the real world of trading. My next step led me to seek employment with a fund house as a market analyst. It was from here my eyes were open to the real world of trading.
The knowledge gained from talking with professional traders and bankers soon led me to develop insight of my own. What I developed was a method which detects the areas in which a market tends to trade most and also detecting the number of buyers and sellers in the market to decide the eventual direction. After a few years working with the funds, I decided to quit and manage my own funds within the comforts of my home and most importantly spend some good time with my loved ones.
Friends who knew what I was doing then asked me to guide them in trading. After much thinking, I agreed and never looked back since. After 2 short years, I develop not one but 14 full time traders. Now they too like me have the opportunity to have time to do what they wanted to do all this while being it in relationship, material or buy time. Are you the next one?
---
You're invited to Our 2 Hour Trading Masterclass
What You Will Learn At This Trading Masterclass
1) You will discover 2 secrets to make business income from trading.
2) How price is manipulated to the core and always take your STOP LOSS.
3) How the BIG BOYS/market maker takes your STOP LOSS and later to your take profit direction.
4) 3 simple steps to trade and make the profit using PIPtree trading methodology
5) You get to test our trainer's skill during this seminar. Name any stock, any commodity, any currency, or ETF in the world and our trainers would show you where the price is going to stop!
6) How to identify the support and resistance of the market.
7) Come and see our PROVEN trading system can stand the test of time.
8) Discover why 95% people lose money when they trade and why PIPtree students belong to the 5% year after year.
9) Meet and greet real live full time traders aka PIPtree trainers and ask their real life experience.
---
In a school it's the student result which matter... here are their success stories!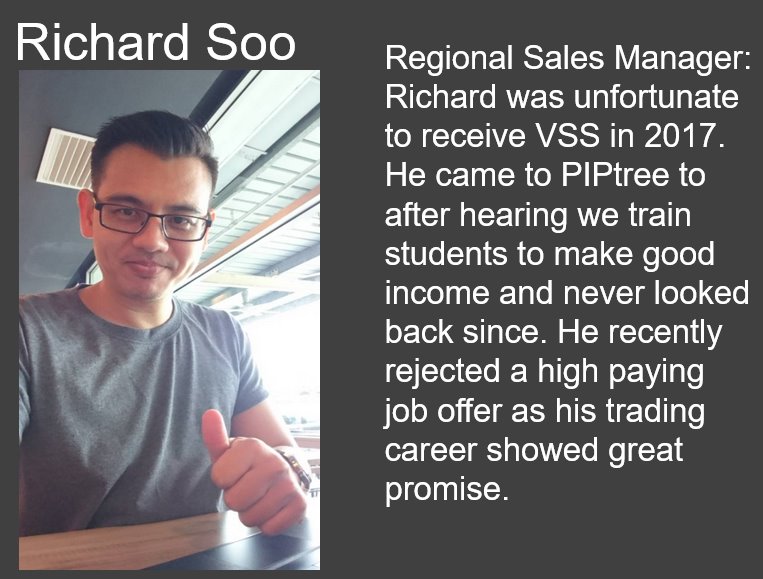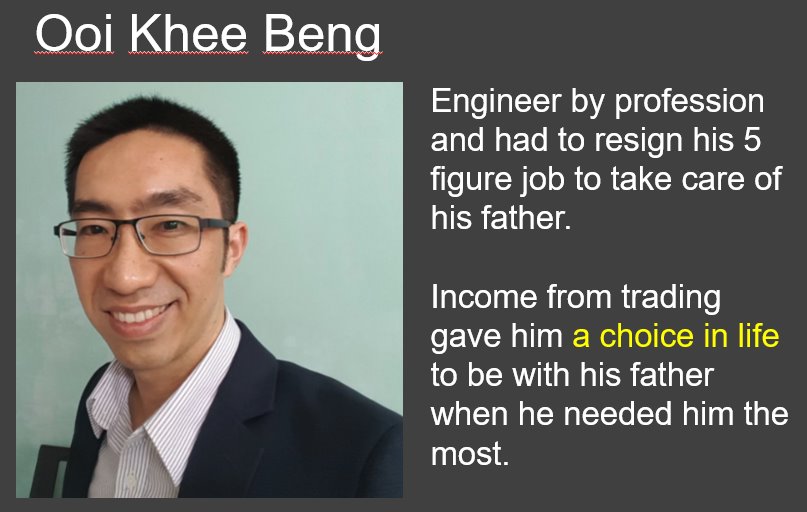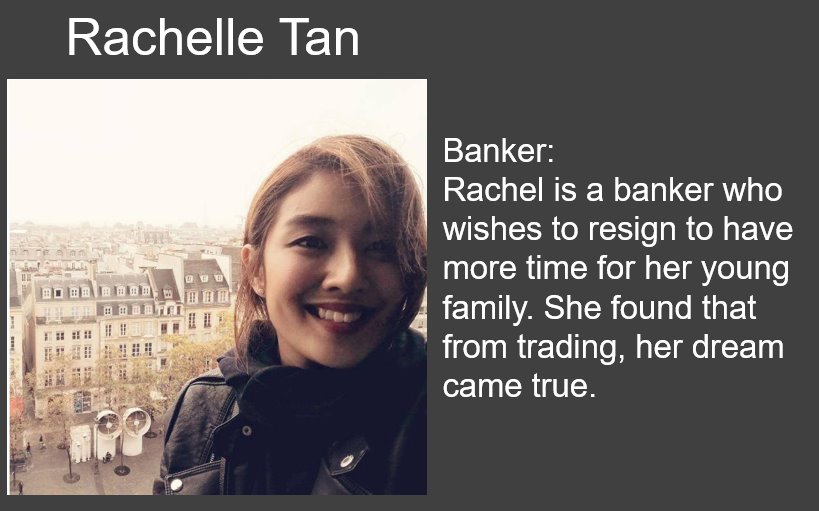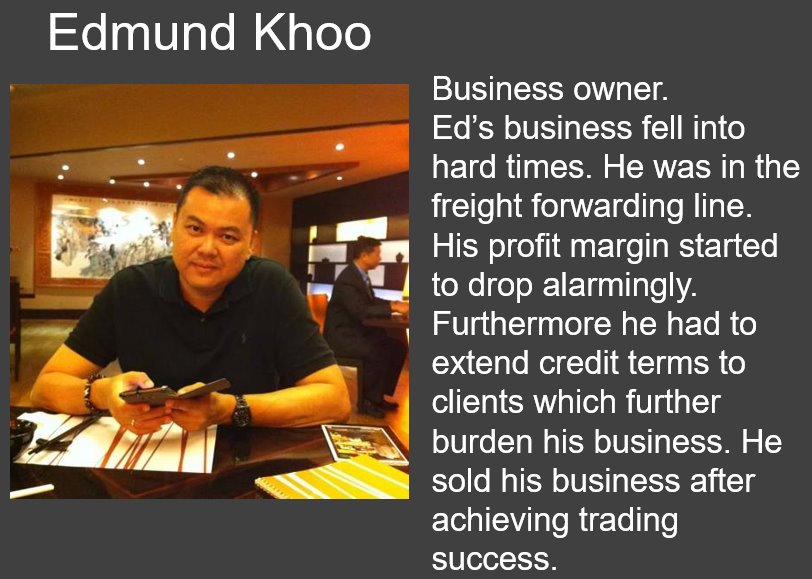 PIPtree is a trading school coached by FULL TIME TRADERS only.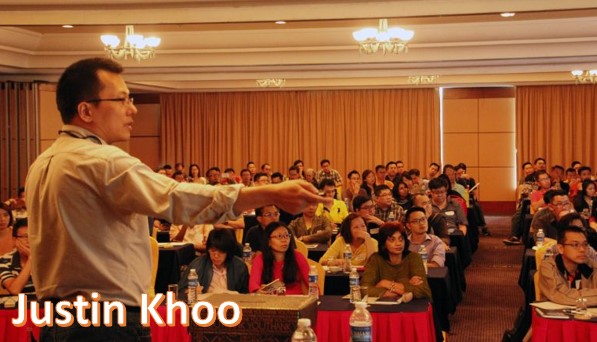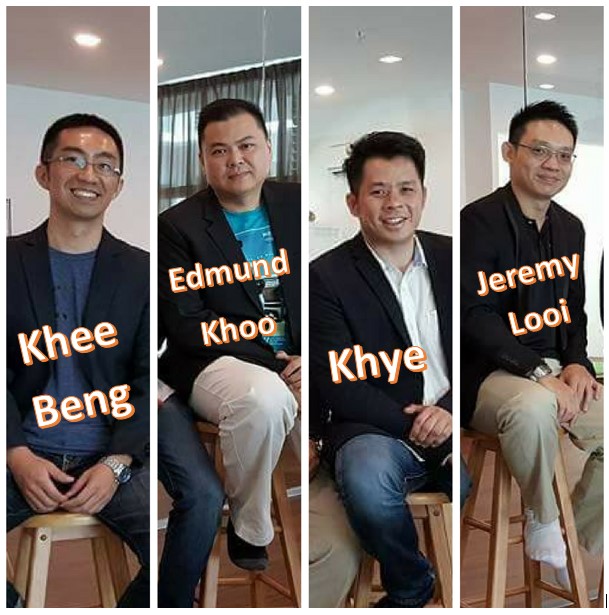 ---
Why PIPtree is
DIFFERENT from other schools?
In 2 years we produced 11 (not 11... 14 so far as per Apr 2018) full time traders and these traders would be sharing their trading experience with you.
Our program is designed NOT ONLY to train you "how to trade" but to mold one to have the physical and emotional capacity to be a consistently profitable trader year after year.

We provide a system to track the progress of our students from the day they start learning till they start their own.

PIPtree is a trading school and not a seminar styled education where all is cramped in within a few days and no support or meetings thereafter. The school's trading education system is catered for both experience and non-experience traders over a period of time.

Our support and follow up is second to none. Graduates are amazed by the support which we provide to all students past and present.
---
Our efforts paid off. PIPtree has achieved 2 amazing rewards in the trading industry
1) Top New Comer in 2017
2) Best Education Provider in 2017

Register now.
Only 30 seats are available in this event.
Date: 22nd July 2018 SUN, Time: 2.00 PM - 4.00 PM
Room: 3 (2nd floor)
Location: Vistana Hotel Bukit Jambul
Address: 213, Jalan Bukit Gambir, Bukit Jambul, 11950 Bayan Lepas, Pulau Pinang