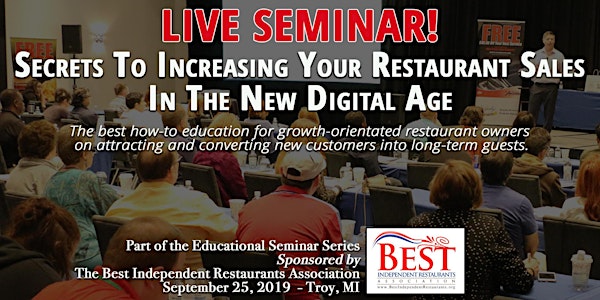 Secrets To Increasing Your Restaurant Sales In The New Digital Age
Location
Somerset Inn
2601 West Big Beaver Road
Troy, MI 48084
Refund policy
Contact the organizer to request a refund.
Eventbrite's fee is nonrefundable.
Are You Struggling To Find The Most Effective Ways To Fill Your Restaurant With More New Customers? If so, you have come to the right place!
About this event
Description
This Is A One Day Only Event.
Sponsored by The Best Independent Restaurants Association, you will learn the most current, Tested and Proven, Cost Effective, Strategies and Techniques from Restaurant Owners, Experts and Trainers on How to Attract and Convince New Customers to come to your restaurant, (even during the week) to increasing your sales. And how to get them to Come Back More Often and Spend More.
You will walk away with an immediate action plan and answers to:
Using Review Sites such as Yelp, TripAdvisor, Facebook and Google to attract MORE New Customers to come to your restaurant, beating your competition
Get to the #1 position on Google AND your Review Sites so your new customers see your restaurant first AND how to generate More 5-Star Reviews
How to Increase the frequency of your customers visits each month and Spend More Money to Double Your Sales
Effectively use Social Media-Facebook, Instagram, Twitter to rise above your competition and attract new customers
How to get your staff to sell more at every table
Small changes to make to your menu to sell more for maximum profit
Not get caught in a discounting price war with your competition
Use the latest mobile technology to fill your empty seats during the week
Develop and use a database of your best customers to attract New Customers just like the most profitable guests you have now
And $571 in FREE Bonus Gifts for Attending!
Plus much more!
***All of the strategies and techniques that will be shared at the event have been proven by thousands of restaurants throughout North America. Real life examples and results will be used.
Who is this Event for?
Marketing in today's world for Independent Restaurant Owners changes FAST! That's why the Best Independent Restaurants Association has created a National Seminar Series to help Independent Restaurant Owners stay ahead of their competition and the Corporate Chains.
If you are an Independent Restaurant Owner that knows how important it is to your success to have the latest, most up-to-date, proven and tested information on how to attract more new customers and get your existing customers to come back more often, this event is for you!
Our Line Up of Expert Speakers for this Live Seminar:

Session 1: The Secret To FIlling Your Restaurant With New Customers Using Google & Review Sites:
Michael Thibault is the foremost Digital Marketing Expert for the Restaurant Industry in the United States. Mr. Thibault is an author and speaker for National Food Shows across the country and hospitality companies on how to attract and convert new customers using digital marketing. He has over 30 years experience in the restaurant industry and has owned 6 Restaurants in the Metro Detroit area. His company now helps thousands of restaurant owners to maximize their online presence to increase new customers.
He will be presenting on how to leverage restaurant review sites and Google Business Listing to attract and convince new customers to come to your restaurant. As well as how to handle a negative review and generate more 5 Star reviews. He will also cover which social media sites are the most profitable and how to measure your results.

Session 2: How To Put A Steel Cage Around Your Customers So They Come Back More Often And Spend More Money
Bent Hansen owns Los Gringos Locos Restaurant in La Canada, CA. He is The Best Independent Restaurants Association Marketing Champion. He competed against several other restaurants in his category to achieve the largest increase in sales and profit.
Because of his success for being able to generate sales on demand from his existing customers we have asked Bent to share with other Restaurant Owners exactly how he has been able to double his sales. Bent will pull back the curtain on the exact system he uses to get his guests to come back more often and spend more.

Bonus Session: How To Design Your Menu For Maximum Profit And Train Your Staff To Sell More
Gordon Matthews has been in the trenches of the Restaurant Industry for over two decades. He has managed large hotels to single independent restaurants globally. For the past 8 years Mr. Matthews was a hospitality consultant for the Price Waterhouse Cooopers in which he worked with large corporations to cut costs and increase sales for their food service divisions.
Mr. Matthews will share proven sales techniques to implement with your staff that will double your per person check average at the counter, bar and table. And how to design a menu that will maximize your sales. These exact techniques have been used by some of the largest foodservice corporations in the world to increase sales for every transaction while ensuring your guests have a memorable dining experience.
FREE Bonuses for ALL Attendees:
FREE Bonus #1 (A $127Value): A Free Report Called "Operation Restaurant Time Suck" that will dramatically increase your productivity and free time.
FREE Bonus #2 (A $147 Value): **SPECIAL REPORT** "How To Raise Your Prices... And Simultaneously INCREASE Repeat Visits From Your Customers!"
FREE Bonus #3 (A $297 Value):A proprietary menu pricing tool, so all you need to do is input limited information and it will calculate what to charge for maximum profit!
Date:
This Live, One Time Only Event will be on September 25, 2019. Registration will start at 11:30 AM. Event will run from 12 PM - 4:30 PM
Venue:
The Somerset Inn 2601 W. Big Beaver Road Troy, MI 48084
Cost:
$49 per Restaurant (Includes up to 2 attendees) Use Promo Code For Early Bird Discount. Seating is limited to 50 people
100% Satisfaction Guaranteed:
You'll get a 100% refund if you are not fully satisfied with the value you receive. You must attend the seminar to be eligible for a refund.
More Information:
For more information please contact The Best Independent Restaurant Association at 1-888-216-9676.