Event Information
Refund Policy
Refunds up to 30 days before event
Description
*Please note that due to the coronavirus pandemic, this class will now be offered online. And it will be just as juicy! Details will be sent upon signup.*


Unlock the Secrets of Sexual Ecstasy
A Weekend Tantra Workshop for Singles and Couples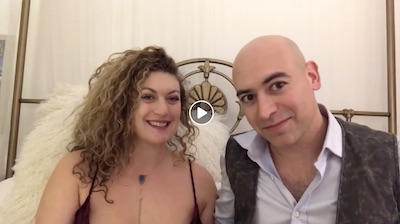 What are our bodies truly capable of? What are our beings truly capable of? What is the secret to breathtaking pleasure and intimacy?
The human body is vast and deep, capable of unprecedented, exquisite, even transformative pleasure. Yet so few of us get to scratch more than the surface of this unlimited potential.
Until now.
In this immersive weekend workshop with two experienced experts, you will discover all the secrets you were never taught in school.
*Guy and Lauren will also present a live demonstration of female Sacred Spot Massage. This will include an overview of female anatomy, and various stroking techniques, so you'll have a template of how to put all the tools you'll learn into practice.
Topics may include:
The G-Spot. Is it real or not real? Science keeps changing it's mind. You'll learn the truth about the G-spot and many other spots–such as the Sacred Spot–and the difference between each one.
Female Erotic Anatomy: The latest revelations, such as the much talked-about clitoris, and how it's not what we once thought it was.
The Magical Power of Arousal: How it affects energy and desire, and how it actually changes–yes, changes!–your physical anatomy, which is what causes so much confusion.
Masculine/Feminine Dynamics: How do these two energies intertwine? How is chemistry created? And how awareness of the distinct qualities of these two polarities can help you elevate your sex to where it keeps getting better and better every time.
Ejaculatory Control for Men: Practices to delay ejaculation, prolong pleasure, and enhance potency so you can be more vital.
Elusive Female Orgasm: Women, do you get close to orgasm but can't quite seem to get there? You'll learn the main reason why this happens and what to do to get over the edge.
Longer, More Powerful Orgasms: You'll learn the secrets to lengthen and intensify your orgasm, making it up to 10x longer and more powerful with various techniques.
Energetic Lovemaking - What are the laws of energy and attraction? How can I learn to feel what is going on in my partner's body, and experience a feeling of oneness?
Lovemaking for Health - How you can cultivate your sexual energy to heal, keep healthy, and have more energy.
What is Full Body Orgasm? And how you can reach this ecstatic state?

Breath & Sound: What is the science behind why they are important, and how to utilize these tools to supercharge your sex.
Winning Communication: Do conversations about sex bring a crimp to your relationship? Are there things you're hesitant to say or ask for? Learn both verbal and non-verbal tools to communicate your desires, while working as a team so everyone wins.
Married Couples: Kids got you down? Are you simply not able to find time or energy for sex? You'll learn how to re-ignite the passion and keep it growing, so that your sex actually gives you more energy and happiness.
For Men (and Women): The key to becoming multi-orgasmic!

The Science of Pleasure: What are neural pathways and why do you need to know about them?
Secrets of Sensual Touch - Did you know you can touch someone with your energy before you make contact physically? We'll discuss both energy and physical modalities of touch.
Sex as a Practice: Bringing all the tools together to create an expanding, lasting sexual practice bringing wellness, happiness, and improving the quality and ease of every relationship (starting with your relationship to yourself)
And.
You can ask our sexperts all your burning questions. They have a tremendous well of training and experience, which you can read about below!
It's 2020. Not the stone age. It's time for deeply satisfying, soul-connecting sex. Come gain the knowledge and tools you need to take your sex life (including solo sex) to the next level.
*Workshop will be part lecture, part exercise, and include a live demonstration (Guy will demonstrate on Lauren). Schedule: Fri 7-9:30pm, Sat 9:30-5:00pm, Sun 11-5pm. Lunch break ~ 1:30-3:00pm. *Optional home play offered for both singles and couples for those who wish to practice after class Saturday night.
---

Can't make this date? Sold out? See alternate dates:
---
Testimonials for Secrets of Sexual Ecstasy:
"Lauren and Guy are excellent guides to the hidden realms. If you are looking to create more depth of feeling and connection in your relationships–with your own self and with others–you deserve to receive this experience." -Victoria O.
"Guy and Lauren are amazing, and will energize you and make you feel better about yourself."
"Guy + Lauren have a great way of explaining, their energy is great, the way they connect with each other and us in the group. It's easy to relax and feel comfortable sharing in the space they create"
"If you want to connect more with yourself and your partner, this is the course for you!"
---
Your Facilitators:
We are so pleased to be presenting Secrets of Sexual Ecstasy, our banner class, the culmination of our many decades of experience exploring this realm.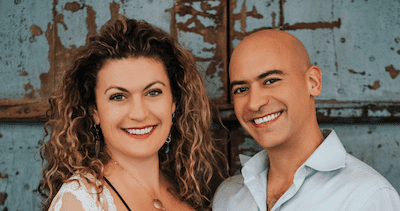 Daka Guy, ACTE, Co-Founder of The Tantra Institute, is an Advanced Certified Tantra Educator who has been weaving together sex and spirit long before he discovered it was called Tantra. He has worked with a broad range of modalities and teachers, such as Charles Muir (Tantra), the Bodanskys (EMO), OM Rupani (BDSM), Morehouse (DO), and Orgasmic Meditation (in which he is also a certified coach and instructor). Add to this a deep well of personal exploration in hundreds of experiences, and it is likely that any question or situation you have, Guy has encountered and can likely address. He speaks, teaches, and coaches in New York and around the world, and has taught with Charles Muir at SSTY teacher training, as well as at The Open Center, Dark Odyssey, Burning Man, and others. Guy most enjoys helping singles and couples have more intimacy, connection, and pleasure in their sex and relationships. He is available for private sessions.
www.dakaguy.com
Lauren Harkness, ACTE, is a trained Tantrika and Advanced Certified Tantra Educator with Charles Muir's Source School of Tantra, Orgasmic Meditation Instructor, trained in the D/s arts and shamanism with Om Rupani, Graduate of Mama Gena's School of Womanly Arts, Mastery Graduate, Jewelry Designer, Seductress, and a stand for everyone ready to heal and further ignite their sexual self, sovereign and free! She teaches Tantra and other modalities of healing and personal growth. She also offers private Tantra Sessions, Orgasmic Meditation Training, Coaching Sessions, or Reiki Healing Attunements. She teaches large group classes internationally and has taught at Burning Man, FYN, Dark Odyssey, and is the Co-Founder of The Tantra Institute. She is available for private sessions and coaching.
www.radiantecstasy.com

---
Photos from Tantra Institute Events:
Date and Time
Location
Refund Policy
Refunds up to 30 days before event