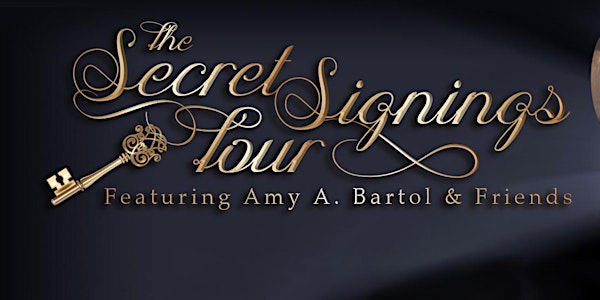 Secret Signing Tour featuring Amy A. Bartol and Friends!
Refund Policy
Contact the organizer to request a refund.
Description
Join Author of the Year*, Amy A. Bartol, the bestselling author of the Kricket Series and the Premonition Series -- and friends -- for Secret Signings in only THREE cities in 2015/2016:
Los Angeles, CA -- Sept. 13, 2015 -- with bestselling author CHELSEA FINE, and the award-winning HEATHER LYONS
Boston, MA -- May 2, 2016 -- with bestselling authors SAMANTHA YOUNG and AMBER LYNN NATUSCH
London, England -- July 10, 2016 with bestselling authors GEORGIA CATES, ELLA JAMES and REBECCA DONOVAN
Inspired by "secret shows" that some of her favorite bands host, Amy teamed up with live event producer Janet Wallace of UTOPiAcon, to create a special, limited tour as a way to say "THANK YOU," and make her amazing readers feel as special as they make her feel every day.
What's a Secret Signing? And what will Amy's be like?
• A secret signing is where you are told what city the signing will be held in and what time, but you are not given the location of the signing until the week of the event.
• These are held at secret locations, and attendance is capped at 50-75 people ONLY, depending on the venue. No more hotels -- each signing is in a unique and inspired location.
• The attendees will receive limited-edition merchandise and/or swag that is ONLY available at the Secret Signings, and each event will have different offerings.

• Attendees get two hours of meet-and-greet time with Amy A. Bartol and her special guests.
• Snacks and drinks are provided and included in price.

• There will be a Q & A session.

• There will be special readings by the authors. Amy does not do public readings, so this is a special treat just for the Secret Signing attendees!!

• ONLY Secret Signing attendees will receive THE DIVIDED novella by Amy. It has only been published in one anthology ever, and this will be the first time it will stand on its own with its own new cover art created by Regina Wamba of Mae I Deisgn exclusively for this event and it's a GIFT to you!! And yes, Amy will be signing these and any other books you bring or buy.

• Attendees will have access to a private Facebook group where they will get first peeks at new work, deleted scenes and excerpts; first access to future special events; and other giveaways that will not take place anywhere else!


There is no guarantee that Amy will ever be doing exclusive events like this ever again, or in these cities, so this is rare (possibly once-in-a-lifetime) opportunity to get unparalleled access to some of your favorite authors in an intimate and unique environment.
Grab your ticket now for an unforgettable night!!
* utopYA 2015