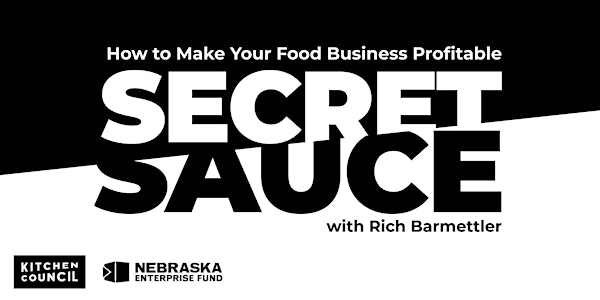 Secret Sauce: How to Make Your Food Business Profitable
Join us for a five-part workshop series on improving your food company's operations and bottom line.
When and where
Location
Highlander Accelerator 2112 North 30th Street Omaha, NE 68111
About this event
Are you a food entrepreneur? Would you like to grow your business's capacity and profitability? If so, join us for a five-part workshop series on improving your company's operations and bottom line. Local restaurant expert and consultant, Rich Barmettler, will be leading participants through various topics that will help you assess the health of your business and how to level up. Each session will include practical examples, group discussion and a bit of homework.
This is a FREE five-part series provided by Kitchen Council and the Nebraska Enterprise Fund. You must apply to participate. Applicants must be available to attend all five sessions. Space is limited. You will be notified within 48 hours if your registration is accepted.
Session Topics & Dates:
Operations, Part I | September 19 | 5:30-7:30 pm
Finance | October 3 | 5:30-7:30 pm
Marketing & Legal* | October 17 | 5:30-7:30 pm
Operations, Part II* | November 7 | 5:30-7:30 pm
Business Strategy* | November 21 | 5:30-7:30 pm
Criteria to Attend:
Participant owns an existing food/beverage business (restaurant, catering, food truck, packaged product, etc.); Carries necessary license(s) to operate
Participant has owned business for one year or longer
Local to the Omaha-Council Bluffs Region; Must be able to participate in-person
Available to attend all five sessions over two months; Each session will build upon the preceding one
Cost: FREE
Ticket includes admission, networking, beverages + light bites.
Session Synopses:
Session 1: Operations Part I (September 19):This session will take you through industry proven systems and techniques to improve your company's operational and financial performance, introduce you to a new way of looking at your workflow and enlighten you on proactively running your day-to-day business. Through a set of systems, processes and metrics we'll help address your biggest "pain points" in your everyday life. The presenter will use PowerPoint, presentation, discussion, breakout sessions and workshop documents.
Session 2: Finance (October 3): Everyone knows what to do financially to run their business profitably, right? Even if you do, this session will dive into the areas that impact your business the most, how to control those factors even more effectively and introduce systems to help you go further, faster and better in your business. The presenter will use PowerPoint, presentation, discussion, breakout sessions and workshop documents.
Session 3-5: Marketing & Legal (October 17), Operations Part II (November 7), Business Strategy (November 21): Session 3-5 Synopses will be provided at later date.
About the Facilitator:
Rich Barmettler is an operations and logistics expert and creator. With 35 years of industry experience, Rich has an impressive history of creating and opening new restaurant and bar concepts. To date, he has opened 25 new concepts, in which 20 are still operating (triple that of the national success rate). Additionally, through Rich's industry leadership, 600 new jobs have been created in the Greater Omaha region. 80% of the BCG concept creations that were opened preceding Covid are still operating 26 months later. Rich has been a member and former president of the Omaha Restaurant Association and consults with the City of Omaha, realtors, developers and small cities around Omaha on various food and beverage initiatives. He has served on several local boards and enjoys the connectivity and cooperation of the hospitality world and bringing those benefits to his clients.
Barmettler Consulting Group (BCG) offers two primary services; 1) Creation of new custom concepts, and 2) Business advising with existing operators consulting with dozens of local and non-local businesses to engage systems, improve sales and profits along with developing management teams. BCG is involved with every phase of the business including projections for financing, design and flow, construction, equipment procurement, financial proformas, hiring, training, menu development and engineering and all operational systems.
About Hosts:
Kitchen Council helps food startups start up. From finding affordable commercial kitchen space to navigating licensing and regulations, starting a food business is not for the faint of heart. With Kitchen Council, you are not alone. We provide access to a state-of-the-art commercial kitchen, educational resources, a member community, events, mentorship and more.
Nebraska Enterprise Fund (NEF) is a statewide microenterprise intermediary and Certified Community Development Financial Institution (CDFI) providing business development services and financing to micro and small businesses across Nebraska and Iowa. The NEF supports underserved communities by providing micro and small businesses with access to training, technical assistance and capital.
Photo and Video Release:
By registering and participating in this event, you consent to the recording of your likeness, image, and/or voice and authorize Kitchen Council to use photographs, video, and audio recordings containing your likeness, image, and/or voice in any medium for any purpose.
Need more information? Please contact Kitchen Council Staff at KitchenCouncil@omahachamber.org.