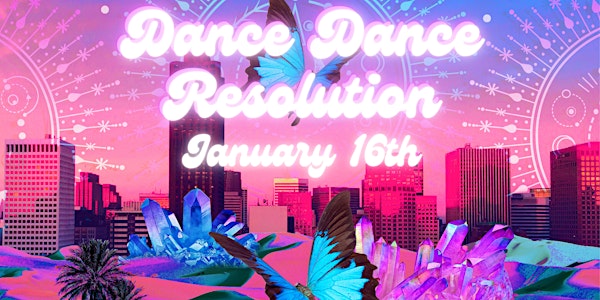 Secret Dance Addiction presents Dance Dance Resolution
Bring your intentions for 2021 to the dance floor, where we will dance our good wishes + happiest dreams into reality together.
About this event
This party is all about YOU! Launch into your best year yet with a dance party designed to light you up with personal power, self-love, and dance floor freedom.
Dress up in ALL WHITE // Lineup below!
Music is the magic.
#partypositive
Join the movement.
Welcome to Secret Dance Addiction
Play, dance, celebrate, and connect in a virtual space that we co-create together. Join SECRET DANCE ADDICTION for a digital dance party where music + mindfulness go to party! Bring your family, your pets, your costumes, and whatever TF else gets you in the party mood! This party is open to EVERYONE, all over the WORLD, and ALL AGES!
✨Secret Dance Addiction✨ is a transformational nightlife community dedicated to partying positively. Find out more at app.secretdanceaddiction.com
5PM LA // 8PM NYC // 1AM UK // 9AM TOKYO // 10AM SYDNEY
Instructions for how to join the party will be emailed to RSVPs 2 hours before the party!
What SDA Parties Are Like
: : : FEATURING : : :
😍 Self-love + resolution manifestation
🎧 Lit dance party DJ set by IGNIGHT
🎉 Costume Contest! The dance party theme is ALL WHITE!
🍾 Interactive Conscious Cocktail Club experience
🌎 Meet new party people from all over the world
🤩Be sure to have your camera on + ready to fire up your party moves
Get dressed up, grab some dance floor decor + dance with us from ANYWHERE in the WORLD! This is an all ages event!
👨‍👧‍👦 Parental Supervision Advised: some people like to dance in their club wear.
Detailed instructions for joining the Zoom will be emailed to all RSVPs on the day of the party!
5pm LA // 8pm NYC // 1am London // 2am Ibiza // 11am Sydney
What to Expect 🤩
This is an interactive dance party experience! We'll kick off the party at 8pm EST // 5pm PST with a mindful meditation. Next, we will prepare our mantras, intentions and resolutions for the dance floor.
Bring a posterboard or large piece of paper that you can clearly write your intention on to share during the dance party experience.
Next, we will create a drink from Spiri+, the Paloma Fizz with fresh grapefruit! Recipe is shared in your RSVP email.
Time to dance! DJ Ignight will be spinning the best dance hits you've ever heard + taking requests for your favorite dance tracks OF ALL TIME.
Get Ready to Party 🎉
1. Download Zoom
2. Decorate your party space!
3. Prepare your costume!
4. Join the growing Secret Dance Addiction community at app.secretdanceaddiction.com
The Day of the Party 👯‍♀️
1. We will email you the secret Zoom link to join the party the day of.
2. Keep yourself on mute please!
3. Turn on your video camera!!!!! We want to see your costumes + dance moves!
4. DANCE!
About Secret Dance Addiction
This is where music + mindfulness go to party! Secret Dance Addiction unites creators, embraces connection + celebrates each day to the fullest. Explore the future of nightlife with a community that puts health + connection first. No intoxicants needed. #partypositive