Secret Cinema at Temple Gallery - RARE HAUNTED HOUSE HORRORS

Friday, October 28, 2011 at 8:00 PM

-

Saturday, October 29, 2011 at 12:00 AM (EDT)
Event Details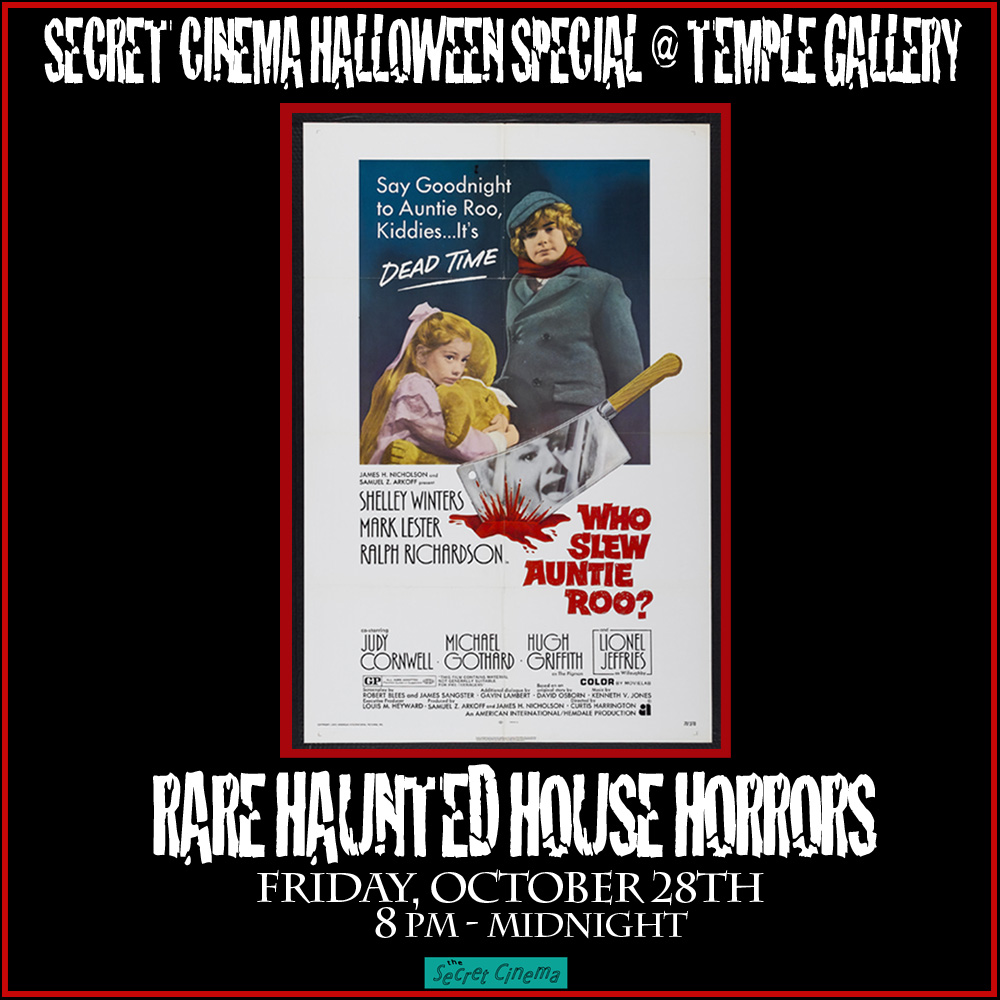 SECRET CINEMA, RARE HAUNTED HOUSE HORRORS
Friday October 28th, 8pm-Midnight
Temple Gallery @ Tyler School of Art
2001 N. 13th Street
Philadelphia, PA 19122
Free Admission

On Friday, October 28th, the Secret Cinema will present a four-hour mini-marathon of Halloween-themed movies at the Temple Gallery, in the Tyler School of Art on Temple University's main campus. Haunted House Horrors will include three rarely-screened horror features, all focusing on the common theme of the scary aspects of homes, normally a source of shelter and solace. In addition to the features, some short subject and cartoons on the same subject will be included. 
The screening will close a day of Halloween activities at the Temple Gallery: after an on-site, vampire-inspired blood drive in the daytime, there will be a lecture titled Haunted histories: Eastern State Penitentiary and Pennhurst State School and Hospital. Historians Kelly George and Anne Parsons will speak about the use of abandoned institutions for material gain, especially through marketing efforts that depict those institutions as haunted. The lecture begins at 6:00 pm. The films will begin at 8:00 pm and last until midnight and, as always with Secret Cinema events, the films will be shown using real film (not video) projected on a giant screen. Admissionis free for all!
 

The sequence of features will be: The Man They Could Not Hang, One Frightened Night, and lastly, Who Slew Auntie Roo?, with surprise short films interspersed through the night.

More information about our features:

The Man They Could Not Hang (1939, Dir: Nick Grinde)
Horror movie icon Boris Karloff stars in one of his lesser-known, yet best films as Dr. Henryk Savaard, a brilliant scientist experimenting with bringing the dead back to life by use of a mechanical heart. After the accidental loss of one of his patients, he is executed for murder, but is then secretly revived by his assistant using the doctor's own method. The resurrected Savaard is now a changed man obsessed with vengeance. When his judge, prosecutor and jury are invited to a mysterious meeting, they find themselves trapped in the home of the man they thought they sent to death, informed that they will themselves be killed before the night is through. The doctor's once-stately home re-engineered as an instrument of lethal revenge, it appears his gruesome promise will soon come true.

One Frightened Night (1935, Dir: Christy Cabanne)
This rarely seen gem is one of the higher-regarded products of B-studio Mascot Pictures, and mixed comedy and suspense in a send-up of "old dark house" thrillers. Cantankerous codger Charley Grapewin invites his greedy relatives to his mansion to tease them with hopes of inheriting his fortune…leading to inevitable foul play. With a cast full of comic character actor greats having a swell time, including Wallace Ford, Lucien Littlefield, Rafaela Ottiano, Fred Kelsey and Clarence Wilson, plus soon-to-be gossip czaress Hedda Hopper. Director Christy Cabanne learned his craft as an assistant to D.W. Griffith.

Who Slew Auntie Roo? (1971, Dir: Curtis Harrington)
In this creepy outing from one-time avant-garde filmmaker Harrington, Shelley Winters plays a retired vaudeville performer that keeps the mummified remains of her young daughter in her lonely mansion. When a pair of troubled kids sneak into her annual Christmas meal for orphans, Winters finds the girl resembles her daughter and so kidnaps her - prompting the girl's brother (Oliver's Mark Lester) to decide they've stumbled upon the home of the wicked witch from HANSEL AND GRETEL. "Walks a fine line between good and bad taste." - The Motion Picture Guide
To find out more about this event, and to reserve your seat click here.
The Temple Gallery would like to thank the Temple University Libraries Center for Public History's Annual Speaker Series, the History Department, the Photography Department, the Film and Media Department, the Center for the Humanities at Temple, the Institute on Disabilities at Temple University, the Communication Studies Program, the Greater Women's Study Consortium, the Architecture Department, and the Department of Criminal Justice for their support of this event.
When & Where

Temple Gallery, Tyler School of Art
2001 North 13th Street
Philadelphia, PA 19122


Friday, October 28, 2011 at 8:00 PM

-

Saturday, October 29, 2011 at 12:00 AM (EDT)
Add to my calendar