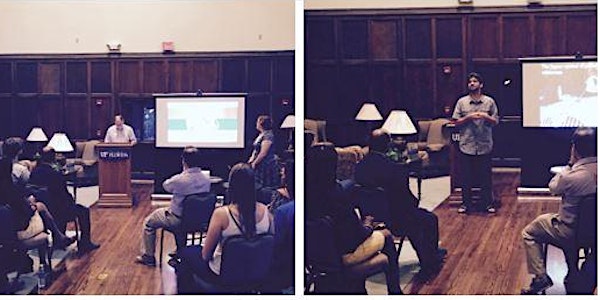 Second UF PECHAKUCHA x Fulbright 20X20
When and where
Location
UF International Center- Room 145 1765 Stadium Road (The Hub) Gainesville, FL 32611
Description
Second UF PECHAKUCHA x Fulbright 20X20
The Fulbright Lecture Series Committee in conjunction with the Fulbright Association North Florida Chapter, the International Center and the Graduate School are pleased to host UF's second PECHAKUCHAxFulbright 20X20* event!
Date: Tuesday, January 26, 2015
Time: 5:30 PM
Place: UF International Center (located in the Hub)
Presenters:
Anna Calluori Holcombe, Professor of Ceramics, UF School of Arts + Art History
Topic: "New Models for Ceramics: Recent Work"
Taking natural objects and using them in a digital form creates a juxtaposition that I find interesting. The work evokes the vessel but hopefully begins to transform it in the mind of the viewer to a more organic form that suggests relationships and often takes on the genre of the still life. I work with new technologies to create this work, collaborating with digital media artists to make models. Natural objects such as fruits, vegetables, seedpods, etc. are scanned with a 3D scanner. The scans are then 3D printed with a rapid prototyping machine. I use the resulting resin models to make plaster molds then slip (wet clay) cast the pieces in porcelain.


Jason R. Picardo, Fulbright-NEHRU Doctoral Research Fellow, UF Department of Chemical Engineering
Topic: "The Mathematics of Organized Ant Behavior"
In this talk, I will show how ants following such simple local rules can form ant craters (symmetric mounds of soil around nest entrances) and self organize into straight lines, without conscious intent. Understanding gained from studying ant behavior can be applied to design algorithms for computers and simple robots to solve complex engineering problems.
Diana P. Rojas, MD, Fulbright PhD Candidate, UF Department of Epidemiology
Topic: "More than Two Centuries Vaccinating: Recent Advances on Vaccine Development"
As science is advancing vaccine development has also changed in the last decades and the requirements and expectations to develop and introduce new vaccines are higher. Understanding how vaccines are developed and the expected response from the human body is pivotal to achieving the elimination and eradication goals of different diseases. Innovative techniques on vaccine research have expanded the disease targets as some vaccine research is beginning to focus on non-infectious conditions.
*PECHAKUCHA 20x20 is a simple presentation format where you show 20 slides, each for 20 seconds (the presentation is 7 minutes long). The PECHAKUCHA presentation format was devised by Astrid Klein and Mark Dytham of Klein Dytham architecture, the first PECHAKUCHA Night was held in Tokyo in 2003. Since that time, and similar to recent 3MT (Three Minute Thesis) competitions hosted by the Graduate School, PECHAKUCHA nights have become popular around the world.
For more information on PECHAKUCHA Click on this link: http://www.pechakucha.org/faq