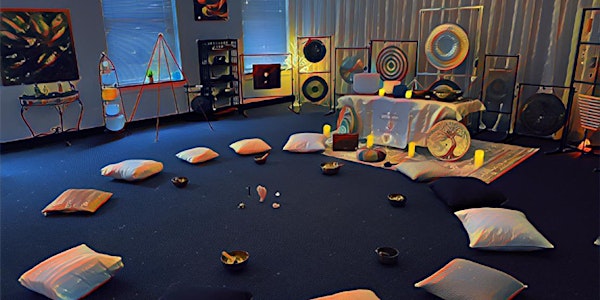 Second Sunday Sound Sanctuary
A place and time for you to receive whatever you most need through the power and community of sound, featuring Joseph Langham on the fujara.
When and where
Location
Soundwise Health Studio 2nd floor (elevator/stairs) Suite 267 313 W. Liberty St. Lancaster, PA 17603
Refund Policy
Contact the organizer to request a refund.
Eventbrite's fee is nonrefundable.
About this event
In the midst of the season of lights, when it can feel like a whirlwind of activity, you're invited to join us in our monthly sanctuary of sound for a time of peace and reflection. The soundwaves can transport us to inner knowledge and connect us to what we most need, as determined by the intention of your heart. Over the years people have commented these monthly sound meditations are a powerful community of love, acceptance and revelation knowledge. "A transcendent experience." "It always feels sacred."
"I had the most beautiful visions, and I'm not on drugs, either!" "This is what people are longing for, this type of community." "It's one of the pockets of new earth popping up all over the world." "The voices and instruments are beautiful and you can tell you all are good at this. You can hear it. You feel it, too. I love it here."
This month we can't wait to have Joseph Langham join us! He will be using the large, flute-like fujara during our sound meditation. We will use a variety of other instruments as we are guided, including our voices. You are encouraged to use your voice in commUNITY toning with us or simply listen. Regulars Julie Moffitt, Deborah Eisenhart, and Kenneth-Michael Ebert bring their unique skills and experience again. If you were at last month's powerful meditation with Grammy nominated Windwalker Dorn and our own Lisa Fairman, you know that Kenneth-Michael's drum-singer offering induced prophetic visions for many of us, several involving eagle medicine. Julie and Deborah, as professional vocalists and sound practitioners always add beauty and the wisdom of their years of experience to our sacred space. We are offering this by donation, but you must register to attend.
Now, about Joseph! We're honored to have him with us. If you can't get to us on 12/11, check him out on 12/4 at his event in Elizabethtown. Or do both!!
Joseph Langham VST, LMT is a practicing Vibrational Sound and Massage Therapist in Elizabethtown, PA. He is a seasoned multi-instrumentalist, prolific singer-songwriter, professional actor, and published playwright. He has been tapping into the creative stream as a pastime and profession for most of his life and has been called to bring these many past experiences into this current offering of sound. He is reading all he can get his hands on about sound, studying under Lana Ryder at Soundwise Health in Lancaster, and is attending the events of and learning from so very many wonderful practitioners in the vibrant local sound community. He and wife, Ariana call Elizabethtown home, run Tōne Sound Massage Energy www.tonesoundmassage.com out of the Kairos Studios in Etown and are the proud pup parents of a suspected mini-labradooodle named Mortimer.
Bring a blanket, yoga mat, cushion, eye mask and whatever you need to feel comfortable, warm and supported. You may lie on the floor or be seated, whatever is best for you. A few chairs and blankets are available in our studio. This is a drug-free, alcohol-free event.