Description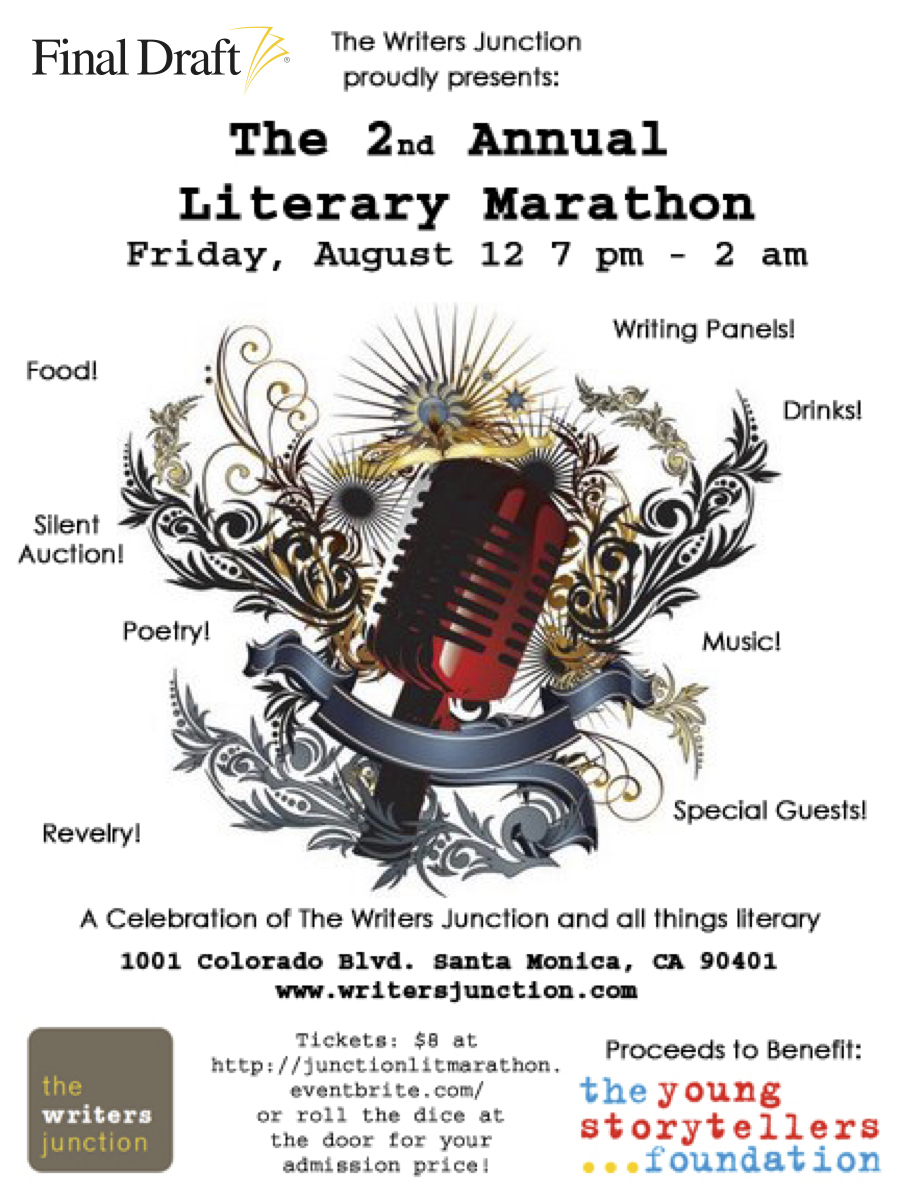 Revisit last year's wildly popular 24-hour literary marathon in redux with new & returning stars. This event will feature some of the literary, entertainment, & music world's best & brightest. Proceeds to benefit The Young Storytellers Foundation. Take a look at our stellar line-up:
7:15PM- Ashaki Jackson*- poetry
7:30PM- Jillian Lauren author of Some Girls: My Life in a Harem- excerpt from upcoming novel Pretty

7:50PM- Mark Sarvas* author of Harry, Revised- fiction

8:10PM- Inside The Writer's Room: A Panel – get the inside scoop on a television writers room with showrunners & staff writers including: Liz Tigelaar (LIFE UNEXPECTED, ONCE UPON A TIME), Jami O'Brien (HELL ON WHEELS, BIG LOVE) , Bruce Miller (EUREKA, MEDIUM), Deirdre Shaw Gibson (LIFE UNEXPECTED, JANE BY DESIGN) & more!
9:10PM- Sarah Monson- comedy

9:30PM- surprise guest!

9:50PM- Jim McCaffree- humorous excerpts from self-help blog

10:00PM- Tatiana Blackington- excerpt from The Sanctuary, winner of WordHustler's Novel Contest

10:15PM- Mark Rizzo* TV/film writer & storytelling veteran

10:35PM- David Francis author of Stray Dog Winter- excerpt from new novel

10:55PM- Rita Williams author of If the Creek Don't Rise

11:20PM- Rich Ferguson- spoken word

11:40PM- Anne Walls- comedy

MIDNIGHT- surprise guest!
12:20AM- Nicole Wells- personal essays

12:30AM- Sean Hill- spoken word

12:50AM- Anna Metcalf- humor/memoir

1:10AM- The Dub Collective acoustic band featuring Jacqui Fauni*

1:30AM- Brooke Bastinelli poetry
And of course, your most honorable Master of Ceremonies...
Ben Weber* actor, writer, Geico Caveman
Performances will be going for 7 (not 24!) hours straight, as will the food, drinks, & revelry. There will be a raffle with great prizes including Final Draft 8 & you can check out the amazing workspace that is The Writers Junction. We will donate a portion of the evening's proceeds to The Young Storytellers Foundation.
*notes Writers Junction member