(SECOND SERIES) Mondays Level 2 at Asia Society Texas Center 7:45 pm to 8:4...
Description
YANG STYLE TAI CHI AND QIGONG
Experience a Lifestyle of Health and Sustainability (LOHAS) as you cultivate a practice of MINDFUL BREATHING AND MOVEMENT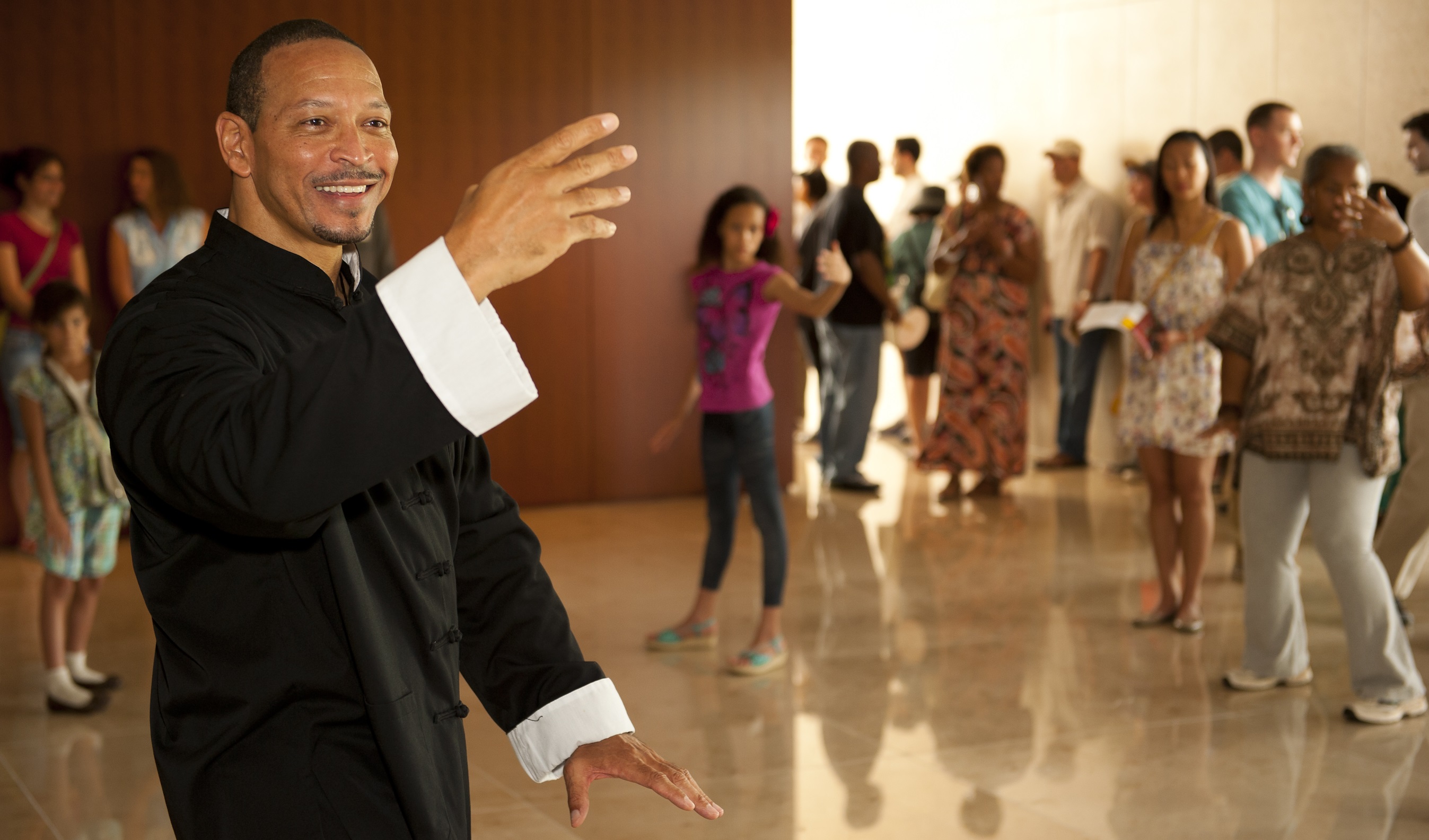 DEVELOP YOUR SKILLS
In a practice that Harvard refers to as "medication in motion", these classes will provide a basic introduction to the value of Tai Chi for its 21st century practical applications to reduce stress and improve your health. You will develop the foundation for a set of skills that will empower you to a lifestyle of well-being at home, at work and at play for the rest of your life.
Each class will begin with Meditation and Qigong to establish a self-aware and centered-state from which to improve your health and increase your focus and concentration. You are encouraged to develop organically at your own pace. We discourage self-judgement. We encourage you to embrace your own unique considerations and evolve at your pace. We empower you with tools to better manage yourself through the situations and circumstances that influence everyday life. We help you to discover the healer within you!
Like a combination lock, the elements of mind, body and breath collaborate to activate our bodies' natural instinct for optimal expression.
Unlike traditional exercise, Tai Chi relies on the internal power of Qi (Chi) guided by the mind and moved through the physical body to improve our health and well-being. A perfect way to end a stressful day with flowing, circular motions, Tai Chi has the ability to rejuvenate you and rebalance your energy to improve your sleep and your bodies' ability to replicate healthy cells. Who does not want to regenerate healthy cells?
Tai Chi will train your mind to focus and direct the energy of Qi (Chi) through your body to improve your strength, balance, flexibility and range of motion. This coordinated application of mind, body and breath is a scientifically effective therapy used to strengthen the immune system, digestive and circulatory systems, skeletal, neurological, and muscular systems of the body. Like a combination lock, the elements of mind, body and breath collaborate to activate our bodies' natural instinct for optimal expression. Each class will end with a brief meditation, questions, and discussion of that day's experience.
Tai Chi Like You Never Knew It Could Be!
1370 Southmore Blvd. Houston, TX 77004
Mondays Level 2
8-Week Series
7:45 pm to 8:45 pm
Mar 5, 12, 19, 26, 2018
Apr 2 (no class), 9, 16, 23, 30, 2018
To Register at Asia Society Click Here
Note: Do not register here.
Must click above or copy/paste the link below to register on the Asia Society site.
https://asiasocietytx.secure.force.com/donate/?dfId=a0n1Y00000Mfn1eQAB
Harness the Power of Your Inner Potential for Excellence!
Experience...
Traditional Chinese Medicine through movement, mindfulness and the powerful use of breath in a self-care practice proven to relax, renews, rejuvenate and relieve stress.
Learn To...
Enhance mental focus and concentration through training your Mind;
Improve physical health and vitality through training your Body; and
Access your highest potential through training your Breath
Useful to...
Anyone, including the athlete, executive, workaholic and couch potato.
Increase productivity, improve health, manage emotions, and reduce stress.
Improve balance, flexibility, strengthen vitality, the immune system, stamina and range of motion.