| | |
| --- | --- |
| Second Saturdays with Caroline | |
Event Details
To comply with social distance guidance, Second Saturdays with Caroline are on hold at this time.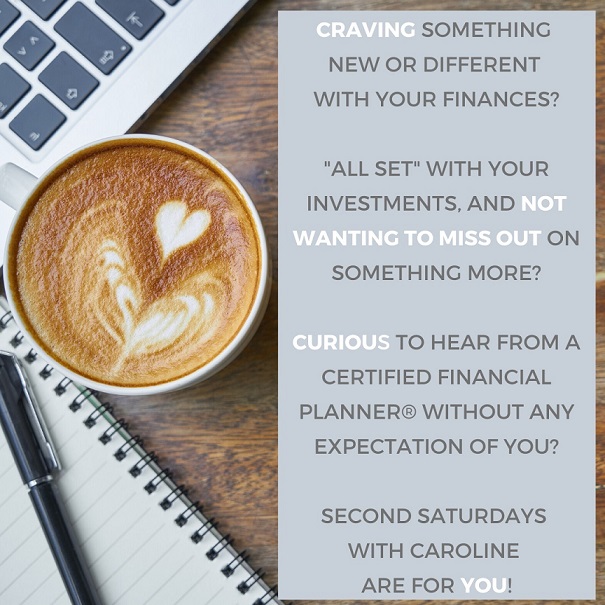 What are Second Saturdays with Caroline?
Conversations about personal finance with Caroline Wetzel, Certified Financial Planner (CFP®), with no expectation, obligation, or commitment from you.
How did Second Saturdays come about?
In addition to her day job as a Private Wealth Advisor, Caroline writes articles about financial health for Natural Nutmeg Magazine, circulates a monthly newsletter entitled "Coffee with Caroline", and facilitates small group conversations about finances in people's homes called "Coffee Breaks with Caroline".
A participant in one of Caroline's programs encouraged her to offer "office hours style" conversations about finance on a regular basis, at an easily accessible location, at a time that is convenient with people's busy schedules.  Inspired by this advice, Caroline is launching "Second Saturdays".
What's in it for me?
Easy access to a financial services professional, a few thoughts from her on personal finances, and an opportunity to ask questions and engage in conversation about topics that are on your mind.
What's the agenda?
Caroline will be available for 1:1 conversations beginning at 7:45am on the second Saturday of each month at Panera Bread in Westport.  At 8:00am Caroline will offer about 15 minutes of perspective on a particular financial topic.  Then Caroline will be available until about 9am for follow up group discussion and 1:1 chats. 
What will Caroline talk about?
It varies each month.  If there's a particular item you'd like Caroline to cover, let her know.  A few weeks before each session, Caroline will announce via social media what she's preparing to offer some insights on:
How much does it cost?
There is no fee to attend Second Saturdays with Caroline.
Why is it so early in the morning on every Second Saturday?
Second Saturdays with Caroline are designed to fit into your already busy routine.  Starting at 7:45am enables you to grab a cup of coffee, pause for a brief chat with Caroline, and then be on your way to take care of your other priorities, with the peace of mind you've taken a few minutes out for you and your finances with a trusted financial professional.  
What do I need to do?
Just show up.  If you want Caroline to be on the lookout for you, feel free to RSVP.  Come as you are first thing on a Saturday morning; Caroline will be there in her workout clothes with an espresso.


Who is Caroline?
Caroline's a Certified Financial Planner® and a Private Wealth Advisor who clients trust to provide a safe space to talk about their own life changes and finances.  She helps them prioritize what's most important and focus on how they can grow, enjoy and share their wealth with confidence over time.   


Why is Caroline doing this?
Caroline wants to provide busy people the opportunity to pause briefly from their routines, understand their financial choices, and make thoughtful decisions to positive influence their future.  And should busy people decide the time is right to engage a Private Wealth Advisor, Caroline hopes they will think positively of these sessions and consider learning more about the services that Caroline and her team offer.


How can I find out more info?
View Caroline's video announcing Second Saturdays and read Caroline's article on her LinkedIn Page.

Save This Event
When & Where

Panera Bread
1860 Post Road East
Westport, CT 06880