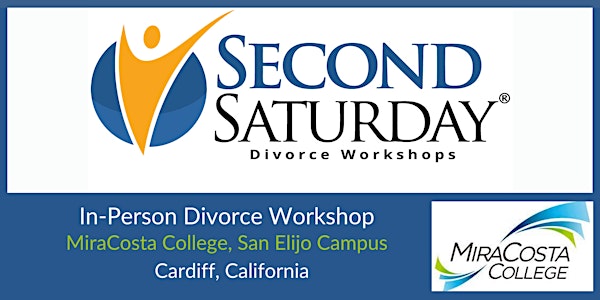 Second Saturday Divorce Workshop, San Diego North County
This workshop is for you if you are contemplating divorce, are in the process of getting divorced or have already filed for divorce.
When and where
Location
MiraCosta College San Elijo Campus 3333 Manchester Avenue Room #201 Cardiff, CA 92007
About this event
Pre-registration is NOT required.
You can SAVE A SEAT WITH THIS FORM and pay at the door
In-Person Registration
Time: 8:00 am -- 8:30 am
Event Starting Time: 8:30 am
Event Ending Time: 1:30 pm
Cost: $45.00
(858) 524-0955 or (858) 792-0524
At-the-Door Payment Method: Cash or check accepted at the door.
MiraCosta College COVID Policies: Summer and Fall 2022
Masks: Effective Wednesday, June 1, 2022, the usage of masks inside buildings and classrooms will be done at the discretion of each individual according to personal health preferences. MiraCosta College strongly recommends wearing masks while indoors but will not require them. *Health Services will still require masks per CDPH regulations.
Vaccinations: Students and community members present on a MiraCosta College facility, will not be required to receive the COVID-19 vaccine. However, they are highly encouraged to do so.