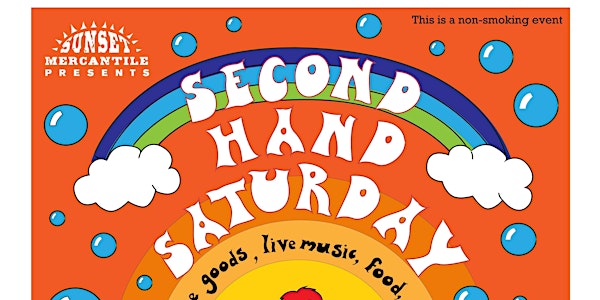 Second Hand Saturdays Fall Into Fashion 2022
Come search for vintage treasures every third Saturday, May through November,10 am to 4 pm, at Second Hand Saturdays.
When and where
Location
37th Avenue at Ortega/Pacheco, San Francisco, CA 94122 37th Avenue San Francisco, CA
About this event
Join us for vintage finds galore at our monthly Second Hand Saturday, October 15th, and every third Saturday May-November, 10am-4pm on a closed-to-traffic 37th Ave at Ortega featuring vintage fashion and goods, antiques, neighborhood "yard sales" and yummy food. We are switching gears for our October event and proudly welcoming this season's fall fashion! We will have no shortage of cozy sweaters, rare hoodies, and vintage outerwear from some of the bay area's best second hand vendors. We'll have your favorite vendors plus some new ones with new looks.
We are excited to offer hand dried bouquets by @followthewestwardwind. Her beautiful bouquets will be the perfect fall accent in any room or an ideal gift for those thanksgiving dinners coming up! Only a limited number of bouquets will be available so make sure you snag one! You might even get lucky and find a fitting vase from one of our homeware or yard sale vendors.
A small batch of @tarynmcables signature leafy earrings will also be available. These are a work of art so grab a pair for yourself or a loved one and add a little fall flair to your wardrobe. Find them at Humble Coalition's booth while these beauties last!
October food vendors include Golden Sunset serving up delicious Burmese noodle soups, Venga Empanadas, and Kpop chicken. Drinks and sweet refreshments available from Sunset Roasters, Shampa's Pies and Suga Bros with their fresh squeezed juices.
Grab a bite and enjoy our live music stage which has lots of seating. Second Hand Saturday is kid and pet friendly with a kids zone and free activities. Skates & scooters are also welcome; please enjoy respectfully.
Music Line up:
10 am: Common de Nomi
11 am: Don Shearer
12 pm: Danny Ames
1 pm: Elliot Racine
2 pm: Mike Cunningham
3 pm: Mikael Konutgan
More info and vendor registration available at www.sunsetmercantilesf.com