Second Citizenship & Residence Programs - Meet Authorised Ambassadors
About this event
Perfect Oppurtunity to meet and learn from, experienced advisors, established industry professionals, and Government officals at a seminar discussing the benefits and requirements of the world's most sought after alternative residency and citizenship programmes.
The growing interest in Investment Immigration provides opportunity for the upcoming event to be of advantage for HNI investors, Businesses, immigration agents, global mobility managers, project developers and regional centers.
TOP 5 REASONS TO CONSIDER
SECOND RESIDENCY
&
SECOND PASSPORT
HOME AND LIVING
EDUCATION FOR CHILDREN
TAXATION
EASE OF TRAVEL
LEISURE
This complimentary seminar is limited participation only and will provide valuable insights into how you can:
Increase your global mobility with visa-free travel to hundreds of countries. No visa needed to travel to UK or Any Schengun country and  to other hundreds of countries
Benefit from favourable personal and business tax structures. Save on taxes and secure offshore income. Optimize your corporate and/or personal tax through dual residency or citizenship.
Relocate your finances with the best possible foreign exchange rates
Access some of world's best education & health systems
Migrate Permanently or visit for vacation at ease to best weather and climate in caribbean or mediteranian coast. 
Provide a safe haven for your family if and when you need it.
Benefit from a better standard of living and infrastructure of an alternative country that your whole family can rely upon.
What to expect?
You'll learn how a straightforward investment can help you and your family obtain second passports and residency permits in some of the world's most prosperous and picturesque countries including Canada, the Caribbean, Europe, and Australia. 

Hear first-hand from the world's most respected professionals in the field and government representatives and thought leaders that really matter.

Meet senior government officials and industry experts on the leading countries offering investment migration programs.

Network with industry professionals, conference exhibitors, clients and their advisors.
More information
There is no charge for this event, but attendees must register on Eventbrite.
CHECK BACK FOR MORE INFORMATION AND PARTICIPATIONS AGENTS AND COMPANIES.
 HOSTED BY - WWW.EB5GC.COM
The investment migration world is evolving all the time. Most changes are for the good, but this year many programmes increased in cost or closed completely, which has left some potential investors disappointed that they missed the boat.
In 2019 alone, we have seen Canada close the door on the Quebec Immigrant Investor programme, there have been major price increases with the Cyprus citizenship programme and the USA EB5 Programme; Moldova suspended their CBI programme and almost all countries tightened up on their due diligence policies.
These changes demonstrate that as the demand for second citizenship increase, often so does the price and programme regulations become more stringent. Ultimately this is a good thing for the industry and the security of the countries offering these programmes, but it does highlight the importance of starting the application process promptly to avoid disappointments.
Whilst the process for many of the programmes is relatively fast and straightforward (an average of 3-4 months in the Caribbean) some countries can take six-twelve months or more. Processing times are also dependent on the applicants current nationality and how quickly they can gather their own documentation. Police reports and lost documents can sometimes take weeks to obtain so it is important that one takes this into account when planning ahead.
If you want to enjoy the many benefits of a second citizenship or residency visa in 2020, then don't delay, start the process today!
Media & Reports
https://www.businessinsider.com/countries-where-you-can-buy-citizenship-residency-or-passport-2018-9
https://www.msn.com/en-in/money/realestate/30-countries-where-buying-a-home-also-gets-you-a-new-passport/ss-BBGpXVf
https://www.forbes.com/sites/kathleenpeddicord/2019/05/22/seven-best-places-to-get-residency-and-a-second-passport-in-europe/#e0b78bfc34ff
https://www.sovereignman.com/lifestyle-design/four-valuable-passports-that-anyone-can-obtain-6109/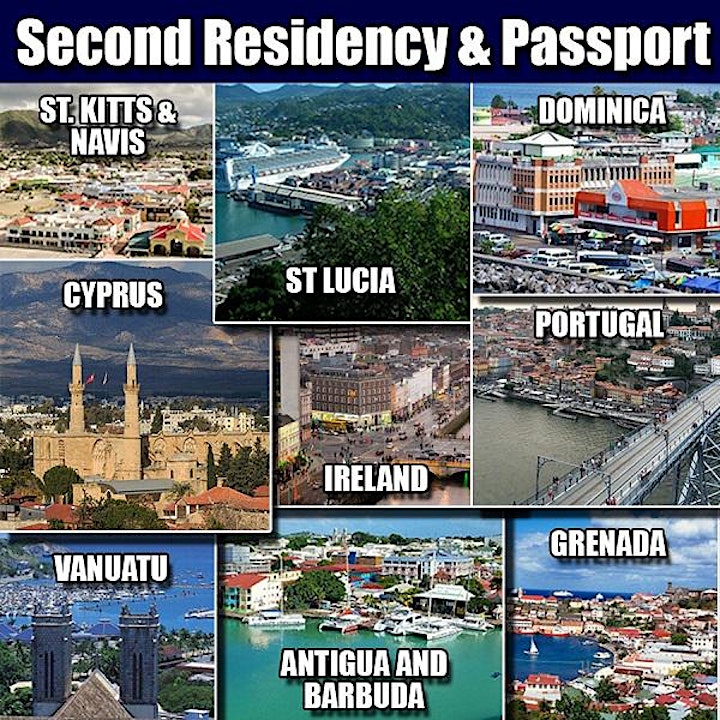 Organizer of Second Citizenship & Residence Programs - Meet Authorised Ambassadors
EB5GC hosts information events which enables investors learn about investing $900,000 or $1,800,000 in US. Get a return on investment as well as get an American Green Card. Through its conferences and expos. EB5GC plan to bridge the gap and bring more transparency in the process and connect Investors with American companies that work on such projects which enable investment for return and permanent residency (Green Card).
EB5 is USCIS (United States Customers & Immigration Services) program that enables investments in American businesses for green card.
More information - www.uscis.gov/eb-5