Second Annual "Women of the Vine" Grand Tasting Event Weekend
Location
The Meritage Resort and Spa
875 Bordeaux Way
The Meritage Resort and Spa, Napa, CA 94558
Description
Celebrate Women's History Month at the Second Annual Women of the Vine Grand Tasting Event presented by MORE Uncorked. MEET some of the most notable women vintners of California, and TASTE hand-crafted, artisan wines poured for you by the vintners themselves.
---
Make a weekend of it!
Book your room today at The Meritage Resort and Spa before it sells out. Click Here:
Friday, March 7 - VIP Tour & Tasting at Raymond Vineyards 3pm
VIP tour & tasting for ten (10) at 3:00 pm. Standard rate is $45/person. $35/person as part of the Women of the Vine weekend. Contact Bill Farmer at 707-963-6946 for reservations. Space Limited.
Saturday, March 8 - Winery Tour at Ceja Vineyards 10am - 1pm
Exclusive wine tasting at Ceja in Carneros with Amelia Ceja, Proprietor. Call for reservations 707-255-3954 or email jennifer@cejavineyards.com.Standard rate is $25/person. $15/person as part of the Women of the Vine weekend.
---
Saturday, March 8 - Women of the Vine Grand Tasting & Book Signing, 5pm - 7:30pm
Saturday, March 8 - Wine Estate Cave Dinner hosted by Lee Woodruff, New York Times Best Selling Author, CBS This Morning, Journalist, 8pm - 10pm

Participating Vintners include:
Heidi Barrett, La Sirena
Stephanie Putnam, Raymond Vineyards
Julianne Laks, Cakebread Cellars
Sara Fowler, Peju Province Winery and Vineyards
Katie Madigan, St. Francis Winery
Elizabeth Pressler, Elizabeth Spencer Wines
Alicia Ysais, HandCraft Artisan Collection
Stacy Clark, Charles Krug Winery
Sonja Magdevski, Casa Dumetz Wines
Susan Lueker + Megan Schofield, SIMI
Kelly Fields, Joseph Phelps
Nova Cadamatre, Robert Mondavi Winery
Robin Bogue, William James Cellars
Louisa Lindquist, Qupé & Verdad
Lauren Ackerman, Ackerman Family Vineyards
Alison Crowe, Garnet Vineyards
Amelia Ceja, Ceja Vineyards
Sharon Cohn + Cynthia Faust, Breathless
Jana Harvey, Scott Harvey Wines
Cassidy Ward, Hidden Ridge Vineyard
Lisa Bishop Forbes, Chalk Hill Estate
Melissa Stackhouse, J Vineyards
Shauna Rosenblum, Rock Wall Wine Company
Mari Wells Coyle, David Girard Vineyards
Pam Starr, Crocker & Starr
Margaret Davenport, Windsor Oak Vineyards and Winery
Karen Meyer, Meyer Family Vineyards
Nicki Pruss, Nicolette Christopher
Sue Pey, Pey Vineyards
Carol Shelton - Carol Shelton Wines
Authors Include: (Copperfield's Books at the Grand Tasting)

Lee Woodruff - New York Times Best Selling Author, In an Instant, Perfectly Imperfect
Deborah Brenner - Women of the Vine, Inside the World of Women who Make, Taste and Enjoy Wine
Karen MacNeil - The Wine Bible
Shannon Borg - The Green Vine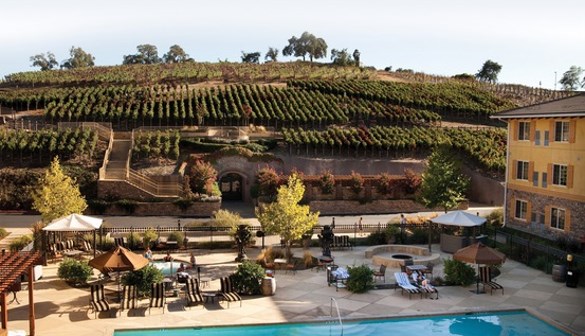 The Meritage Resort and Spa - Book Now

Promotion Code: 7134DF
Women of the Vine and MORE Magazine has partnered with American Airlines to provide our attendees a 5% discount for the Women of the Vine Grand Tasting in Napa, CA. The valid travel dates for this discount are March 6-10, 2014.
You can easily access American's fares and apply this discount by going to www.aa.com to book your flight. Place the below Promotion Code in the promotion code box and your discount will be calculated automatically. This special discount is valid off any applicable published fares listed for American Airlines, American Eagle, and American Connection. International originating guests will need to contact your local reservation number and refer to the Promotion Code.
You may also call 1-800-433-1790 to book your flights, please refer to the Authorization Number below when you call. Please note there is a reservation service charge for all tickets issued by phone. Please use our preferred partner, American Airlines when you can because of the benefits provided to you as a traveler and to our organization for extended partner value.

Avis is pleased to offer special rates for Women Of The Vine
Avis Worldwide Discount (AWD) Number: DO16323
"Women of the Vine has partnere