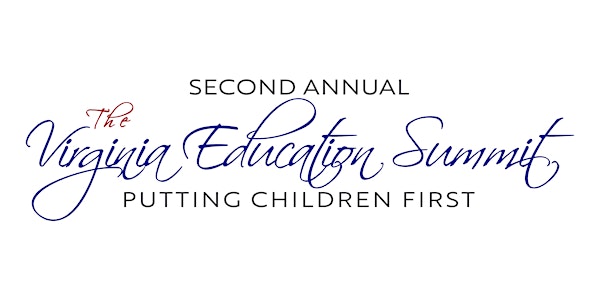 Second Annual Virginia Education Summit
Second Annual Virginia Education Summit
By The Middle Resolution Policy Foundation
Location
Virginia Crossings Hotel & Conference Center, Tapestry Collection by Hilton 1000 Virginia Center Parkway Glen Allen, VA 23059
Refund Policy
Contact the organizer to request a refund.
Eventbrite's fee is nonrefundable.
About this event
Conference Schedule
7:30 AM - Registration Opens
7:30 AM - Breakfast
8:30 AM - Welcome, Invocation, & Pledge
8:45 AM - Encouraging Education Entrepreneurship and Innovative Learning Models
Kerry McDonald
Parents are exploring, finding and creating educational options for their children all across the United States at a rapid pace since the draconian school closures of 3 years ago. Innovative learning models now include a variety of settings, styles and philosophies--all geared towards fitting the needs of children and families. The recognition that a one-size- fits-all model for children does not work has spurred an exciting movement in education that promises to do what schooling is meant to do-instill a love of learning, nurture children so that they grow and learn at their own pace and provide a challenging, rigorous environment. Kerry will share with our conference attendees how an entrepreneurial spirit is spawning dramatic changes in education and how to capitalize on this important movement.
9:45 AM - Special Guest Speaker
Lt Governor Winsome Earle Sears
10:15 AM - Break
10:30 AM - Parental Rights in the Commonwealth of Virginia: Next Steps to Preserve This Fundamental Liberty
Will Estrada, Esq.
Virginia is one of only 15 states in the nation to declare that parental rights are fundamental in statute. Governor Youngkin regularly references this statute, Va. Code Ann. § 1-240.1. But how can we use this statute and relevant case law to protect children and empower parents? Join Will Estrada, President of the Parental Rights Foundation, as we look at the landscape, and then dive into practical, hands-on steps that we can accomplish in Virginia to win the battle for our children and to preserve our God-given rights as parents.
12:00 PM - Lunch
1:00 PM - Promise To America's Parents: How Parents Can Ensure More Government Accountability, Choice, And Transparency At The Local, State, And Federal Level
Emilie Kao
Children belong first and foremost to their families. The U.S. Constitution protects parental rights as fundamental "top-tier" rights. However, courts have not consistently protected parental rights against government interference and invasion as they should.
Now, the policies of local school districts, state governments, and even the federal government are indoctrinating students with theories that divide them by race and promote the falsehood that a boy can become a girl or vice-versa. Some schools even treat children as if they are the opposite sex without the knowledge and permission of their parents. In this session you will learn about parental rights cases, policies, and legislation that will ensure greater government Accountability, Choice, and Transparency (ACT) to push back on the State's overreach at every level.
2:00 PM - Taking the Helm: New School Board Member Panel
Jill Turgeon, Moderator
Kathleen Brown
Dr. Mari Gibbs
Vicki Hurt
Jason Maresh
All across Virginia, citizens are stepping forward to run for elected positions on their local school boards. The desire for a new generation of leaders was prompted by grave concerns raised during the Covid school closures and a recognition of some dire problems in our schools. We are pleased to have some new Board members attend our conference and share with us their experiences as first time candidates, their strategies to win their races and most importantly, how they are handling the important work before them in their school divisions. Jill Turgeon, whose life's work in education from being a classroom teacher to serving on the Loudoun County School Board to her current work as an Education Consultant, will moderate this panel.
3:00 PM - Break
3:15 PM - Finding the Right Fit for Children, Parents and Educators
Nancy Smith, Moderator
Dr. Meg Bryce
Dr. Matt Dreier
Dr. Ann McLean
Melanie Patxot
Jill Turgeon
The old saying, "where there's a will, there's a way" is a truism when it comes to innovative ways to provide alternatives to public education. Our panel of education professionals are also education entrepreneurs and advocates for children in finding ways to meet the unique needs of families who want options for their children. From homeschooling to micro-schools to private schools, our panelists will provide conference attendees with the nuts and bolts of getting an independent school off the ground and the hard work it takes to run a school every day. Add to that the experiences and challenges of making the best decisions for their own children and their families and working within their communities, this session will enlighten and encourage everyone who is dedicated to the future of our next generation. Moderating this panel will be Nancy Smith who works with the Middle Resolution Policy Foundation. Nancy served for over 3 decades in public school programs in the role of teacher, educational audiologist and administrator serving children with hearing loss, deafness and a variety of disabilities with co-morbidities. In addition, Nancy consulted with public schools across the state of Virginia on best practices, spoken language models and using advanced technologies in meeting the needs of children with hearing loss.
4:00 PM - The Fight for Education Freedom
Dr. Mark James, Moderator
Kris Allen
Chris Braunlich
Craig DiSesa
Joshua Raimundo
Many other states have more robust education choice programs than Virginia, offering better opportunities to nearly 700,000 children in America. Why does Virginia lag? What is the pathway to providing more choices? And how can you be involved in the fight to provide expanded opportunities to all Virginians?
We are pleased to have Dr. Mark James who serves as the Assistant Dean of Students at Virginia Union University as moderator for this panel. Dr. James has over 25 years of dedicated educational leadership, working with students toward academic development and success in the classroom and in extracurricular activities. Dr. James has established and mobilized student-centric learning environments through his leadership while partnering with internal and external stakeholders to achieve university objectives. Dr.James has recently become the Director of External Affairs for the Virginia Education Opportunity Alliance.
4:45 PM - Closing Remarks
Craig DiSesa
5:00 PM - Conference Adjourns
Middle Resolution Policy Foundation is organized as a 501(c)(3) entity under the Internal Revenue Code. Contributions are tax deductible to the fullest extent under the law. A copy of our financial statement is available from the Virginia Department of Agriculture and Consumer Services upon request.