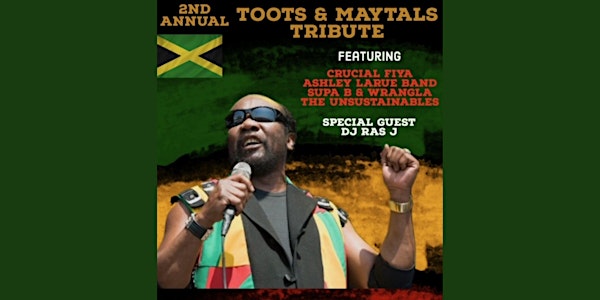 Second Annual Toots and Maytals Tribute
The Pour House Music Hall and Record Shop
Location
The Pour House Music Hall & Record Shop
224 S Blount St
Raleigh, NC 27601
About this event
Crucial Fiya is multi-faceted Reggae band that has the capability of performing for the most serious roots reggae music lover with a blend of R&B and classic rock for those in need of a good time with a Caribbean flavor. Their capability of playing roots reggae has kept them on the cutting edge positive roots Rasta music. They have earned respect from their friends, promoters, event coordinators and colleagues in the music industry.
Those who have experienced Crucial Fiya's performances will attest to the subtle interaction with the audience. This interaction provides the opportunity to sing along to some of their favorite tunes with fluidity. So whether you are a coordinator, a booking agent, or an artist looking for an exceptionally reliable band, contact Crucial Fiya for an outstanding performance that promises to deliver.
The Unsustainables:
Traditional ska, rocksteady, and reggae. Inspired by the legends of Studio One, Treasure Isle, and Black Ark Studios. From heavy groovers made to move your feet to the sweet melodies of lover's rock, the Unsustainables will make you bubble.