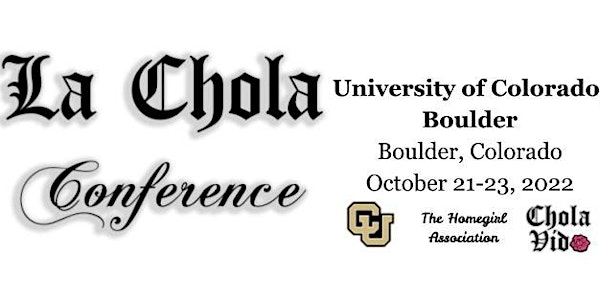 Second Annual La Chola Conference
Second Annual La Chola Conference
When and where
Location
University of Colorado Boulder 2480 Kitteredge Loop Road Boulder, CO 80305
About this event
Vision:
To hold space for the cultural, scholastic, artistic, and institutional presentation of La Chola.
Mission:
To provide a space in academia to understand real narratives, unveil history, demystify stereotypes, and bridge barrio knowledge and education. Finally, we aim to empower La Chola through the arts, society, education, activism, and beyond.
2022 Conference Theme:
"High Visibility Hynas: Cholas in Pop Culture"
Follow us on Instagram @LaCholaConference
Location:
University of Colorado, Boulder
Conference Location
University of Colorado Boulder
2480 Kittredge Loop Rd.
Boulder, 80305
Tentative Conference Schedule:
Friday, October 21, 2022
9:00AM – 5:00PM
Private VIP High School Student Tour at CU Boulder
Student Art/Poetry Workshop by: Madeline Alvizo Ramirez and Vanessa Alviso
6:00PM – 10:00PM
Cholas Chingonas : A Legacy of Love and Locuras Art Show
Featuring over 20 Artists, Poetry, DJ Creeper Entertainment and a Copetona Contest
Curated by: Madeline Alvizo Ramirez and Vanessa Alviso
@ Art Contained Del Sol, 3058 W. 55th Ave, Denver
Saturday, October 22, 2022
8:30AM – 9:00AM
Morning Blessing Outside Building
9:00AM – 9:30AM
Conference Welcome
Opening Keynote Speaker: Dra. Vanessa Bustamante
9:30AM – 10:30AM
"Chola Vida Presents, La Neta: The History of a Chola Movement"
Madeline Alvizo Ramirez, Chola Vida, OG Chola Pinup
Lala Alvizo, Chola Pinup
Ramona Valinderos, Chola Vida, OG Chola Pinup
10:30AM – 11:00AM
"Culture Shaming; Ending Deficit Thinking and Promoting Positivity"
Dr. Leanne Salazar Montoya, University of Nevada, Las Vegas
11:00AM – 12:00PM
Homegirl Pedagogies: Building a Chola/Chonga/Paisa Syllabus
Dr. Jillian Hernandez, University of Florida
Dr. Deborah Vargas, Yale University
Dr. Gloria A. Negrete-Lopez, University of California Riverside
Aracely García-Gonzaléz, West Virginia University
12:00PM – 1:00PM
La Chola Conference Luncheon
Luncheon Keynote: Sylvania "The Chef"
1:00PM – 2:00PM
Chola Culture in the 21st Century: Trends and Fashion in the U.S. American Market
Magdalena Yznaga, Palo Alto College, San Antonio, TX
Lucero Saldaña, San Antonio College, San Antonio, TX
2:00PM – 3:00PM
LCC PANEL: Cruising the Education Pipeline: A Lowriding Proffesora and Barioscholar Tools for Navigating Higher Ed
"LowRider Chola Gone Profesora Y Que!!!"
Elizabeth Contreras, California State University Sacramento
"Breaking the Pipeline: A Barrioscholar's Struggle to Liberation"
Yesenia Moya
3:00PM – 4:00PM
LCC PANEL: Crossing Lines: Leadership and Chola Fierceness
"Chola Culture: Beyond the Wings"
Andersen Herminia, Michigan State University
"Locas in Leadership: A Homegirls Guide to Being a Chingonapreneur"
Jaqlyn Baldwin, Siembra Leadership High School, Albuquerque, NM
4:00PM – 4:30PM
"The Chola and the Church: Examining Racialized Sexism in American Evangelicalism"
Denise Muro, University of Massachusetts, Boston
4:30PM – 5:00PM
Closing Plenary
Keynote Speaker: Dr. Irene Blea
5:30PM - 10:00PM
Homegirl Hangout: Mixer and Networking Event
Details to follow
Sunday, October 23, 2022
8:30AM – 9:00AM
Morning Blessing
9:00AM – 9:30AM
"The Representation of la Chola Over Time, as Depicted by Artists, Judy Baca & Tlacolulokos"
Dra. Isela Ocegueda,
Coastline College, Fountain Valley, Califas
9:30AM – 10:30AM
LCC PANEL: Chola Expression: Cholas in Rap and Gender Bending Aesthetics
"Chola Expression and Values in Rap today"
Amy Hernandez, University of Colorado Denver
"Chola Power: Gender Bending Homegirl Aesthetic"
Domenica Escatel
10:30AM – 11:30AM
"'Loca' and Other Chola Terms of Endearment: A Round Table Discussion"
Facilitated by:
Vanessa "Bashi" Alviso, Yakima Valley College, Chola Vida, OG Chola Pinup
Dr. Gabriela R. Rios, University of Colorado, Boulder
11:30AM – 12:00PM
"What Makes A Chola? From Occult Roots To Hypervisibility"
Sophia Garcia
Lunch Break
12:00PM – 1:00PM
1:00PM – 2:00PM
LCC PANEL: Political Navigations: Maneuvering through Social Sites and Chola Cultural Wealth
"Becoming a Future Doctora as a C.H.O.L.A.~ Creating Housing Opportunities as a Latina Academic"
Christina V. Rodriguez, Latinas with Masters
"No Te Olvidas Que Soy Chingona: Using Your Community Culture Wealth in Your Education & Work"
Bríana Aguilar, University of Denver, Colorado
2:00PM – 2:30PM
Conference Closing and Closing Keynote: Dr. Veronica Sandoval