Second Annual All White Attire Power Mixer ... Caribbean Professional Women
About this Event
Does Networking still working?
Don't take our word for it!
Come and experience it yourself!
Date: Sunday, July
14th, 2019
Time: 5:00PM - 9:30 PM
Location :
The Zuluba
437 Main Street
West Orange, NJ
07052
(About CPW)
Founded in 2017, CPW's exists to connect, mentor, inspire, aspire and empower Ethno-African/Caribbean/Latino women within all socioeconomic and professional backgrounds by providing them with social, mental, spiritual and financial development to aid in their personal and professional growth.
This event's topic will be:
Alone we can inspire, but together we can lead.
SPEAKERS :
Brenda Robinson
Originaly from Nigeria, Brenda is ne of the finest Financial advisers in he Tri-State.
Councilwoman Charnette Frederic
Township of Irvington
Denise Fernandes
For the past 11 years, as represented President Obama as the Latino outreach for Organising for Action and Obama for America.
****:$25/PERSON****
or more information, call : 973.280.3590
*****PRIZES*****
****VENDORS****
***CASH BAR***
***Refreshments***
*ENTERTAINMENT*
#CaribbeanProfessionalwomen
#LatinoProfessionalwomen
#AfricanProfessional
#Professionalwomen
#Networking
#Powerwomen
#Connect
#Educate
#Inspire
#Empower
#Leaders
#Womenleaders
#Mixer
#Networking
#Learning
#EssexCounty
#UnionCounty
#NY
#NJ
#PA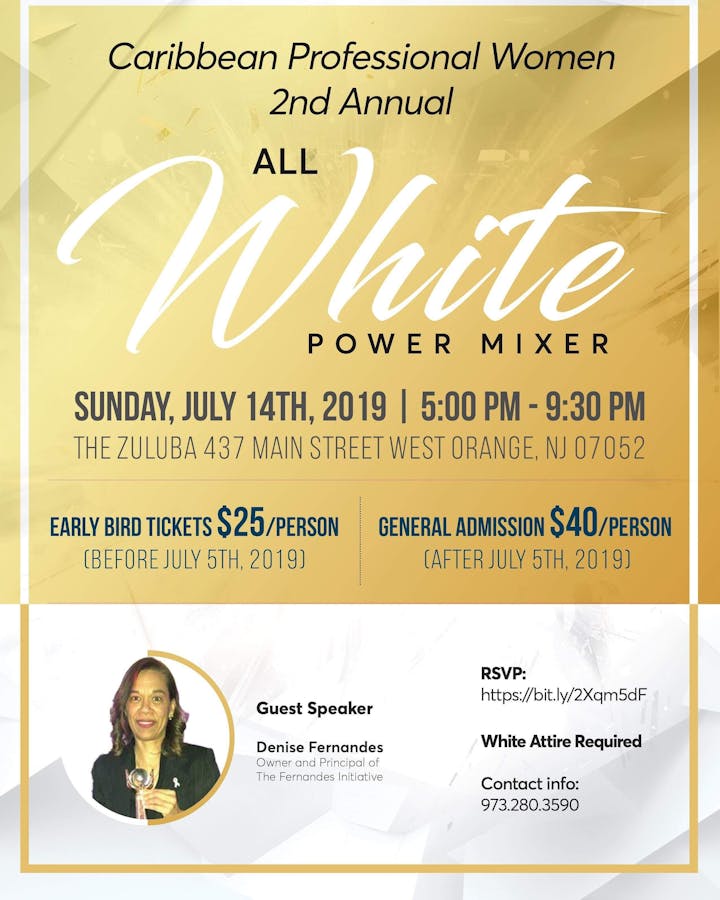 Denise Fernandes was born in Mozambique that used to be a Portuguese colony. She worked for two years as Latino Outreach for Middlesex and Union Counties, as well as Events and Volunteer coordinator for New Jersey for Governor Murphy.
For the past 11 years as represented President Obama as the Latino Outreach for Organizing for Action and Obama for America.
Serves on New Jersey Performing Arts (NJPAC) as the Latino Advisory Committee, Union County Interfaith.
Hold a BA in English and a Masters in Art in American literature.
Speaks, reads and white Spanish, French Italian and Portugues.
Seats on a Education table for the Consulate of El Salvador.
Meet Miss Fernandes at the 2nd Annual All white Power Mixer for African, Latino and Caribbean Professional Women scheduled for Sunday, July 14th, 2019 at The Zuluba, located in West Orange, NJ (Ref. Flier). #powerwoman #caribbean #caribbeanwomen #caribbeanprofessionals #caribbeanprofessionalwomen #professionalwomen #Mixer #Entertainment #networking #elevatingwomen #empowerwomen #womenempowerment #empowerment