Join the Soul Boujee team as we celebrate the life of Dr. Sebi along with his eldest daughter Kellie Bowman.
About this event
Kellie is the daughter of the late Alfredo Darrington Bowman – known to the world as Dr. Sebi. Kellie utilizes her background as a nurse of 20+ years and the 30+ years of her fathers teachings in alternative medicine to heal her community and continue her fathers legacy through her company Sebi's daughters.
This two day event will be monumental as Kellie will be hosting a FREE tour of the Dr. Sebi exibit ONLY on Fri Aug 6th from 12p-3p which showcases and replicates her time in Honduras as a child. This peaceful exibit displays a rain forrest appeal along with artifacts left by Dr. Sebi such as writings, pictures and more! On Sat Aug 7th from 1p-6p will be the grand opening to the Sebi's Daughters LLC store!
After you've visited the exibits come down the hall and join the Soul Boujee team as we host the Honduran Experience Pamper Pop Up! Sebi's daughters LLC is releasing a new line of face & body products and we're setting up pamper stations for all guests to try. We have a massage therapist coming who will providing complimentary hand, neck and back treatments.
There will be vendors, refreshments, music and more! This is an event that you don't want to miss out on.
RSVP TODAY!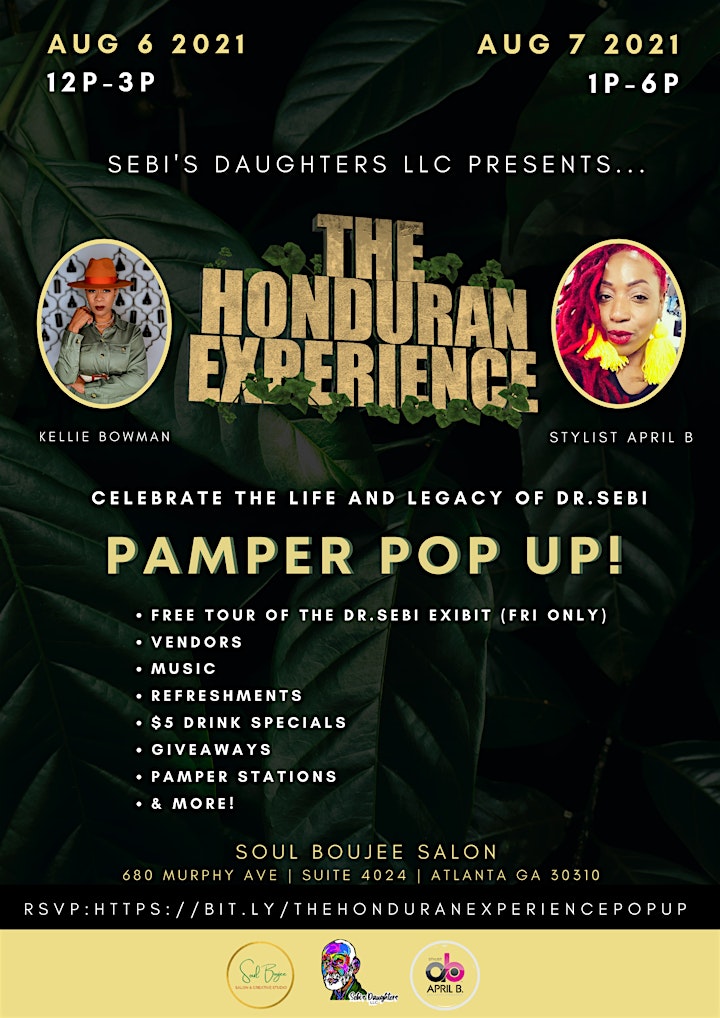 Organizer of Sebi's daughters presents the Honduran Experience 2 day pamper pop up