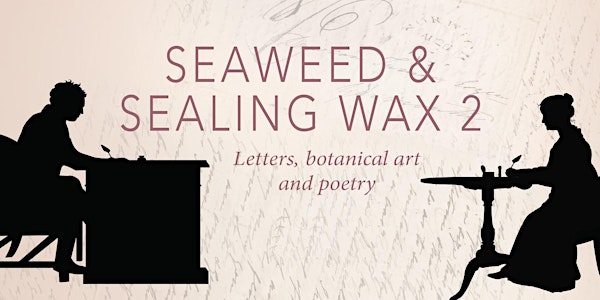 Seaweed and Sealing Wax 2: Letters from 1812 with botanical art and poetry
An outdoor performance / talk event, on the lawn at SeaView House Hotel, Ballylickey, under a parachute shelter..
When and where
Location
Ballylickey The lawn at SeaView House Hotel Ballylickey Ireland
About this event
The correspondence between Ellen Hutchins in Ballylickey and fellow botanist, Dawson Turner, in Yarmouth, England covers botany, botanical art, and also their love of poetry, along with delightful everyday and family details.
Hear engaging extracts from their letters brought to life by actors, Karen Minihan and Robin McLoughlin, with helpful notes of explanation of period details and 'who's who' provided by host, Finola Finlay (Roaringwater Journal).
See world class botanical art in action with award winning Irish artist, Shevaun Doherty. Shevaun will be painting during the performance and will talk about botanical art in Ellen's time and now.
Author and poet, Laura McKenna, will enrich the performance with a reading of her poems inspired by the correspondence between Ellen and Dawson and talk about what drew her to the botanists' letters.
At the end of the performance, see Shevaun's art close up, and a selection of Ellen Hutchins archive materials, including an original drawing, letters she wrote to her brothers and poetry books she owned. These will be explained by Madeline Hutchins (researcher on Ellen and her great great grandniece).
This event has funding from a County Cork Arts Grant, and a generous donation.
Please note the time has changed from that originally advertised – updated 15 July 2022.
Places must be booked in advance.