IN-PERSON Meetings w/ Recruiters ATTENTION - SEATTLE Job and Career Seekers! 100's of Employment Positions from Major Employers!
About this event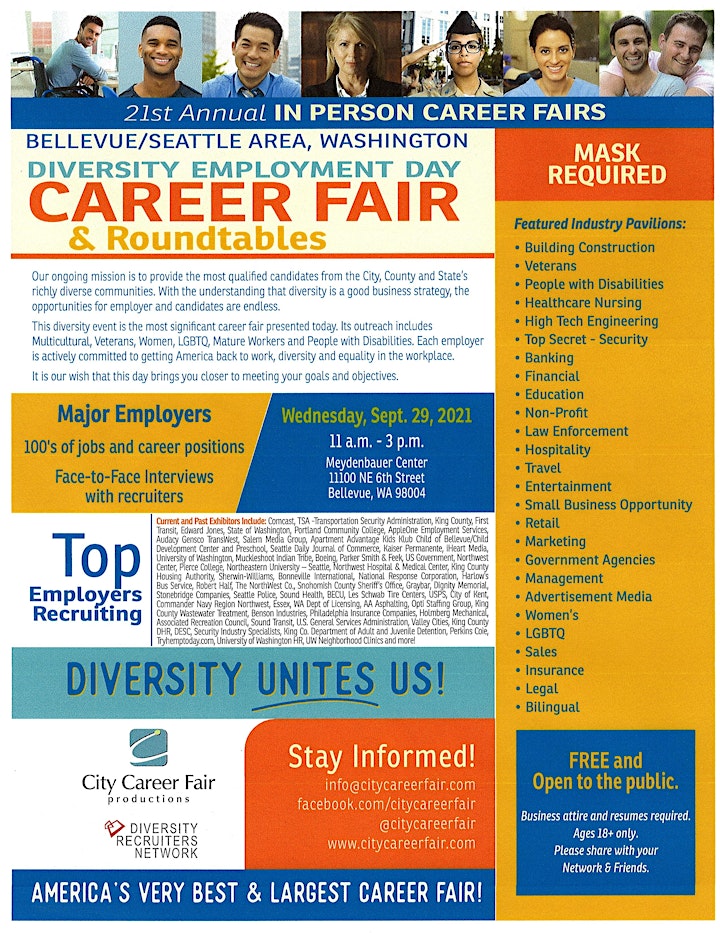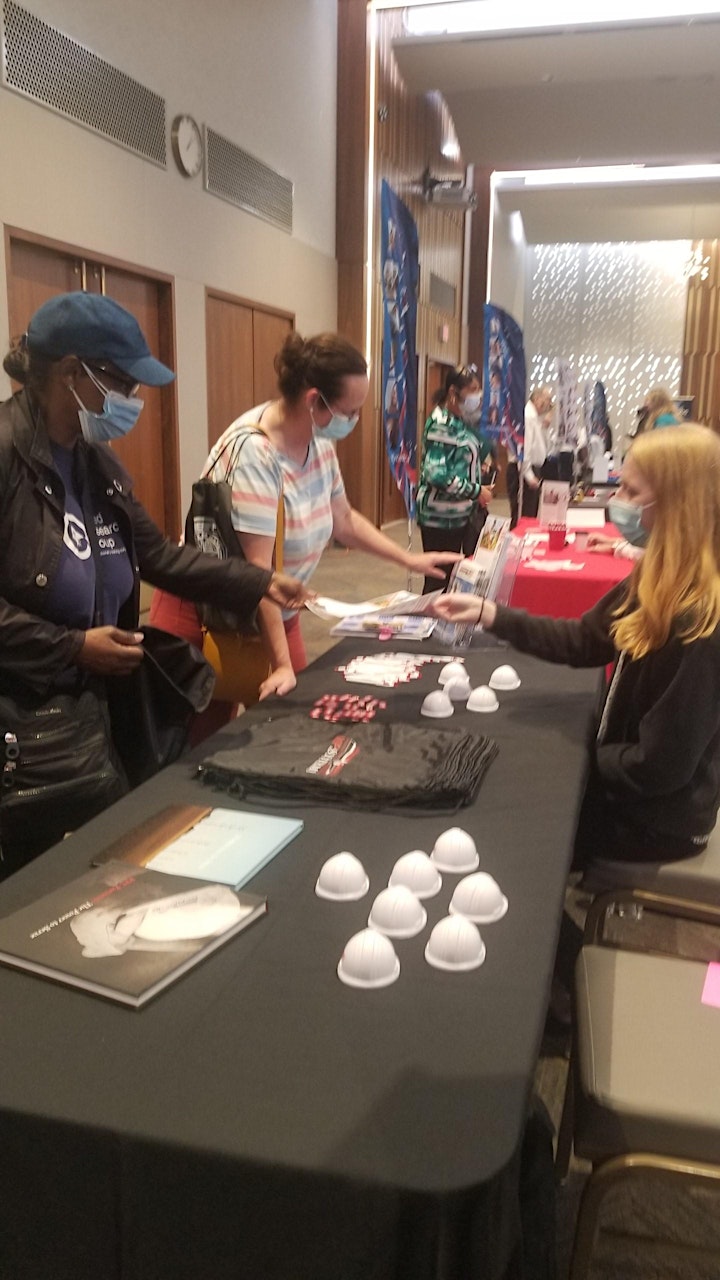 ATTENTION SEATTLE JOB SEEKERS AND CAREER CHANGERS!
The 21st Annual Diversity Employment Day Career Fair and Job Fair for Greater Seattle and Bellevue
Invites you to meet In Person (IP)with Seattle's major employers and their recruiters, staffing managers, and HR Directors who are seeking to hire for 100's of Job and Career Positions on September 29th, 2021 from 11 AM to 3 PM.
*Masks will be required for participation.
Current and Past Employers Include:
Comcast
TSA Transportation Security Administration
Edward Jones
Pierce College District
First Transit
TransWest
King County
Salem Media Group
Apartment Advantage
Audacy Seattle (formerly Entercom)
Kids Club of Bellevue
University of Washington
Bonneville Seattle
University of Phoenix
Sysco Seattle, Inc.
Parker, Smith & Feek
Puget Sound Energy
Kaiser Permanente
Seattle Police Department
Salem Media Group
Valley Cities Behavioral Health Care
Northwest Center
Seattle Daily Journal
King County Housing Authority
Northeastern University
Northwest Hospital & Medical Center
King County DHR
DESC
Security Industry Specialists
King County Dept of Adult & Juvenile Detention
Perkins Coie
Tryhemptoday.com
Sherwin-Williams
National Response Corporation
Harlow's Bus Service
Robert Half
The Northwest Co.
Snohomish County Sheriffs
Graybar
Dignity Memorial
Stonebridge Companies
Sound Health
Boeing Employee Credit Union
Lee Schwab Tire Centers
United States Postal Service
City of Kent
Apartment Advantage
King 5
UW Neighborhood Clinics
PACCAR
Air National Guard
Community Transit
Bloodworks NW
AppleOne Employment Services
Commander Navy Region Northwest
Essex
WA Dept of Licensing
AA Asphalting
Opti Staffing Group
Portland Community College
Muckleshoot Indian Tribe
Benson Industries
Philadelphia Insurance Companies
Holmberg Mechanical
Sound Transit
U.S. General Services Administration
Valley Cities
King County Wastewater Treatment
iHeart Media
US Navy
City of Tacoma
Seattle Children's Hospital
The Everett Clinic
New Seasons Market
New York Life
Ryther
University of Phoenix
Columbia Distributing
SE Army Recruiting Battalion
Multicare Health System
Norcom 911
And Many More Employers!
ITS REALLY EASY TO REGISTER AND ATTEND
Option 1- Just email your Resume to FastTrack@CityCareerFair.com with the subject: SEATTLE 2 IP and receive a confirmation code that allows you skip the line and registration at the DED Career Fair once it has opened . It is very IMPORTANT that you have bring the code to the career fair.
Or,
Option 2 - just bring your Eventbrite Ticket and resume to the career fair and that will be your admission ticket.
This is a professional-level recruiting event and business attire and résumés are required for admission.
This is a FREE event. Must be 18 years or older. Remember – "First Impressions are Lasting Impressions". "Look and Remain Professional" throughout your appointments for best results!
Employers – Reach out to prebook@citycareerfair.com for details regarding participation. Your participation fee helps to support Diversity in the workplace and community plus this Diversity & Inclusion recruiting event.
Thank You – CityCareerFair.com
***If you are an interested employer, please email PreBook@CityCareerFair.com for pricing details!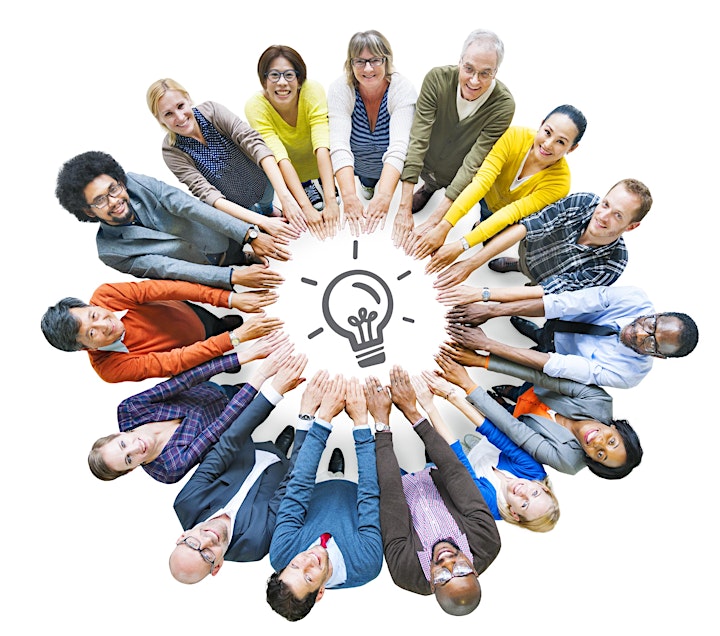 Engineering Candidate at recent City Career Fair's Annual Diversity Employment Day Career Fair
Recruiter at City Career Fair's Annual Diversity Employment Day Career Fair shares a review
Organizer of SEATTLE'S IN PERSON (IP) Diversity Employment Day Career Fair 9/29/2021
"At City Career Fair we strive to be the world's best career fair producer, offering the highest value, most efficient means for recruiting quality candidates and the most passionate customer satisfaction guaranteed"
Unlike other Career Fairs, we seek out Candidates in Diverse Communities.  We look for Candidates that are Multicultural/Bilingual, People with Disabilities, LGBTQ, and Mature & Professional Candidates.  
The 21st Annual Diversity Employment Day Career Fair (s) are scheduled nationwide.  We have over 50 Virtual Video (VV) and In Person (IP) DED Career Fairs taking place yearly. You probably live near one of these cities and are seeking Employment, please check out our Eventbrite pages for more details! Or head over to citycareerfair.com for details
"Like" us on Facebook > https://www.facebook.com/CityCareerFair/
"Follow" us on Twitter > https://twitter.com/citycareerfair