Description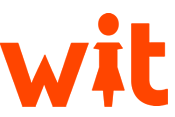 May 2, 2017 - A gathering to connect women to mentors, peers, and resources to strengthen our community, advance your career, and to learn from one another. People of all genders are welcome to attend.
Seattle's own Women In Tech (WIT), an organization dedicated to educating, empowering and connecting women working in or aspiring to work in technology, will host its inaugural Women in Tech Regatta.
Connect with over 30 different organizations, elite mentors, and hands on workshop opportunities that will help you find new opportunities to plug into the community, provide you with valuable networking, and powerful insight to push your career to the next level.
We welcome members of the tech community of all genders, including but not limited to, CEOs, Founders, CTOs, CMOs, Product Managers, Developers/Engineers, Early Stage Start ups, Late Stage Start ups, HR, Recruiters, Dev managers, Program Managers, Trainers, and Designers.
Drop into Seattle City Hall for the Power House Resource Reception from 5PM – 7PM and the rest is up to you! From 7-9pm we feature six separate events catering to your specific professional development needs and additional curiosities in the tech industry. Each venue will open at 6pm for early connecting.
We at WIT passionately believe in the power of community and strive to build new connections in our ever-growing ecosystem. We hope to provide a powerful evening for people of all genders to collectively connect to resources and new opportunities to apply their unique talents to make our industry a more inclusive, diverse environment.
-Martina Welkhoff, WIT President
Participating organizations: Startup Seattle Code for Change WA FIRST Robotics IGNITE Anita Borg Institute TUNE House Association for Women in Communications Lean In Seattle Women in Wireless Lesbians Who Tech Seattle Space Gals ARA Mentors Washington State Opportunities Scholarship Seattle PyLadies Association for Women in Computing She's Coding WTIA Techbridge Launch Code Washington Stem iUrbanTeen Ada Developers Academy Women in Bio Reboot Year Up TEALS Girls Without Limits TAF Seattle Girls in Tech The F Bomb Breakfast Club Chick Tech Kal Academy Seattle Angel App Camp for Girls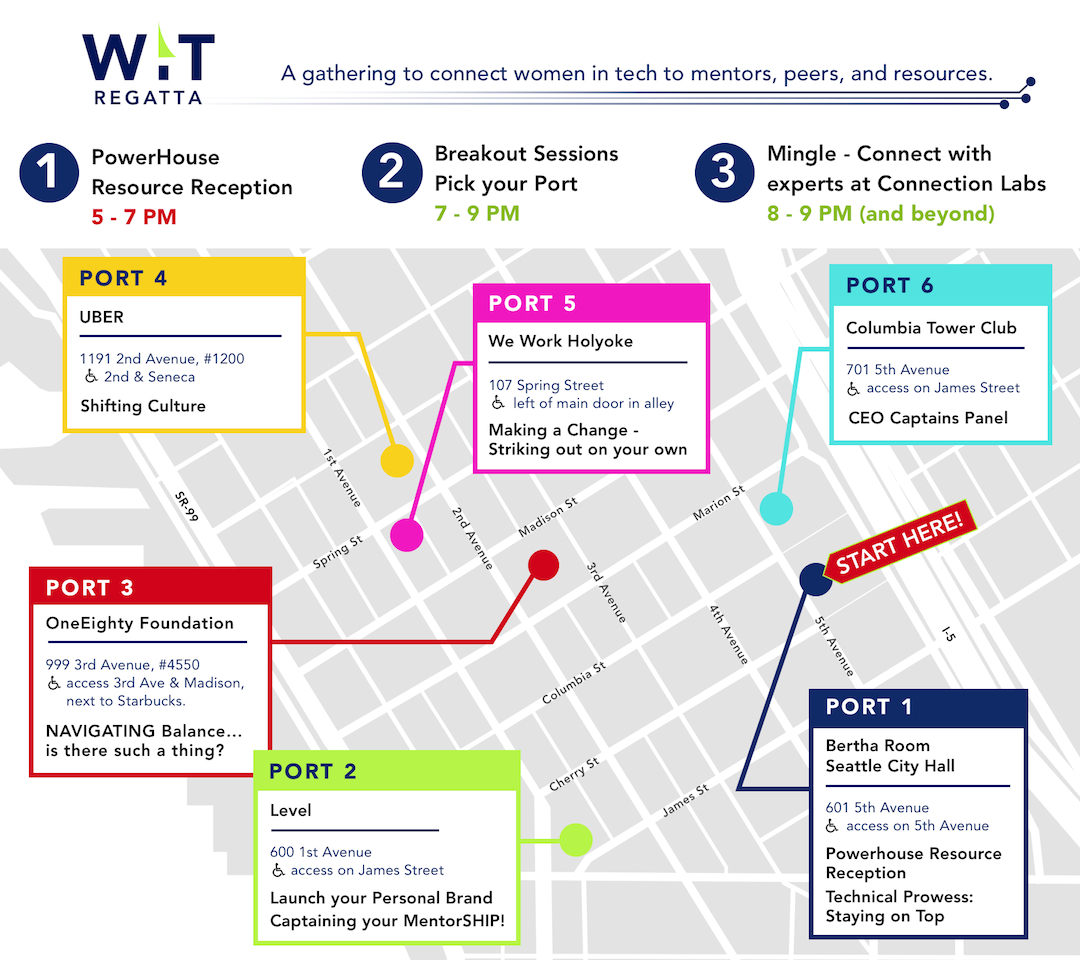 Please see below for a description on each event and choose your favorites.
Regatta Itinerary
5 -7PM Connect with over thirty organizations that support women and girls in tech across Puget Sound.
Technical Prowess: Staying on Top-Panel (7:15pm-8:15pm)
7:15-8:15pm Panel discussion about staying on top in tech and keeping relevant.
8:15-9pm STAYING RELEVANT - CONNECTION LAB -Connect with our panel experts about staying relevant in tech.
Seattle City Hall (Bertha Room)
600 Fourth Ave. 2nd Floor
Seattle, WA 98104
Thank you to our hosts: startup seattle - Supporting Tech Startups
PORT #2 LEVEL BUILDING - SPONSORED BY WARGAMING SEATTLE
Launch your Personal Brand - Panel
7-7:40PM Branding thought leaders and career coaches discuss how to define your personal brand.
Captaining your MentorSHIP! - Panel
8-8:40PM Captaining your MentorSHIP — Panel
Cross Generational Mentoring - Panel of industry leaders in their 20's, 30's, 40's, 50's and 60's
Location: Level 600 1st Ave Seattle, WA 98104
PORT #3 - ONE EIGHTY FOUNDATION BUILDING sponsored by
Amazon
NAVIGATING Balance... is there such a thing?
7-8:00PM Defining your Work-life balance - Hacking Parenthood — Panel
8-9:00pm Work life balance CONNECTION LAB. Visit industry mentors as you change rooms every 20 minutes to discuss tips to keep it all in balance.
Location: 180 foundation 999 Third Avenue Suite 4550 Seattle, WA 98104
PORT #4 UBER BUILDING sponsored by
Uber
Shifting Culture - Panel
7-7:40pm - Shifting corporate perception and culture in a male dominated industry – Panel
8-9pm - Culture CONNECTION LAB - Connect with panel experts on workplace culture.
Location: Uber 1191 2nd Ave, Suite 1200 Seattle, WA 98101
PORT #5 -WEWORK HOLYOKE BUILDING sponsored by
Expedia
Making a Change- Striking out on your own -Panel
7-8:00pm Making a change from corporate/striking out on your own - FUN in funding — What I wish I knew --Panel
8-9pm Funding CONNECTION LAB – Connect with key founders and angel investors who have navigated the funding process (main floor)
Location: WeWork Holyoke 107 Spring St Seattle, WA 98104
CEO Captains Panel
7-7:40PM Conversations with My Younger Self — CEO Panel
8-10:00PM CEO CONNECTION LAB (opportunity to have CEO facetime; come prepared with one leadership question)
Location: Columbia Tower Club 701 Fifth Avenue Columbia Center 75th Floor Seattle, WA 98104
BONUS -PORT #7 - IMPACT HUB BUILDING in Partnership with The Evergrey
7:15-8:45PM Making your mark in tech with Dan Shapiro - Hear from a four-time founder/CEO who champions equity in hiring and company culture.
Location: Impact Hub -220 Second Ave S. Seattle, WA 98104
Produced by WIT & Melody Biringer – founder of The CRAVE Company
WIT, Women in Tech, together with the Crave Company, are hosting the first inaugural Seattle Women in Tech Regatta on Thursday, May 2nd from 5pm – 9:00 at Seattle City Hall.
Founded in 2013, Women in Technology (WIT) is a not-for-profit organization which aims to support women by providing education and networking opportunities at quarterly events as well as raising funds and visibility for mission-aligned nonprofit partners. The Crave Companyspecializes in women's business collaboration, especially Co-Storming.
The CRAVE Company is focused exclusively on bringing women together to make waves in their careers and personal lives. We connect and engage smart and successful women in thought-provoking conversations outside of the typical structured business setting. We specialize in event design for those authentic conversations. Our mission is to draw out the stories and voices of women in business in a way where they feel seen, heard, and empowered. We love to innovate, reinvent, and move forward at all times.
FAQs
Q: Is this a boat race?
A. Nope. It's a play on words:)
Q: What exactly is the Women in Tech Regatta A: It's a resource fair meets mentor breakout sessions kind-of event. All to bring the tech community together and to thrive off each other!
Q: Who is this event for?
A. We welcome all members of the tech community, including but not limited to, CEOs, Founders, CTOs, CMOs, Product Managers, Developers/Engineers, Early Stage Start ups, Late Stage Start ups, HR, Recruiters, Dev managers, Program Managers, Trainers, Designers, and MEN! Basically, if you're interested in connecting to resources to advance your career, join us for an evening of epic resourceful proportions!
Q: Should I go alone or should I go with friends?
A: Go it alone and make new friends, or bring your friends and co-workers. It's all up to you!
Q: What will I get? What's the main takeaway?
A. You will walk away with new friends, new ideas, and fresh perspectives to apply to your career.
Q: Will I be able to go to all of these events?
A. You should pick one or two that you're most interested in and that are in close proximity, or you can just go to one event that really speaks to you and stay there the entire night!
Q: Will there be refreshments?
A. Absolutely! Each venue offers drinks and light eats.
Q: What is the dress code at any of the events?
A. There is none! Since you will be walking from building to building, make sure you wear comfortable shoes.
Q: Do I need to bring anything?
A: Nothing is required, but it would be a great idea to bring business cards to exchange with your new mentor or friends.
Q: How much does it cost?
A: Early bird price is $25; regular price is $35.