Location
South Lake Union and Downtown Seattle — Check the Schedule for exact locations (link in description)
Seattle
Seattle, WA 98109
JOIN US JUNE 1-8 , 2022 FOR THE SIXTH ANNUAL WOMEN IN TECH REGATTA IN SEATTLE ✨ BACK IN-PERSON ✨
About this event
The 6th annual Seattle+Vancouver Women in Tech (WiT) Regatta is back in person. June 1 - 8 in Seattle and June 8-11 in Vancouver. The Regatta is a global gathering to connect wo(men) in tech to mentors, peers & resources.
This boutique event is designed to give attendees access to mentors, peers, resources, job opportunities and to the power of community. We present 50+ interactive workshops, with over 140 speakers. Sessions are grouped thematically, and each is hosted at one of six ports.
#RelationshipsAreTheTrueCurrency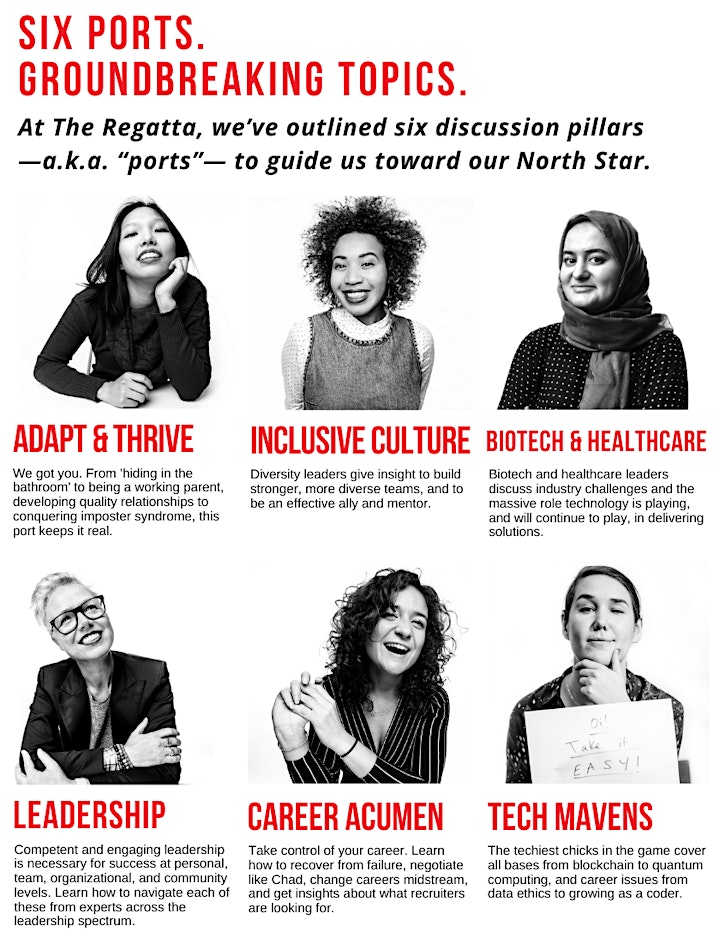 Tickets are non-refundable but transferable.
Questions? email us at admin@witregatta.com.
COVID- 19 POLICY
Covid - 19 Policy. Our team is doing our best to keep up with the changing times as they pertain to the pandemic, and we are continuing to maintain precautions in accordance with updated state/county, local mandates and private business requirements.
💉 COVID-19 vaccination verification is required at check-in
😷 Masks are strongly encouraged, in particular during group activities (more info here)