Description
MEMBERS ONLY - Seattle Women in Digital January Meetup
2018 will be an unprecedented year for change within the digital industry and for the women within our industry. Are you ready to be a part of that change? Join your fellow sisters in digital arms as we meet once again to empower each other with our exchange of knowledge + power.
This month's theme: 2018 Digital Trends
Agenda:
6:00 pm - 6:30 pm: Check-in, Mix and Mingle
6:30 pm - 6:45 pm: Intro your new Seattle board and hear new 2018 plans.
6:45 pm -7:15 pm: Guest Speaker: Nikki Barron, Director of Marketing, Mastin Labs - Being A Hybrid Marketer
7:15 pm - 8:00 pm: Ask and Give Exchange. Members trade their power by asking for, and giving support, advice, and favors.
This event is for Women in Digital members only. Memberships are currently on sale in Seattle and going quickly, be one of the first 150 members to take advantage of our low founding monthly membership rate of $25/month or $250/year. Become a member here.
Guest Speaker: Nikki Barron, Director of Marketing, Mastin Labs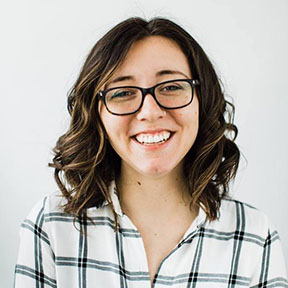 Nikki is the Director of Marketing at Mastin Labs. At Mastin Labs they create photography presets for Adobe Lightroom and Photoshop as well as the iPhone in their app Filmborn. She has previously worked in digital marketing for Will Leather Goods, Townsquare Media and as the founder of her own consulting firm, kittenteeth, focusing on marketing for artisans and creatives. She's a longtime activist for gender equality and sits on the board of Techbridge Girls Seattle and is a Marketing Lead for Female Founders Alliance and Lean In Seattle. Nikki is also a film photographer, musician, and digital artist.
Being a Hybrid Marketer

In 2018 we must transition from traditional marketers to what Nikki calls a "hybrid marketer." A hybrid marketer is blend of the old school and the new school. Hybrid marketers have a broad marketing strategy knowledge, a deep technical marketing knowledge with an adaptable mindset for application.
Our mission:
Your digital talent makes you one of the most powerful women on the planet. Together, we join to share knowledge, to inspire each other and to become empowered by that strength. Our mission is to connect women in digital through engaging and educational events and to enable them with the confidence and tools necessary to exchange their power. More about Women in Digital here.
Testimonial:
"I recently attended my first Women in Digital meet up and it was unlike any other 'networking' event. While every person in the room was there in a professional capacity, there was an undercurrent of shared values, shared struggles and shared desire for change.
It was a powerful experience to see women band together to raise each other up in a way that only women can. I can't recommend joining Women in Digital enough. This is a professional community that feels like the home we never knew we needed but have always been seeking." - Alaura Weaver, Copywriter + Content Strategist
Who should attend?
All women in digital creative, marketing, advertising, and tech fields are welcome. Our members have a digital creative focus within the marketing, advertising and communications industries. From content strategists and designers, to developers or social marketing pros and CMOs – you are all women in digital and all welcome at our events.
Become a Women in Digital Member to attend. Join here.
If you have a sales motivation for attending, do not come. Soliciting our attendees and members for business or sales is strictly prohibited. If you do so, you will be kindly asked to leave OR you can officially sponsor us (better option).
No men allowed. Sorry guys, this event is exclusive to women, and those who identify as women.
Thanks to our host:
Thank you to our partner, The Riveter, for hosting WiD. At The Riveter we're passionate about women in business and their allies, building a community of impact and supporting the ambition of our entrepreneurs and members. The Riveter has provided these offers in partnership with WiD exclusively for WiD members: Experience a workday at The Riveter (Capitol Hill or Fremont) with a complimentary full day pass TheRiveter.co/Experience
Join us as a Community Member at the Women in Digital rate of $89/month TheRiveter.co/buildtogether
Community Memberships receive the benefits of our wellness and business programming as well as access to our growing network of members and influencers. We look forward to hosting you!