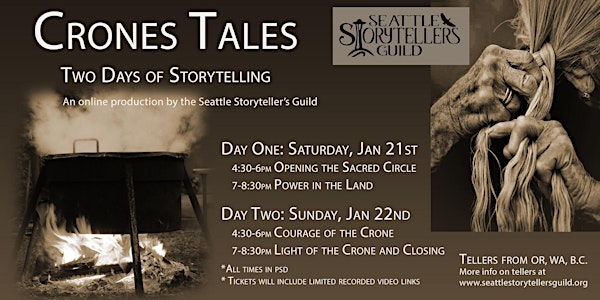 Seattle Storytellers Guild: Crones Tales Day 2
Crones Tales Session 3 - COURAGE OF THE CRONE Crones Tales Session 4 - LIGHT OF THE CRONE
About this event
An old soul knows that wisdom flows from everything and everywhere and every time, all around us.
This ticket is for DAY TWO of the two day event.
Session 3- Courage of the Crone 4:30-6PM PST
Abegael Fisher-Lang BC
Eva Abram - WA
Jen Stone - WA
Shirley Routliffe - BC
Session 4 - Light of the Crone 7-8:30PM PST
Anne Brendler - WA
Marilyn Grevstad - WA
Pam Maben - OR
Jennifer Ferris - BC
Nan Gregory - BC
If you would like to go both days and be part of both the opening of the sacred circle and the closing of the sacred circle, you can purchase it using this link.
For more information, see the Seattle Storyteller's Guild.