Description
Have you ever used an online dating site or app of any kind ever before? Including Tinder?
Marketer & former radio show host David Frank will be talking about all things online dating, sex & porn. We could all use some tips on how to market ourselves, whether looking for love online, or trying to make the best impression in any situation. There's a marketer's insight into porn for women, the formulas romance novels use for their plots & covers, and we'll look at the statistics behind America's porn viewing. This talk will prove you're attractive to a great many people, and we'll use science to prove it! Join us as we criticize both commonly held beliefs and scientific findings, in what we're sure will be a very entertaining and enlightening talk, followed by a Q&A afterward.
Event Details:
Dinner: 7pm
Light Entertainment: 7:20 - 7:40 (very roughly)
Talk: 7:45 - 9pm (roughly)
Menu: View here. Lots of vegan and gluten free options.
Where to find us and accessability: We are in the function room downstairs. Head to the back of the restaurant and turn left and go down the stairs.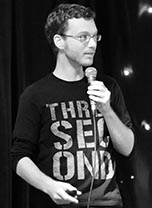 About David: ​​David Frank is a marketer, writer and public speaker who has also lived in the UK, Japan and Vietnam. He is currently based in Seattle and is finishing a Master of Science in Marketing at Edinburgh Napier University. His Twitter is @theDF and you can read more about him at davidfrank.com.au