Description
This comprehensive morning seminar, at the conveniently located Renaissance Hotel, right off I-5, with free self-parking and easily accessible via mass transit/bus/light rail, covers the increasingly related and highly relevant topics of social media security/compliance, storage/backup, wireless, network management, plus private/public/hybrid cloud strategies and containers. Scroll down to see the full agenda and click on links to see company information and speakers' biographies, who deliver concise, technical, educational and non-salesy talks. There is a Microsoft keynote, plus subject matter experts presenting from industry leaders Actiance, Veeam, Glue and Mist.

Content is pre-approved by Angelbeat and past attendees to maximize learning; click here to download presentation guidelines that are followed by all participants, which makes the program so worthwhile for IT Directors, Enterprise Architects, Network & System Administrators, Data Center/Storage/Infrastructure Managers, CISO/CIO's, etc.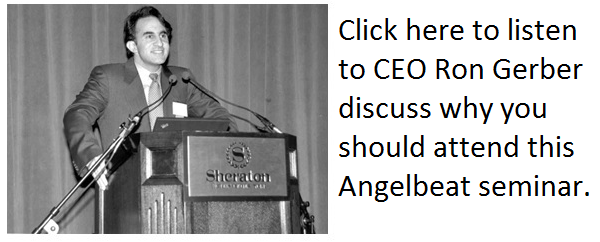 As one Walmart attendee states, "Of all the seminars I attend, your format is by far the best. Brief informative talks from vendors, followed by one-on-one time at their booth to find out more. I am out of the office for less than a day yet I have access to all the different solutions. This year I will follow up with two vendors." As another IT Director commented, "Thanks for hosting a very informative meeting with vendors that tied in well; it was an integrated picture of technologies that work together to create a complete infrastructure solution for the workplace."

Join your peers from Boeing, Liberty Mutual, Disney, Worldvision, Alaska Airlines, Symetra, Coinstar, Medical Consultants Network, Seattle Children's Hospital, American Seafoods, Trace Register, AT&T, T-Mobile, State of Washington, Snohomish County, City of Seattle, City of Redmond, University of Washington, Seattle Public Schools and many more organizations who are confirmed attendees.

Every attendee receives a delicious hot breakfast, complimentary WiFi, plus 3 CPE credit hours towards your CISSP or other certification. There are drawings for $100 gift cards and other prizes at the end.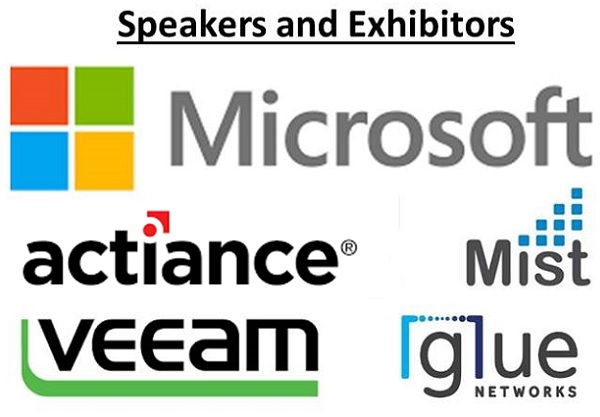 Agenda

7:30 - 8:45: Registration Begins, Delicious Hot Breakfast Served, Exhibit Area Open with Product Demonstrations, Time For Peer Networking/Interaction

8:45 - 9:20: Social Media Security/Compliance with Actiance
Your organization is likely using Facebook, LinkedIn, Twitter, Snap, Reddit, Skype for Business, Salesforce Chatter, Instagram and other social media applications to do business. In fact, these channels have already surpassed email as the primary communications tool for many organizations. So, what are the information security, compliance and data governance implications?

• If you are in a regulated industry, then you likely have an compliance obligation to capture and preserve these tools – just like email
• If you are faced with litigation, you will likely experience the need to discover and produce this information for court
• If you are publicly traded corporation, you need to think how these tools might impact your brand and lead to the misuse of intellectual property - or even worse significant and negative impact on stock price, sales and profit. Consider United Airlines after they dragged a passenger off the plane, which is the top trending topic on social media for days, for all the wrong reasons.
- How are you prepared to deal with encrypted and/or disappearing messaging platforms such as Snap or Signal?

In short, every organization should be thinking of how these new forms of communications can create new business, technology, security, legal, and compliance risks. Learn from Actiance how you can fully harness these rich social communications tools while staying ahead of the risks.

9:20 - 9:40: Multi-Vendor Network Infrastructure Complexity; How to Simplify with Glue Networks
Typical networks have become increasingly complex and require constant attention, especially when there is a multi-vendor architecture/configuration.

To greatly simplify network management, Glue Networks created Gluware, a software-based orchestration platform that reduces life cycle costs and boosts network agility. Bert Soto from Glue Networks will demonstrate how network operations teams can simplify tasks like switch management, ACL, QoS, firewall rules and many other time consuming functions. Gluware makes the network work for operations - not the other way around.

9:40 - 10:00: Smart Wireless for the Smart Device Era with Mist Systems
Wi-Fi isn't new. But how we use wireless has evolved substantially in recent years thanks to new smart devices, new applications, new wireless technologies - and new user expectations. As Wi-Fi has become more prevalent, it has also become more business-critical.

This makes it essential to simplify Wi-Fi operations and ensure a consistent and reliable Wi-Fi experience across all users. At the same time, Bluetooth Low Energy (BLE) has emerged as a nice complement to Wi-Fi, delivering high value indoor location-based services. With BLE, there is an untapped opportunity to better engage with employees and customers. The key questions then is "How do you build a modern wireless network designed to address the above?"

In this interactive session, Dan Kennison of Mist will discuss this topic in more detail, covering how to:

- Design, implement, and operate a modern wireless network that takes advantage of both Wi-Fi and BLE
- Leverage machine learning and cloud technologies to minimize wireless OPEX through automation
- Use proactive insight and predictive recommendation to ensure a great experience for all Wi-Fi users
- Eliminate physical beacons and site surveys with enterprise-grade BLE
- Explore real use cases for indoor location services like wayfinding, proximity messaging, and asset tracking

10:00 - 10:20: Disaster Recovery/Backup in 15 Minutes for the Always-On Enterprise with Veeam
The lightning-fast pace of technological innovation is forcing digital and physical worlds to collide — and it's also transforming the way organizations of all sizes operate, in every industry. This digital transformation can either make or break your business. Because, in the digital world, customers expect 24/7/365 Availability.

However, a survey of 1,140 senior IT decision makers revealed that 84% of CIOs can't meet today's 24/7/365 demands. With an average of 15 unplanned downtime events each year, this "Availability Gap" costs businesses an average of $16 million annually. And on top of the financial damage, there's often irreparable damage to brand reputation and customer confidence.

To help you address the challenge of this "Always-On Enterprise", Veeam enables you to achieve recovery time and point objectives (RTPO™) of less than 15 minutes, for all applications and data, through a fundamentally new kind of solution that delivers high-speed recovery, data loss avoidance, verified recoverability, leveraged data and complete visibility.

Coffee/Snack Break, Exhibit Area Open, Peer Networking, Product Demonstrations

10:50 - 11:50: Private/Public/Hybrid Cloud Strategies, Linux & Microsoft Containers, Integration with Microsoft Azure
In the opening part of this session Jessica Deen, world renown Technical Evangelist at Microsoft and a dynamic/engaging presenter, will discuss the tradeoff and decision-making process between expanding internal IT resources (capex, buying more network/storage hardware) versus using third party/public cloud/service providers (opex, renting these same capabilities).

Then Ms. Deen will go into more technical discussions. She will outline the similarities and differences between a container and a virtual machine, then walk through/demonstrate the processes and essential operations of enabling, creating, deploying and managing Linux and Windows containers/resources. She will evaluate when to use which containers, why and how. FYI, a container is an isolated and portable operating environment, often viewed as the next evolution of virtualization. It provides a mechanism for IT to deploy services in a portable, repeatable and predictable manner.

For those who are new to containers, her delivery serves as a jumpstart to accelerate your learning of containers. If you have already had some experience on Linux containers, her session familiarizes you with the specifics on Windows containers, plus helps bridge and extend your skills for bringing business value to both Linux and Windows communities.

Ms. Deen will conclude this session by highlighting the top three new features in Microsoft's Azure cloud platform for 2017, and how to integrate your organization's public/private/hybrid cloud and container strategies.

End of Event, Raffle Prize Drawings for $100 gift cards and other great items!

FAQs

What are Angelbeat's privacy and optin/optout policies
Each attendee acknowledges/understands that financial support from Angelbeat sponsors allows him/her to attend this event at no cost, and that the sponsors will be given your contact information 2 days after the event for follow-up email and telephone communications. All sponsors are required to provide you with an opt-out option, allowing you to be removed from their database

However each attendee can opt-out of sponsor follow-up by informing Angelbeat staff at the event, or by emailing Angelbeat immediately after the event, but before Angelbeat releases the attendee list to the event sponsors.

If you have any questions regarding Angelbeat's privacy policies and how your contact information is used, please contact CEO Ron Gerber directly at 516-277-2057 or at rgerber@angelbeat.com.

Who is eligible to receive a free pass
There is no charge to attend for an end user IT professional who works in the telecom/network/storage/security/data center/desktop/purchasing departments of corporations (private and publicly-held, large and small), universities, school districts, government agencies, hospitals/healthcare providers, pharmaceuticals, insurers, manufacturers, retailers, financial services/banks, real estate, legal/accounting/services, transportation/logistic firms, etc. and use, support, approve and/or are involved in or influence the decision to buy the products and services offered by our sponsors.

All free attendees must be pre-approved in advance by Angelbeat. Angelbeat reserves the right to accept or reject a free pass request at its sole discretion. As a general policy Angelbeat does not offer free passes to individuals at companies that are looking to sell their products/services to the end user personnel described above, who attend our events at no charge. If you fall in this category and would still like to attend then the fee is $150/person. To sign up please click here, complete the pdf document that appears and fax it back to Angelbeat at 703-783-8015. If you are a non-sponsoring vendor/integrator/consultant and would like to attend but avoid paying this $150 fee, then you must be accompanied by one of your clients who has not previously registered, and is a CIO, CISO or IT Director that meets the end user criteria above. Full-time reporters from major newspapers, websites, television and radio stations can attend as our guest, but again must be approved in advance.

If you do not meet the above criteria and still try to register, then you will receive an automatic reply/confirmation from Eventbrite. However you will shortly receive another email from Angelbeat, rejecting and cancelling your registration.

What are my transport/parking options getting to the event
Detailed driving directions will be sent out to all attendees one week before the event. There is complimentary self parking.

What is the dress code
Suggested dress is business casual.

What if you have special dietary needs/restrictions
If you have special dietary needs/restrictions, then please email Angelbeat below. We will do our best to accommodate any and all requests.

What if I am a government employee and cannot accept free meals and/or win raffle prizes
If you are a government employee and cannot accept free meals, then you can pay Angelbeat $35/person, to cover the cost of breakfast. Please contact the event organizer at registration@angelbeat.com to arrange payment.

Each sponsoring company/exhibitor handles its own raffle prize drawing; Angelbeat itself has nothing to do with these prizes and attendees are not automatically entered for any raffle prize drawing. Since each attendee must individually signup to win a raffle prize, then government employees (who are not eligible to win these prizes) can simply not signup for the drawing.