Description
Join us for a project tour of the new JUXT Apartments with designer Robin Chell, from Robin Chell Design!
Members will have priority FREE registration for this event. Take advantage of this member benefit and RSVP today! And join us across the street after the tour at Dexter Brewhouse for a no-host happy hour!
(Non-members will have a chance to register if spots are still available one week prior)
---
About the Project
JUXT is a 361-unit mid-rise located in Seattle's bustling South Lake Union neighborhood.
The project opened last summer, and created quite a buzz within the neighborhood and among prospective tenants. JUXT had the most successful (and fastest) lease-up of any of the client's previous projects, and property management said it was one of the best performing projects in the downtown Seattle market.
Industry meets Innovation
The interior finishes and amenities are inspired by the "juxtaposition" of South Lake Union's industrial past with its current status as a center for innovation.
Industrial elements such as exposed concrete, reclaimed wood and blackened steel are balanced with sleek, modern finishes and design elements.
JUXT showcases an innovative approach to reinvent traditional amenities, which include a gaming loft, a laptop lounge and a wine bar reception area. On the rooftop level is a sleek and modern skylounge, with spectacular views of South Lake Union. But behind a secret panel in the wall lies the property's most unique amenity: a Prohibition-style Speakeasy lounge, where residents can host their own cocktail parties and private events.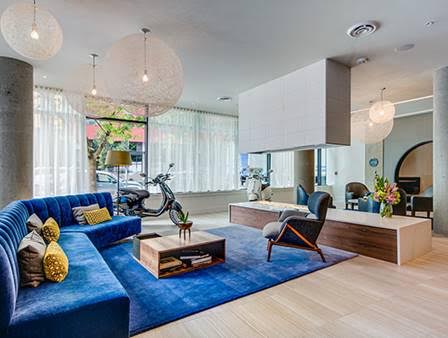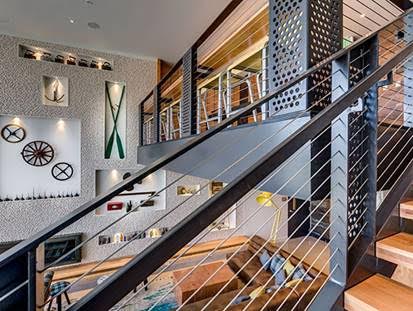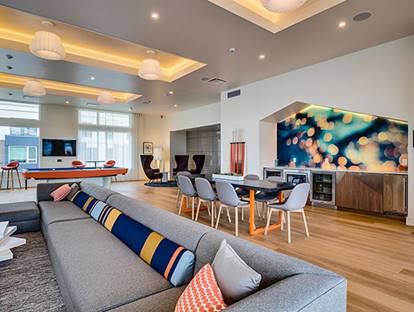 ---
About the Designer
Robin Chell, Principal and Senior Designer for JUXT
For over 15 years, Robin Chell Design has been involved in multifamily projects. RCD has been growing steadily during that time, and the company now has 12 employees. RCD has extensive experience in mid-rise multifamily, and is now working on multiple high-rise projects. In addition, RCD has been involved in a number of sustainable projects, including the Greenfire Campus and The Commons, both of which are LEED Platinum and located in Ballard. In addition, RCD designed the home offices for The Bullitt Foundation, which was designed to meet official Living Building interior standards.
Robin Chell has always had a passion for design, and loves to push the boundaries with innovative materials and building features. Before moving to Seattle, Robin was doing interior design in Auckland, New Zealand. Robin Chell finds much inspiration from her travels to Asia and Europe, as well as from her appreciation for natural materials that are rooted and reflected in the Pacific Northwest. She prides herself on her ability to provide sensible, unique design solutions for her clients that are at the same time fresh, practical, and functional.
Robin received her Bachelor's Degree in Housing and Interior Design from the University of Missouri-Columbia.