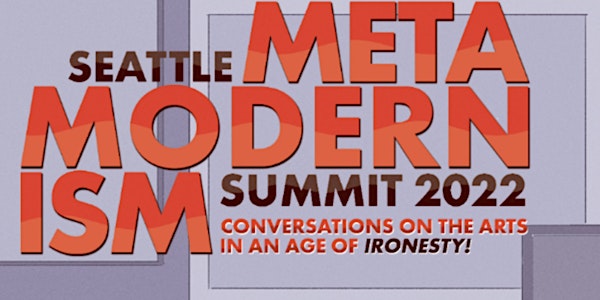 Seattle Metamodernism Summit 2022 @ BALLARD HOMESTEAD
Abbey Arts presents: Seattle Metamodernism Summit 2022: Conversations on the Arts in an Age of Ironesty! at Ballard Homestead
When and where
Location
Ballard Homestead 6541 Jones Avenue Northwest Seattle, WA 98117
Refund Policy
Refunds up to 7 days before event
About this event
9/10: IN-PERSON EVENT (with online option) @ Ballard Homestead
9/11: ONLINE EVENT
In these often irony-soaked, context-dependent, everything-is-uncertain times, how does the current moment inspire artists of all sorts to create in a different, what some call "metamodern," register? How has this moment invited cultural forms, even identities, that seem to respond more earnestly, with a sense of sincere irony or "ironesty"? Where does an individual self stand when the self is understood to be multiply configured through a mediatized prism?
Metamodernism has been conceived of as a sensibility emerging in the recent decades in which millennials and Gen Z have become the predominant drivers of culture. This has occurred in part because metamodern artworks address the above questions creatively, playfully, and reflexively. Metamodern cultural products (we're talking here about film, television, literary fiction, musical and poetic performance, video games, architecture, visual art, marketing, even slang and humor styles) are considered to be those that engage the conflicts between (modernist) conviction and (postmodern) relativism by embodying an aesthetic that, we might say, braids the sensibilities of modernism and postmodernism, often by emphasizing "felt experience."
What the heck does that all mean? What does metamodern art actually look like, sound like, feel like? And why are individuals and artists of various kinds (and, increasingly, marketing and branding agents, as well), drawn to it?
The Seattle Metamodernism Summit (SMMS22) aims to speak to these kinds of questions!
SMMS22 brings together leading international scholars who will guide attendees as we dive into the deep end of current metamodernism research. They will present, in a symposium format, a series of short talks designed to be both friendly to the curious public and also meaningful to fellow scholars in the advancement of their research. Topics will span the gamut of cultural products from architecture to fiction to video games, etc, and also include conceptual topics like Totality, Creativity and Liminality. Please see our website for a list of the specific presentation topics!
We're excited to present a roundtable of three notable metamodernism scholars hailing from the Netherlands and England – Timotheus Vermeulen, Robin van den Akker and Alison Gibbons – in celebration of the 5-year anniversary of their ground-breaking volume, Metamodernism: historicity, affect, depth after postmodernism (Rowman & Littlefield).
To further explore metamodern aesthetics in a personal, experiential way, SMMS22 will also feature a panel of singer-songwriters and poets, performing and discussing metamodern themes in the arts: John Van Deusen (The Lonely Forest), Sierra Nelson, Costello (Pretty Broken Things), Scott Thurston, Antony Rowland and Greg Dember.
Nitty-gritty details:
This will be a hybrid event with two attendance options:
A full day of talks and the performance panel on Sat. Sept. 10th will be hosted live at the Ballard Homestead. Remote attendance by Zoom will also be an option.
Additionally, we will host a half-day of talks given exclusively over Zoom on Sun. Sept. 11th. This online-only day is free to everyone who registers for Day One (whether you register as an in-person or as an online participant for the first day).
Note that we also offer a ticketing option for in-person attendance of the singer/poet panel only (5:00 pm on Sept 10th).
Group lunch on Sept 10th — No need to disperse off-site to feed yourself. Included in the price of admission for in-person, full-day attendees is a catered, boxed lunch. This will enable us to have more conversation time as a group. Join a table with a curated conversation topic, if you wish! (Our online participants will also be offered a hosted discussion session during this time.)
Schedule:
Saturday, September 10th 9:15am to 6:30pm (PDT)
*Songwriter/Poet Panel 5:00pm to 6:30 (Doors 4:45 PDT)
Sunday, September 11th: 10:00am to 2:15pm (PDT) –presentation panels continue on Zoom
Please check our website for the specific timing of presentations and panels, as well as other important details being updated.
--------------------------------------------------
EVENT & VENUE INFO:
Check tickets for show times
Ballard Homestead is ADA accessible
Service animals as defined by the ADA are allowed. Service animals are defined as dogs that are individually trained to do work or perform tasks for people with disabilities.
Please enter quietly if the event has already begun.
Please leave quietly, it's a very quiet neighborhood. I sense a trend here.
Quiet Picnics Welcome. Big surprise there right?
We have a mix of normal chairs, some tall chairs, and standing room in back.
Seating is not reserved unless noted.
Entering the venue indicates agreement to adhere to the Abbey Respect Policy. All are welcome.
--------------------------------------------------
ABOUT ABBEY ARTS, SEATTLE:
NONPROFIT 501C3, NON-RELIGIOUS, EST. 2005
Presenting welcoming music, arts & cultural experiences for people of all ages & incomes.
Home Venue: Fremont Abbey, 4272 Fremont Ave North, Seattle, WA 98103 / 206-414-8325 Ballard Homestead: 6541 Jones Ave NW, Seattle | + South Park Hall, Woodlawn Hall Greenlake, UHeights Auditorium (UDistrict), St Mark's Cathedral (Capitol Hill), & more
--------------------------------------------------
See Updated Public Health Safety Info at the bottom of this page under Abbey Arts Presents. All Abbey Arts venues adhere to WA State & King County health guidelines. Thanks for helping keep our community safe!
--------------------------------------------------