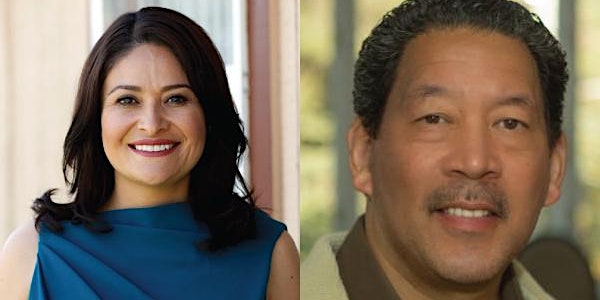 Seattle Mayoral Debate #2 - WA State Debate Coalition
Hear directly from Seattle's Mayoral candidates by tuning into the Washington State Debate Coalition's last debate of 2021.
About this event
Mayoral Debate with Lorena Gonzalez (Democrat) and Bruce Harrell (Democrat)
Thursday, October 28, 2021
7 p.m. - 8 p.m.
Virtual - information about how to stream below
FREE
Join us for a free and virtual debate for Seattle's Mayoral race with Lorena Gonzalez (Democrat) and Bruce Harrell (Democrat). The mayoral position in Seattle is a four-year term.
The second Seattle Mayoral Debate will focus on public health & safety, while our first Seattle Mayoral Debate will focus on business & economy.
Essex Porter (KIRO 7) is set to host the second debate joined by David Kroman (Crosscut), Hana Kim (FOX 13), and Hanna Scott (KIRO Radio).
Where can I watch?
The following premier media partners will air the mayoral debate live:
FOX 13+ - cable 10, ch. 22 over-the-air
KING 5 - KONG channel 6/16
KIRO - channel 7
Seattle Channel - channel 21
KIRO Radio - 97.3 FM
KOMO News - 97.7 FM
KUOW Public Radio - 94.9 FM
The debates will also be streamed live on the following media outlets:
In partnership with Tableau, Seattle CityClub and the Washington State Debate Coalition have put together this Data Navigator tool to allow anyone to find, explore, and discuss the issues relevant for voters across Seattle and King Country for the upcoming election.
Enrich your debate watching experience with our Debate Watch Party Pack, our Debate Talk Back Kit, and Content for Classes.
FAQs
Why can't I watch in person? Seattle CityClub and its partners are committed to the safety and security of all involved in the upcoming debates, and will be adhering to all public health strictures and guidelines for social gatherings. In order to do this, there will be no in-person audience at our debates this year.
Why should I register? Let us know that you'll be watching the debate! In order to get debate reminders and updates straight to your inbox, and submit questions to be considered by our moderator, register here. The debate is free and open to all.
How can I submit a question? In order to make sure we have diverse questions that cover multiple topics, we are asking residents to submit their questions in advance for selection. Submitted questions will be reviewed, selected, and edited for brevity. Submit your question through the registration form.
About Seattle CityClub
Seattle CityClub is a nonpartisan, 501(c)(3) nonprofit organization improving the civic health of the Puget Sound region by providing programs that bridge politics, sectors and generations to inform and engage residents and community leaders
The WSDC  was founded in 2016 by Seattle CityClub and has reached 2,300 live debate attendees and more than 3 million viewers on TV/online. WSDC is a public service made possible through the joint efforts of civic leaders, nonpartisan organizations, colleges and universities, donors, sponsors, and Washington media partners committed to ensuring access to those who hold and seek elected office.
Thank you to our sponsors