Description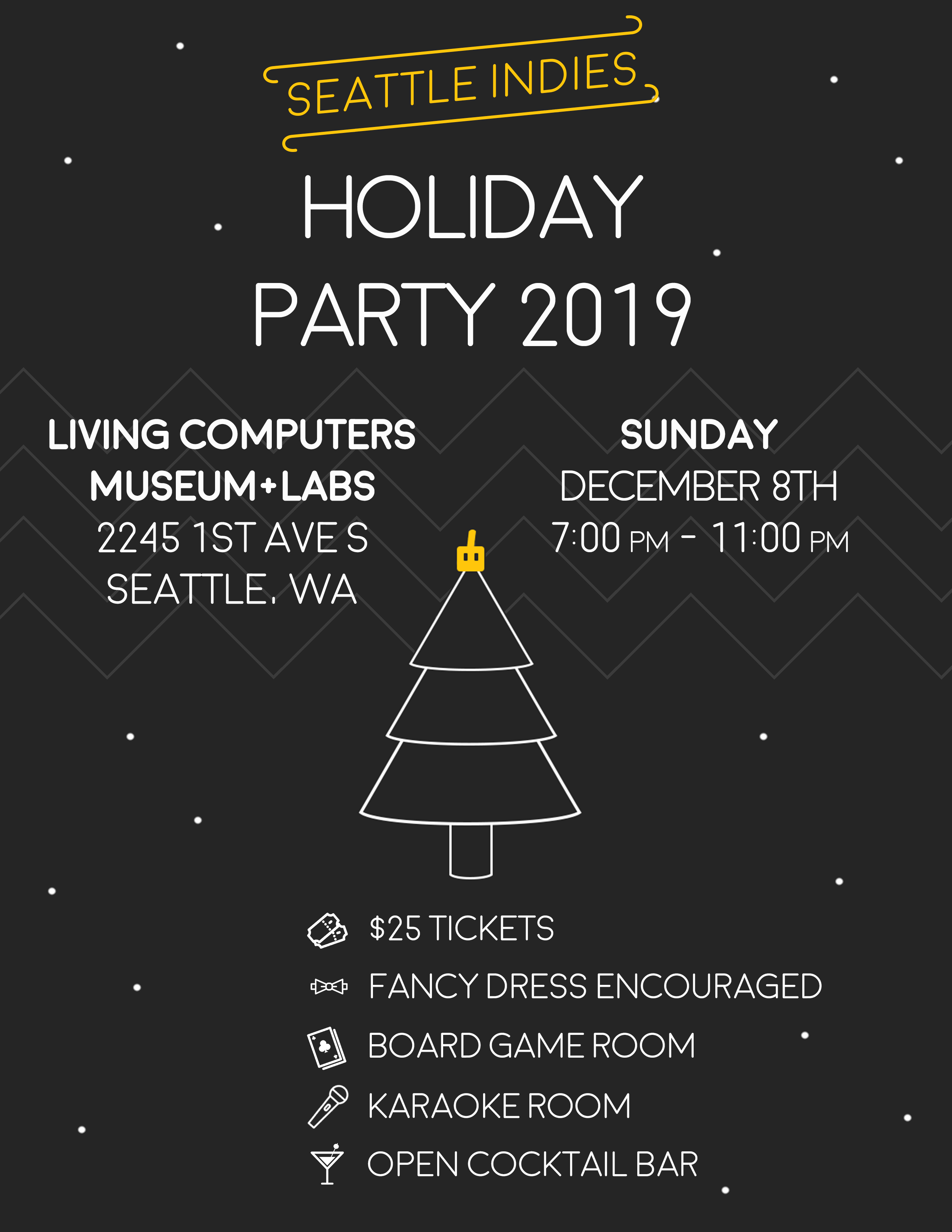 Seattle Indies is excited to bring you our fifth annual Holiday Party! And this year we'll be bringing it to you in a special new venue, the Living Computers Museum & Labs with updated hours!

Join us for a special night of festive drinks and merry-making with your fellow indie devs to celebrate a successful 2019, and kick off 2020!
Open Cocktail Bar
We'll be providing beer, wine, cocktails, punch, and finger food!
Board and Card Games Room
What's Christmas without accusations of cheating and tears of recrimination? We'll be bringing party games such as Cards Against Humanity, Munchkin, and Monikers. Please do bring your own games - we'd love to try them!
Photo Booth
This year we'll have an automated photo booth where you can create your own digital keepsakes.
Karaoke Room
We'll also have a separate room dedicated to karaoke, with all your favorite songs to rock out to.
Tours of the Living Computer Museum
Xerox Alto - 7:30pm - 7:50pm: Experience the minicomputer that helped spark the personal computer revolution. The Xerox Alto, a pioneering computer workstation developed at the Palo Alto Research Center (PARC) in 1973. The Alto introduced several experimental concepts, including the graphical user interface, object-oriented programming, and Ethernet networking. The history and function of this groundbreaking machine will be shown to visitors.
History of ROM Cartridges - 8:30pm - 9:00pm (drop in): What is a ROM cartridge? A type of media that was most popular in the late 1970s and into the 1980s. They are removable enclosures containing ROM and designed for home computers, video game consoles, electronic musical instruments, and calculators. A variety of these cartridges will be on display and various evolutions explained to visitors.
Semi-Fancy Dress (optional)
Use this occasion as an excuse to dress up as fancy as you've secretly longed to! You can come dressed for a Seattle cocktail party, or wear an ugly sweater. Do anything to get into the spirit!
This event is covered by the Seattle Indies Code of Conduct and Filming Policy: https://www.seattleindies.org/code-of-conduct/
https://www.seattleindies.org/notice-of-filming-and-photography/
Note that all Seattle Indies Superhero tier patrons on Patreon at the time of this event creation should have received a code for a ticket to this event.
---
Frequently asked questions
Do I need to be over-21 to come?
No, our event is all ages! You only need to be over-21, as well have photo ID, in order to be served alcohol by our bartenders.
Do I need to print or show a ticket to enter?
No, all we need is your first and last name that you registered on Eventbrite with.
Can I bring a guest?
Yes, but everyone will need to have their own Eventbrite registration.
What do the ticket costs cover?
$25 helps us cover the cost of this special once-a-year event. Your donation above that will help the Seattle Indies organization with the numerous events and activities we put on throughout the year! The funds we raise at the Holiday Party will be used to help support the following events as we grow through 2019:
Hosting our own quarterly showcases and Game Jam events at the Pacific Science Center
Supporting developers with the weekly Indie Support Group meetup
Providing monthly social and networking activities with the Westside Social, Eastside Social, Board Game Night, Indie Adventure, and Queer Sunday.
Hosting Game Jam events throughout the year, such as the Global Game Jam in January, the Seattle Indies Game Jam in November, and collaborations with other organizations like University of Washington and Pacific Science Museum.
Highlighting the work of teams in the community through social media activities, such as weekly discussion threads in Facebook and engaging developers on Twitter.
Our yearly one-day exhibition Seattle Indies Expo, showcasing 25 local games to thousands of attendees
---------------------------------------------------------------------------------
Seattle Indies would like to thank the following sponsors for making the Holiday Party possible:

Academy of Interactive Entertainment: https://aie.edu/campuses/seattle/
Harebrained Scemes: http://harebrained-schemes.com/
Stoic: https://stoicstudio.com/

Galvanic Games: http://galvanicgames.com/
Unbound Creations: http://unboundcreations.com/
Giant Army: http://universesandbox.com/
PlayEveryWare: https://www.playeveryware.com/
Quantum Astrophysicists Guild: https://www.qag.io/