Description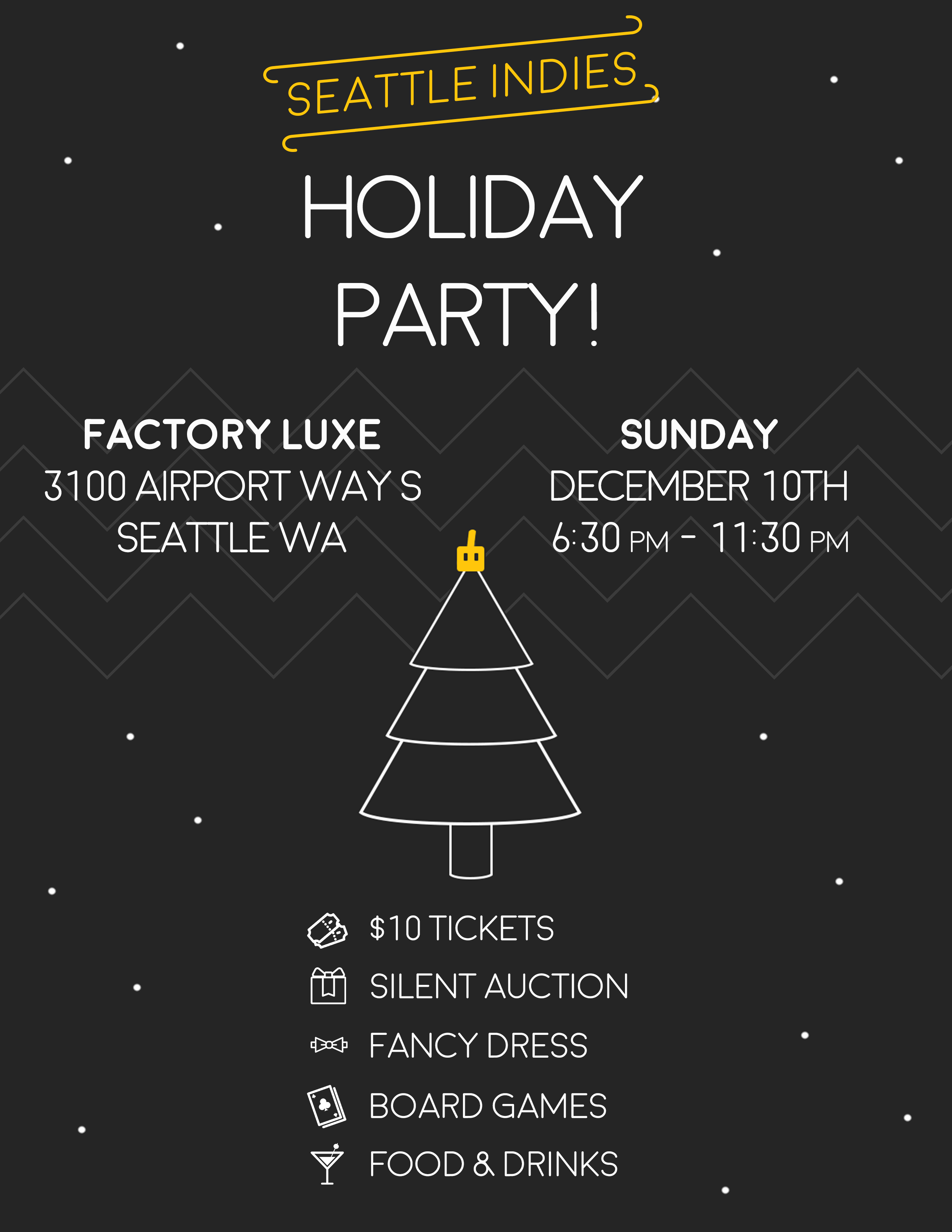 Seattle Indies is excited to bring you our third annual Holiday Party! Join us for a special night of festive drinks and merry-making with your fellow indie devs to celebrate a successful 2017, and kick off 2018! Come help Seattle Indies raise money to support our ever growing list of community events in the upcoming year.
Food and drinks
We'll be providing beer, punch, and finger food!
Board and card games
What's Christmas without accusations of cheating and tears of recrimination? We'll be bringing party games such as Cards Against Humanity, Munchkin, and Monikers. Please do bring your own games - we'd love to try them!
Photo booth
This year we'll have an automated photo booth where you can create your own digital keepsakes.
Silent Auction
Come take part in our first charity auction! We'll have lots of fun and very special items and activities that you can bid on.
Semi-fancy dress (optional)
Use this occasion as an excuse to dress up as fancy as you've secretly longed to! You can come dressed for a Seattle cocktail party, or wear an ugly sweater. Do anything to get into the spirit!
This event is covered by the Seattle Indies Code of Coduct: https://www.seattleindies.org/code-of-conduct/
A huge shout out to our sponsors who have helped make this years event extra special!


Premiere Sponsors

Amazon Appstore is excited to sponsor the Seattle Indies holiday party and support their mission of fostering a vibrant and inclusive community of independent game developers! Amazon Appstore powers game and app publishing for Android and Amazon Fire devices, giving developers instant access to millions of customers across 236 countries and territories worldwide. Committed to keeping publishing easy for Android-based apps and games, the Amazon Appstore offers an array of services making it a complete end-to-end solution for developers from building and testing through marketing and monetization.
Indie Sponsors

tinyBuild is proud to support Seattle Indies. tinyBuild has been partnering up with dozens of indies around the world bringing you games like Hello Neighbor, SpeedRunners, Punch Club, Party Hard, Clustertruck, The Final Station, and more.

PlayEveryWare collaborates with other indie developers and publishers to help them bring their games to consoles!


Dropleaf let's you subscribe and get unlimited access to our growing library of indie PC games. Find your new favorite game with the help of our discovery system.
---
Frequently asked questions
Do I need to be over-21 to come?
No, our event is all ages! You only need to be over-21, as well have photo ID, in order to be served alcohol by our bartenders.
Do I need to print or show a ticket to enter?
No, all we need is your first and last name that you registered on Eventbrite with.
What do the ticket costs cover?
$10 helps us cover the cost of this special once-a-year event. Your donation above that will help the Seattle Indies organization with the numerous events and activities we put on throughout the year! The funds we raise at the Holiday Party will be used to help support the following events as we grow through 2018:
Helping community members showcase their games at various conventions in the region - Emerald City Comic Con, Renton City Comic Con, iFest, GeekGirlCon, GE2, MGF
Hosting our own quarterly showcases at the Living Computer Museum + Labs.
Supporting developers with the weekly Indie Support Group meetup
Providing monthly social and networking activities with the Westside Social, Eastside Meet & Drink, Board Game Night, Indie Adventure, Critique Circle, and Queer Sunday.
Hosting Game Jam events throughout the year, such as the Global Game Jam in January, and collaborations with other organizations like University of Washington and Pacific Science Museum.
Highlighting the work of teams in the community through social media activities, such as the Indie Spotlight blog series, weekly discussion threads in Facebook, and engaging developers on Twitter.
Our yearly one-day exhibition Seattle Indies Expo, showcasing 25 local games to thousands of attendees.