Seattle -- Here We Come!

Wednesday, January 17, 2018 from 11:30 AM to 1:30 PM (PST)
Event Details
Tacoma is a great city.  As higher income people move into Tacoma from Seattle and surrounding areas, housing prices have increased.  What is the best way to reduce the displacement of current residents and keep Tacoma housing prices as affordable as possible?
There are concerns and opportunities in the changes – new density supports sustainable, walkable communities – while new construction tends to be demand-related and increase the surrounding values, pricing out long-term residents and often changing the complexion of some neighborhoods. 
Come hear diverse opinions -and ask some thoughtful questions of – a Policy Maker (Councilmember Conor McCarthy), a community leader (Anthony Steele, Pastor at Allen AME Church and Hilltop Business Association President), the head of an affordable housing agency (Michael Mirra, Executive Director of Tacoma Housing Authority) and a representative for market-rate housing developers.
---
Moderating the event will be Tacoma attorney Erik Bjornson who has studied and written extensively on urban and housing issues in Tacoma in the News Tribune and the Tacoma Weekly.  Erik is Mechanical Engineer and an attorney who attended Seattle University Law School in Tacoma. Erik has practiced law in downtown Tacoma since 1995. 
Michael Mirra has shown a lifelong commitment to social justice and creating opportunity. As an attorney during the '90s, Michael Mirra successfully litigated on behalf of homeless families and poor neighborhoods in several high-profile cases, including Washington State Coalition for the Homeless vs. the Department of Social and Health Services, decided by the state Supreme Court.
He has since led the Tacoma Housing Authority in the multimillion-dollar transformations of the Salishan and Bay Terrace communities and won the agency national recognition for its innovative and life-changing support of families and children.
Pastor Anthony Steele was born in Los Angeles. California, and has been preaching for 25 years. He has been a Senior Pastor in the AME Church all across the nation. A leader in community building, Steele is a pastor with the gift of preaching, teaching, and civic leadership. He is one that believes in total community development. His messages will leave you with extreme elements of hope. 
Council Member Conor McCarthy is a dedicated private attorney, devoted husband, and father of two small children, and committed public servant. He formerly worked in the trenches with City and Tacoma Public Utility staff for over seven years, first as an attorney and then as a manager. His combination of private sector and municipal government experience, along with his passion for community service makes him uniquely qualified to be an effective City council member. He is proud to serve the City as an at-large council member, recognizing the tremendous value and unique contributions from all of our different neighborhoods, business districts, and residents.
Raelene Rogers
C.P.M. / Broker

Raelene Rogers is a founding principal of "McCament & Rogers Real Estate Consulting".  Her experience includes working with many developers from small local projects to working with Weyerhaeuser Real Estate on very large regional developments.  Assignments include providing the City of Tacoma with data on downtown housing market which the firm has done for years.  She was instrumental in implementing the Multi-Family builders' group for Downtown Tacoma.  Her successful marketing efforts for clients earned her the prestigious MAME award for Best Marketing Achievement.  She is a champion for Tacoma and respected expert on market-rate housing in the South Sound.

When & Where

Landmark Catering & Convention Center
47 Saint Helens Avenue
Rooftop Ballroom
Tacoma, WA 98402


Wednesday, January 17, 2018 from 11:30 AM to 1:30 PM (PST)
Add to my calendar
Organizer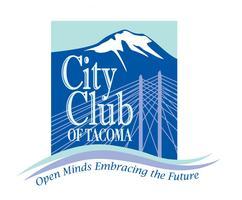 City Club of Tacoma is a non-partisan civic organization founded in 1984. Its mission is to provide a forum that brings people together to explore issues and ideas affecting the South Sound community.