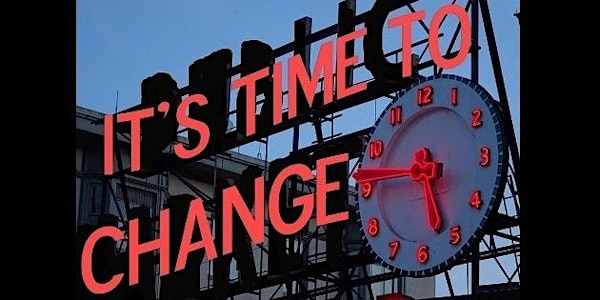 Seattle District Training Day - It's Time to Change!
When and where
Location
Renton First United Methodist Church 2201 Northeast 4th Street Renton, WA 98056
Refund Policy
Contact the organizer to request a refund.
Description
Our goal is to bring together 150 folks to motivate and inspire them to be change agents in their churches and mission fields. We will be successful if each session creates priority change in the one attending, and then have that person infect their congregation.
Anything less than that is just ...business as usual. We need to become unusual.

---
Schedule: Subject to change

8am - Registration
9am - Worship, Redesigning the UMC in the Seattle District

9:45am - First Sessions:
Discipleship: Small Groups, The Method at the Heart of Methodism --- Rev. Jim Head-Corliss - The Methodist movement raises-up followers of Jesus who love God and love their neighbors in the rhythm and flow of everyday life. Wesley's method of making new disciples and taking us all deeper in our commitment to Christ is a way of life centered in small groups. What the church needs today is a return to deep discipleship, contagious leadership, and the fusion of these two, great loves lived out with integrity and authenticity. Join me to learn the theological foundations, a practical model, and the method for growing disciples in your church!

From Oak to Acorn --- Rev. Sarah Casey, Rev. Neal Sharpe & Rev. Shalom Agtarap - Prolepsis | pro-lep-sis | n. the representation of a thing as existing before it actually does l Anamnesis | an-am-nee-seez | n. lived memory. How might we embrace the cycle of anticipating future potential while enacting the lived memory of a life of faith so that we can continue to be an ever-expanding manifestation of Christ in world?

Unleashing Generosity!

--- Rik Jamieson - Stewardship is a fancy word for managing the gifts our Creator gives us. In this session we will: 1.)

Review 7 traits that we find common in churches that experience growth in giving.

2.)

Summarize key points about church giving from the book … Not Your Parents' Offering Plate.

3.)

Detail how to easily start Stewardship classes at your church using Dave Ramsey's Final Peace University program.

How to do Climate Activism --- Jenny Phillips
Teach Us to Pray: Contemplative Prayer as a Pathway for Transforming Church --- Andy Lang - In this workshop, we'll be discussing and practicing how to radically change the way Christians interact with the world - in other words, to change our entire operating system. We'll be fleshing out what I believe to be the truth about our Church: that the only way we'll be vital and meaningful in the future is through the practice and teaching of contemplative prayer.
Changing the World, One Child at a Time: Building a Childrens' Ministry That Matters --- Nancy Roseen (Kent) - Discover the excitement of life changing children's ministry and explore new ways to recruit and retain volunteers into this vital, often neglected area in our churches.
11:30am - REBUILD Project - Rebuild: Up From the Ashes: Rosalee Mohney
12pm - Lunch (provided by the Men's Food Ministry of Renton First)
12:45pm - Second Sessions:
Intentional Camp: Evangelism & Discipleship for the Next Generation --- Darin Gemmer. Camp Indianola Director
Trustees --- Rik Jamison - This session will focus on the 2017 property and liability insurance renewal. Maintaining your property tax exemption and general a Q&A will be included.
The Adventure of Discipleship: Using John Wesley's 3 Strand Discipleship Model and The Lord of the Rings to Create a Framework for Christian Formation --- Rev. Christy Fisher, Wesley Club Campus Pastor - We'll be using John Wesley's Discipleship Model and J.R.R. Tolkien's Lord of The Rings Journey (both things that inspired Christy's discipleship making at Wesley) to envision how unique contexts can engage the journey of Christian Formation.
Table Turning Theology and Practice --- John Helmiere
Homelessness: What to do in a State of Emergency --- Pastors Jan Bolerjack, Michele Campton-Stehr, Kelly Dahlman Oeth & Paula McCutcheon - We'll hear from several local UMC churches and learn about innovative programs that have sprung from the desperate need we're seeing in our community and consider how responding to an emergency can change our lives, who we are as a people, and how we live in authentic community.

The Bible and Human Sexuality

--- Keith and Joan Hackett - Join in The Bible and Human Sexuality Plenary Presentation from Mission u 2016. Look at scripture and begin to think about what needs to change in order to develop a healthy Christian sexual ethic in the UMC. Learn about Mission u 2017.
2:30pm - Closing Communion
3pm - End
3:15pm - Addendum
Post Conference Responding to Our Political Context --- Rev. Rich Lang