Description
Agenda
---
6:30 PM - Doors
7:00 PM - Talk starts
7:40-50 PM - Open the floor to questions
Overview
---
Computers have become a part of everyone's day to day life. The mechanics of making computers work, however, are rather abstract. Object Oriented Paradigm, or Programming, (aka OOP) is a methodology through which the abstract becomes nearly tangible - machine language is translated into easier to understand objects and methods.
OOP is one of the most powerful, popular, effective and efficient programming technique used by many programming languages to interact with the computer. Siva Dopasati will share the true essence of OOP and how using this technique can enable you to engineer and program effectively.
Siva will cover:
- Why/What OOP
- Understanding Classes and Objects
- Different principles of OOP (Encapsulation, Abstraction, Inheritance & Polymorphism)


Speaker
---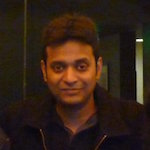 Siva has 16+ years of experience in software engineering and design and utilizes this experience as a thought leader to drive teams to success in product development of enterprise applications. Currently he is the Director of Engineering at CDK Global and a part-time professor at Northeastern University. His previous experience includes working for ADP Dealer Services as the Engineering Manager and the Cobalt Group as a Senior Software Engineer.