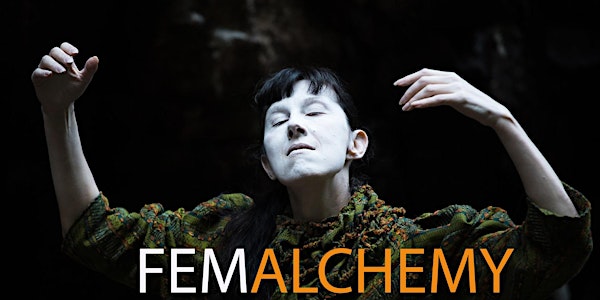 Seattle Butoh Festival 2021 FemAlchemy
SBF 2021 FemAlchemy featuring Performances by Vangeline and DAIPAN Artists and Workshops by Vangeline NYC and Joan Laage (Kogut Butoh)
When and where
Location
Yaw Theater 6520 5th Avenue South Seattle, WA 98108
Refund Policy
Contact the organizer to request a refund.
Eventbrite's fee is nonrefundable.
About this event
Seattle Butoh Festival 2021 FemAlchemy Nov 19th, 20th and 21st performances by DAIPAN artists all three evenings and performance and workshop with guest artist Vangeline from New York City . Performances 7:30 pm at YAW Theater Georgetown with 11/20/21 Saturday workshop by Vangeline from 12 to 4 pm at YAW Theater and 11/21/21 Sunday Workshop by Joan Laage (Kogut Butoh) 12 to 4pm at Base (next door to YAW)
Performing
Friday: Robyn Bjornson, Sheri Brown, Alycia Scott Zollinger
Saturday: Joan Laage, Kaoru Okumura, Dhyana Garcia
Sunday: Vangeline, Helen Thorsen and dancers Mary Cutrera and Amy Ward
To buy tickets click on select a date, then click on tickets and scroll to desired performance or workshop to purchase tickets
PROOF OF VACINATION OR COVID TEST WITH IN 72 HOURS
PLEASE WEAR A MASK FOR PERFORMANCES AND WORKSHOPS
Vangeline is a leader in the development of contemporary Butoh dance. She founded Vangeline Theater and The New York Butoh Institute since its founding in 2002 the Theater has brought an expansive vision of Butoh and the pioneering choreography of Vangeline. Her work brings to life a timeless and uniquely American style of Butoh that continues to captivate audiences.
DAIPANbutoh Collective's mission is to bring stimulating, provocative, and exceptional performances, workshops and forums to the diverse communities of the Northwest and beyond. Empowering local and global artists, we provide opportunities for national and international artists to work together in an environment for growth, creativity and transformation.
DAIPANbutoh Collective's current community includes Sheri Brown, Joan Laage, Helen Thorsen, Dhyana García-Snyder, Kaoru Okumura, Alycia Scott Zollinger, and Robyn Bjornson. We are reaching out as individual artists and as a group to become an integral, intelligent international presence in the evolving butoh aesthetic inside a global bloom of butoh-inspired art.
BUTOH WORKSHOP taught by Vangeline
This workshop will examine the relationship between breath and tension/relaxation techniques in butoh. Vangeline draws on 18 years of experience as a Butoh teacher and dancer, and has 35 years of expertise in the field of dance. Vangeline is the founder of the 15-year running, award-winning program "Dream a Dream Project", which brings Butoh dance to incarcerated men and women at correctional facilities across New York City. She is a member of the International Association for Dance Medicine and teaches trauma-informed butoh classes.
BUTOH WORKSHOP taught by Joan Laage
Embodying the Spirit: the body finds its way taught by Joan Laage (Kogut Butoh)
This workshop is a process of erasing and re-creating the body through guided improvisation largely inspired by nature imagery and investigates aesthetics common to butoh. Partner work will facilitate participants' individual and collective journeys. The workshop draws from Joan's training with Butoh Masters Kazuo and Yoshito Ohno and Yoko Ashikawa in Tokyo and her background as a Tai Chi practitioner and professional gardener.
PROOF OF VACINATION OR COVID TEST WITH IN 72 HOURS
PLEASE WEAR A MASK FOR PERFORMANCES AND WORKSHOPS